Kinetic Core is a new feature introduced by Fortnite and is a new way fast travel in Fortnite. Are you wondering how to use it? We have got you covered about it in this guide.
Fortnite is yet to reveal the story behind this mysterious element and its Kinetic abilities are similar to Vibranium. Vibranium is a famous element from Marvel from Reality 616. Players who are standing on the ore will feel a low gravity effect when it launches into the air.
Epic Games decides to put these features for its players to make traveling to a certain distance easy using Kinetic Ore. On completing this challenge the players will be awarded 80000 CP or one level up. The challenge is not that difficult but could be time-consuming.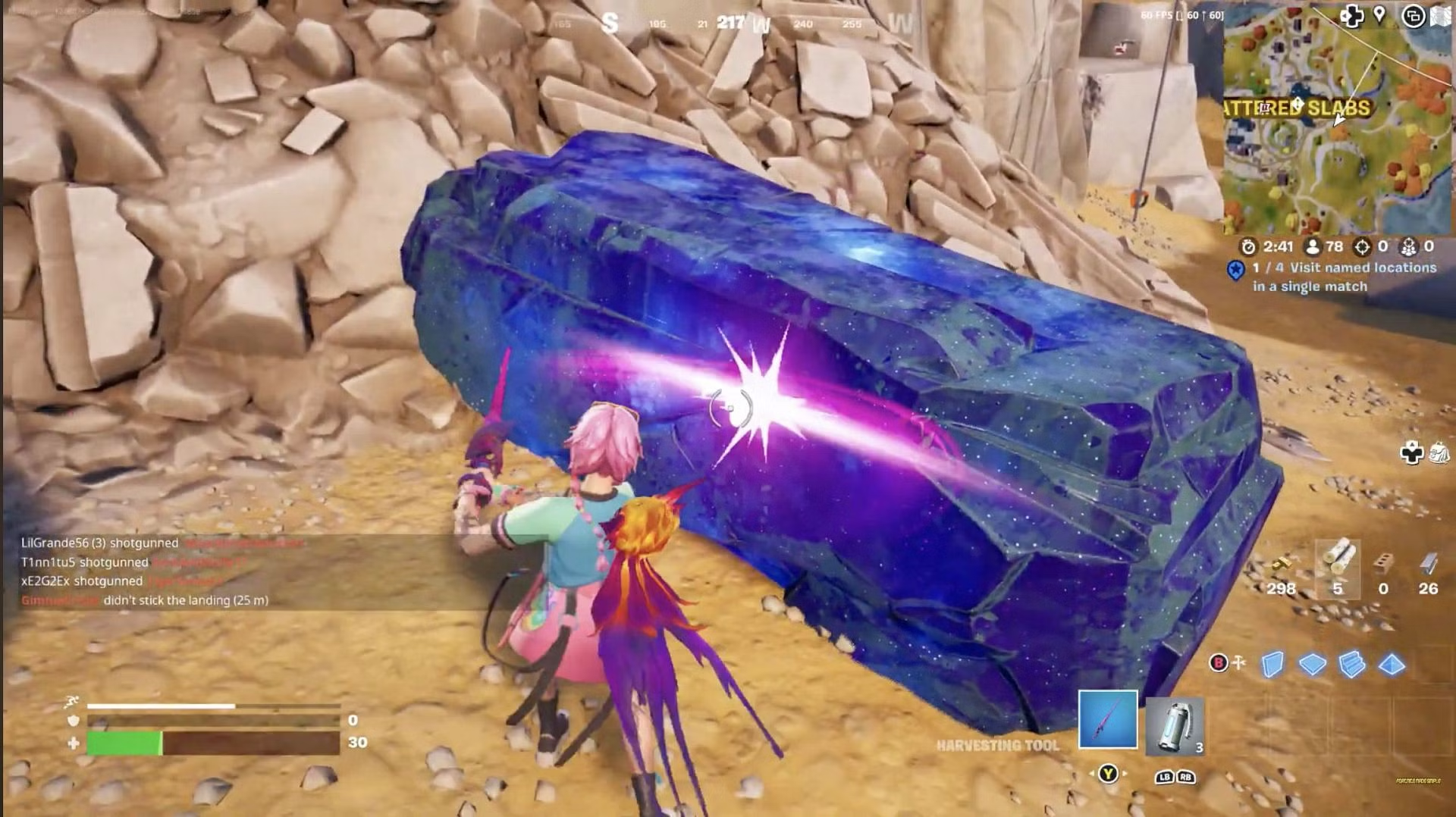 How to travel distance using Kinetic Core in Fortnite?
Secure a spot by landing in Shattered Slabs
The initial step of this challenge Is to land in Shattered Slabs which is ranked as the sixth most sweaty location in Chapter 4 Season 1.
This location is the starting point of the challenge thus expect a lot of competition from other payers, and be alert to secure your location.
Search the ground for any Kinetic Core.
After securing the area you have to look for kinetic Ore It is very easily visible given it'd purple glow and large size. The land has a high concentration of Kinetic Ore so it won't be difficult to spot one.
They can be spotted around the POI on the ground and in the air released by a crane. You can even find these elements on the edges of POI. There is one isolated place on the island where you can find one lump piece of Kinetic Ore in the landmark called Rocky Docks, located in the west of Shattered Slabs.
Set Kinetic Core's trajectory by hitting it
When you are set at your location, hit Kinetic Core with a Harvesting Tool. You have to hit this several times until it becomes unstable and powered up.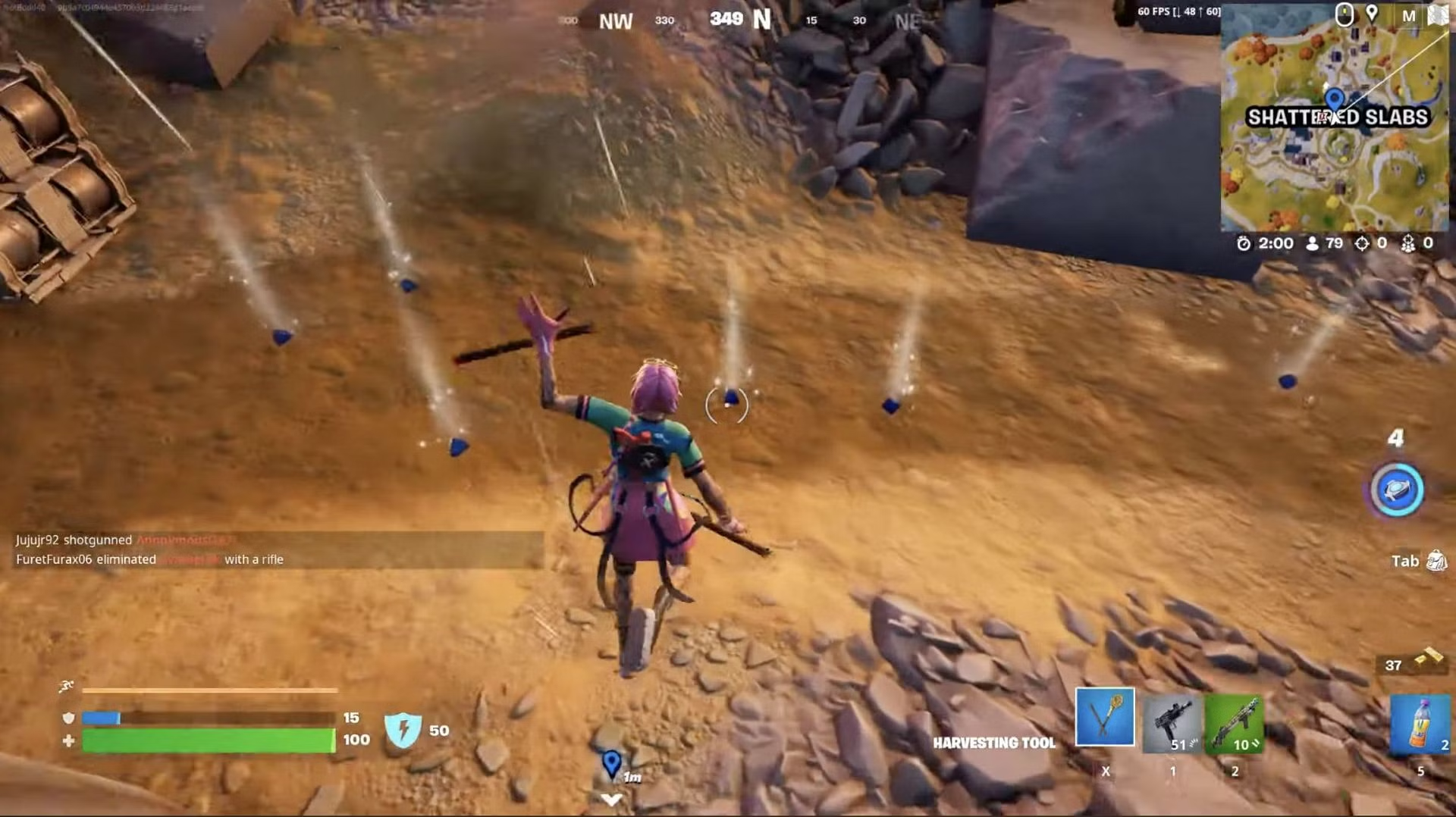 After hitting it the required number of times you will see a trajectory line on the screen. Now an angle will be set up depending on what direction you have hit the stone and Kinetic Ore will face toward the direction and will traverse in that same direction.
Climb up your Kinetic Core and Start your journey
Now with Kinetic Ore charged up and ready to go, you can stop hitting it and hop on top of it as quickly as possible.
Note: While climbing up on Ore make sure not to stand on the edges as due to the physics involved in Fortnite you may slip off the end.
This is the first half of the challenge where you get your spot fixed on a ground-based Kinetic Ore. Let's see what is the further step.
What is the Challenge?
The challenge requires players to stand and balance on Kinetic Ore and commence a journey of a distance of at least 1,900 meters This will be in five stages as the distance keeps increasing over the range of 50,100,250,500, and 1000 meters.
Upon completing this challenge you will be rewarded with 16,000 experience points or your level might get upgraded.
This is all you have to do in the new Fortnite challenge. Make sure to have a good balance over Core and embark on a journey as far as possible to earn your deserving rewards.
For more related content check out our dedicated website Gamition.
More E-Sports news:
Follow our dedicated E-Sports page for instant E-Sports news and updates