Our list will showcase the rarest Fortnite skins in 2023. You can unlock these rare skins by following the steps from our guide.
Fortnite has been including many features and content to make the fans stay glued to the game. Skins are one of the best features and additions in Fortnite. Epic Games has been launching tons of skins every year and there are more than 1000 skins. Out of these 1000, only some skins are available to purchase in the Fortnite item shop. Some are regular skins, some are collaboration skins, and there's another category called rarest skin. These rarest skins in Fortnite can only be purchased from the itemshop for several V-bucks.
Ever since its launch in 2017, Fortnite has been adding hundreds of skins every year. There are many rare skins that have been the most favorite for Fortnite players and some of these rare skins in Fortnite are also in the list of most sold skins. As of now in 2023, there are only a handful of rare skins in Fortnite. To know the active rarest skins in Fortnite Chapter 4 Season 1, here's our guide on how to unlock and purchase the rare skins. Check our guide to buy the best rare skins in Fortnite Chapter 4 Season 1.
Best Rarest Skins to Purchase in Fortnite
Here are some of the latest and best Fortnite rare skins to buy in 2023. Every skin has been a sensational hit in Fortnite and most of them are available still.
Renegade Raider
The best ever rare skin from Fortnite is Renegade Raider. Renegade Raider is based on the character model Headhunter and was launched in Season 1 and the first appearance was way back on October 26th, 2017. Renegade Raider is a part of the Storm Scavenger set. You can purchase this rare Renegade Raider skin outfit for 1,200 V-bucks from Fortnite item shop. Renegade Raider is one of the rare and best skins till date in the history of Fortnite.
Royal Bomber
Royal Bomber is an Epic outfit introduced in Fortnite Chapter 1 Season 4. To purchase this ever rare skin in Fortnite, you need to unlock the Royale Bomber Bundle. The Royal Bomber outfit is based on the model Nomad and it was first added to the Fortnite item shop on May 1st, 2018. The price of Royal Bomber has increased owing to its popularity in the game.
Skull Trooper
Part of the Skull squad, the Purple Skull Trooper is an Epic outfit and one of the rarest Fortnite skins that you will be able to purchase it by spending 1,500 V-bucks. Skull Trooper made its debut in Fortnite on October 26, 2017, and it's been added to Fortnite item shop more than 50 times. This classy Purple Skull Trooper from Fortnite Chapter 1 Season 1 is based on the character model Jonesy and has several selectable styles and variants.
Special Forces
 Based on the renegade model, the Special Forces is a rare outfit from Season 1 that can be purchased for 1,200 V-bucks from the Fortnite item shop. The skin also has several variants that will come along with the outfit.
Demogorgon
Demogorgon was released in Fortnite Season 9. Purchase this rare skin for 1,200 V-bucks which is also a part of the Stranger Things Set. Demogorgon, based on the Empty Head character model, is one of the rare skins in Fortnite with just 5 appearances till date in the item shop.
Ghoul Trooper
Ghoul Trooper is a rare and scary outfit from Fortnite Season. This epic skin is a part of the Bear Brained set and can be purchased for 1,500 Fortnite bucks. Ghoul Trooper has 3 selectable styles, Default, Pink, and Zombie. This Ghost skin is based on the Ramirez character.
Hacivat
The Epic Hacivat is one of the oldest and rarest Fortnite skins till date. The Hacivat outfit is part of the Hacivat bundle and you can get this Season 5 rare skin for 1,500 Fortnite V-bucks.
Honor Guard
Honor Guard is an Epic Outfit based on the character model Mannequin Male in Fortnite. Buy an Honor View 20 which costs $650 to get this rare skin in the Fortnite item shop. 
 Aerial Assault Trooper 
The Rare outfit which also comes along with a green color helmet can be acquired for 1,200 Fortnite bucks in the season shop. Aerial Assault Trooper is inspired from the character model of Spitfire.
Dark Voyager
Dark Voyager is a legendary outfit. Part of the Space Explorers, Dark Voyager skin has only appeared 7 times in the item shop making it one of the rarest Fortnite skins from season 3. The skin has been designed based on the character model empty head. You can acquire the Dark Voyager outfit as a reward from tier 70 of the battle pass.
Blue Team Leader
The ever stylish Blue Team Leader is a rare outfit based on the Ramirez model. Launched in Fortnite Season 2, you need to get the PlayStation Plus Celebration Pack to get your hands on this rare skin in Fortnite.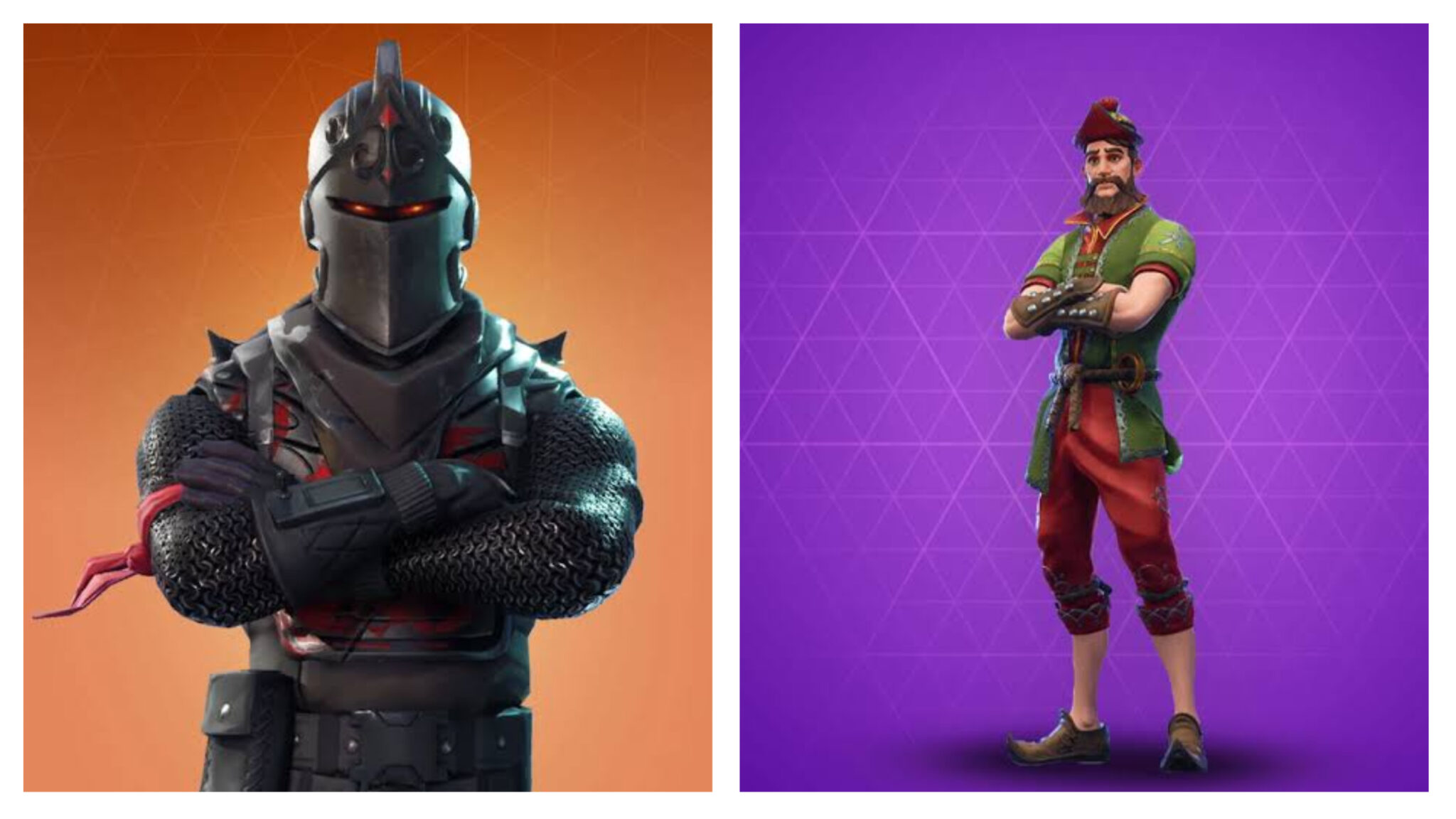 Bunny Brawler 
Bunny Brawler is an epic rarity skin that you can purchase for 1,500 V-bucks. Part of the Pastel Patrol Set, this rare skin from Fortnite is based on two models, one is Mannequin Female, and the next is Luna. Bunny Brawler has appeared more than 25 times.
Black Knight 
The legendary and the most popular skin in Fortnite, the Black Knight outfit can be purchased for 950 V-bucks. Black Knight is an integral part of the Fort Knights set. Based on the Jonesy model from Fortnite Season 2, this skin comes in various variants and selectable styles. 950 V-bucks for an elite skin like Black Knight may seem viable and every Fortnite fan has always loved to equip this classy outfit to showcase it on their profile. Black Knight comes at times and goes after a while from the Fortnite itemshop.
Infiltrator
 The rare infiltrator outfit based on the Hawk character model can be bought for 1,500 V-bucks. Infiltrator is one of those skins that made its debut in Fortnite Season 1 at the time when Fortnite was launched globally.
Tracker
The Uncommon outfit from Season 1, Tracker skin rarely makes its appearance in the item shop of Fortnite. Purchase this skin for 800 V-bucks whenever it's available in the item shop. This skin has a couple of styles and will be a good buy from the itemshop.
Travis Scott
The Icon series outfit, Travis Scott is a part of the Travis Scott set. This rarest Fortnite skin has appeared only 6 times and you can purchase it for 1,500 Fortnite v-bucks. Travis Scott's outfit is also bundled along with Cactus Jack. You can also unlock Travis Scott outfit by purchasing the astronomical item bundle in Fortnite.
More Rare Skins in Fortnite 2023
Here are the other rare skins that you can unlock in Fortnite 2023.
Rue
Chief Hopper 
Kratos
Double Helix
Psion
Omega
Radiant Striker
Backbone
Ragnarok 
Hyperion
That's everything you need to know about the rarest skins in Fortnite 2023. These are the rare skins in Fortnite and you can purchase them by following our guide. We will be back with more Fortnite updates soon.
For more related content check out our dedicated website Gamition.
More E-Sports news:
Follow our dedicated E-Sports page for instant E-Sports news and updates