Check our guide with tips to complete Incomplete Writing puzzles in Genshin Impact. It can be a bit confusing but our guide will help you out!
Genshin Impact has many quests and puzzles that travelers need to complete. Incomplete writing is a challenging puzzle and you need to solve this puzzle to complete the Chi of Guyun quest in Genshin Impact. The solution for Chi of Guyun quest is only available in the incomplete writing puzzle. To those who are struggling to complete the incomplete writing puzzle, here's our guide and walkthrough to complete the puzzle in Genshin Impact.
Incomplete Writing Puzzle – Guide and Tips
This puzzle is available in Qingce Village and you need to make your way to the teleport waypoint first. Find the lightning pillars near the waypoint and then you also need to activate the statue with mechanisms.
You need to find the fragment and mechanisms near the waypoint to activate the statue in the order. To know the order you also need to read the manuscript near the lightning pillar. Read the blue colored words which are also highlighted to find the order. Here's the order,
Top
Bottom right
Top left
Top right
Bottom left
The order simply says that you need to activate the first statue on top, the second on the bottom right, the third on the top left, the fourth on the top right, and the final fifth statue on the bottom left. Then after activating all the statues, the first incomplete writing puzzle is solved and you can get the rewards from the precious chest that spawns after the task is done.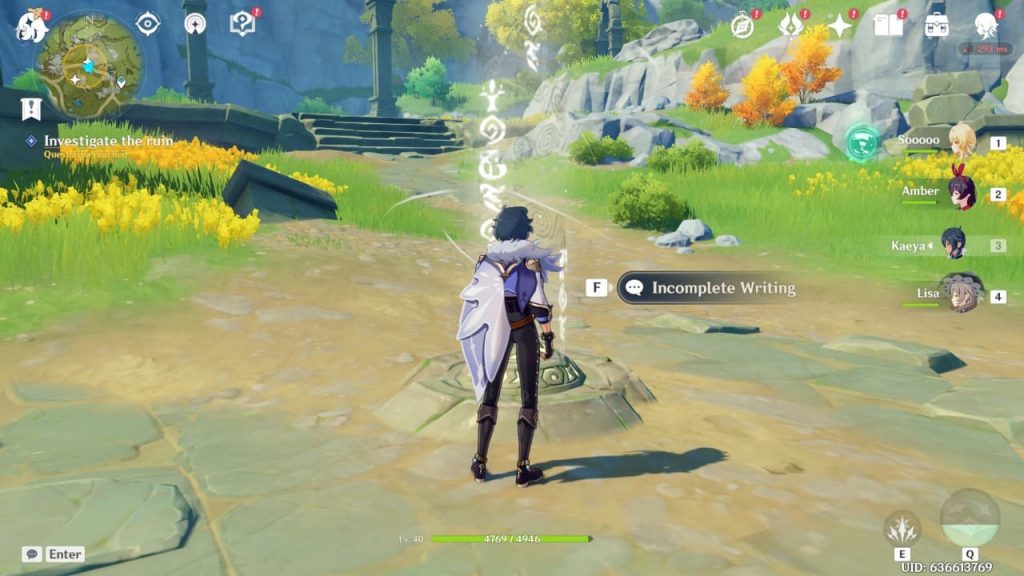 Next, you need to climb up the Qingce Village mountains and reach the highest peak point and this spot is identified by a big tree at the top. Again read the manuscript to know the hint for completing the incomplete writing puzzle here. For this task no specific order is given, instead you just simply need to find and activate the dragon stone statue. Again you can get precious chest rewards.
Next, you need to find the NPC Granny Rouxin to find hints and fragments for the following geo puzzle. Find the geo archon statue and climb the hill to get all the fragments to activate the five shrines in a pentagram shape to complete the puzzle.
Now find the other fragment which is on the mountain where Rouxin is located. Now activate all four shrines and get precious chest rewards.
Solve every incomplete writing puzzle to complete the Chi of Guyun quest and get new rewards. These might be tricky as you need to activate the statues in the right order with all mechanisms and fragments. But if you are unable to complete it, you can also reset the missions by activating the statues.
With this, our Genshin Impact incomplete writing puzzle guide and walkthrough is done. Complete this puzzle to unlock new quests and challenges.
For more related content check out our dedicated website Gamition.
More E-Sports news: 
Follow our dedicated E-Sports page for instant E-Sports news and updates