Is Breanna Stewart gay? Who is the WNBA superstar married to? Learn all there is to know.
Breanna Stewart is widely known as one of the most famous basketball superstars in the Women's National Basketball Association (WNBA). Stewart, who currently plays for the New York Liberty in the WNBA has not only been one of the most decorated athletes in history, but since 2010 — when she was 16 — she has become one one of the most decorated basketball players ever.
Stewart has won three USA Basketball Female Athlete of the Year awards, two ESPY Awards, two WNBA championships alongside two Finals MVP Awards, the WNBA MVP Award, and the WNBA Commissioner's Cup as well as Commissioner's Cup MVP honors. Stewart was profiled for Sports Illustrated by Megan Rapinoe, Sue Bird's fiancée and the magazine's solo choice for the honor in 2019. So far, Stewart is only the fourth woman athlete to receive the Sportsperson of the Year honor.
Stewart's success has earned her a lot of attention from sports fans all over the world, and many of those fans have often asked if the WNBA superstar is gay. As it turns out, we have all the answers. As it turns out, Stewart is indeed gay and is engaged to fellow WNBA star Marta Xargay Casademont. In fact, they also have a child together.
When was Breanna Stewart and Marta Xargay Casademont's child born?
WNBA stars, Olympic competitors, and newlyweds Breanna Stewart and Marta Xargay Casademont welcomed their first child together in August 2021. The couple announced their daughter Ruby Mae Stewart Xargay was born on August 9, the day after Stewart won an Olympic gold medal with the United States Women's National Basketball team. Prior to winning gold in Tokyo, Stewart was chosen as one of five Sportspersons of the Year, the top honor issued by Sports Illustrated, in 2020.
Xargay won a silver medal with Spain in 2016 and just retired from basketball in July after being part of nine championship teams and three gold medal-winning Eurobasket teams in her career. The baby, Ruby Mae Stewart Xargay, was born via surrogate on August 9, 2021, the couple revealed first to People magazine. Stewart had 14 points, 14 rebounds, 5 assists, 4 steals and 3 blocked shots in Team USA's gold medal game victory against the host nation Japan the day before.
In a new short film with Bleacher Report, Stewart revealed she considered giving Ruby the middle name "Tokyo" following the win. Xargay didn't care for it as much, though. Stewart said she didn't always know she would marry and have a child with a woman, but she says, "[Xargay's] the one I want to be with, and we are living our best life." "I hope this continues to show people that there is no perfect way to find love or have a family," Stewart said.
What is Marta Xargay Casademont known for? What has she achieved in her professional career?
Xargay, in her 12-year professional career, earned astonishing amount of accomplishments across continents.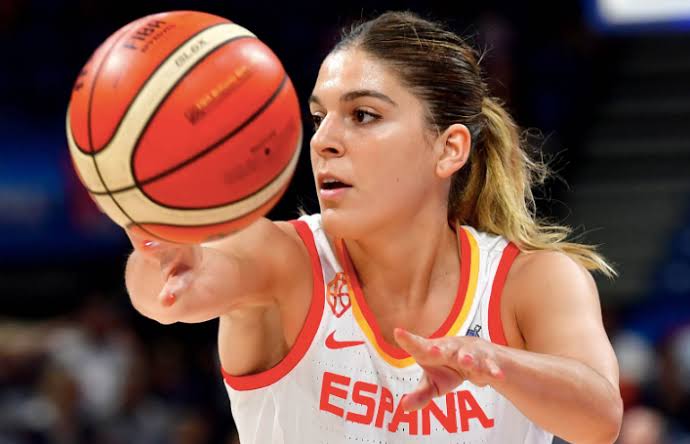 Born in Girona, Spain, she began playing basketball at six and by the age of 14 was attached to a professional basketball club. She would end up winning a EuroLeague championship, two Spanish League championships, three Spanish Cup championships, and a silver medal with Team Spain at the 2014 World Cup — all before coming to the WNBA in 2015 to play for the Phoenix Mercury.
Xargay was a member of the Mercury team this offseason for the first time since returning to other overseas leagues in 2016. In addition to her Olympic silver and World Cup silver, she also has a World Cup bronze medal, three Eurobasket gold medals, and a Eurobasket bronze medal.
Since when have Breanna Stewart and Marta Xargay Casademont dated?
Stewart and Xargay have been dating since 2019.
They began their relationship while playing together in Russia, right after Stewart was injured. Stewart said that she decided then to freeze her eggs, which she has called "probably one of the best decisions I've ever made in my life." She began thinking about "her future" for the first time following the injury, leading her to want a child. "Why can't I be the best player and have a baby? Why can't we do both?" Stewart recounted.
Stewart proposed to Xargay in May 2020 and on July 6, 2021, they tied the knot. Stewart said that trying to have a family while playing sports was what she wanted, but "As a women's basketball player, it's like, 'OK, how do you do that? How do you plan that perfectly so the baby comes during the summer?'" Although they were "cutting it close" with the Olympics, Stewart credits her surrogate for working with them to make the process possible.
More News:
• IS ALFONSO RIBEIRO GAY? WHO IS HE MARRIED TO? 
• IS JASON MRAZ MARRIED? WHO IS THE WIFE OF JASON MRAZ?
• DID TARA REID HAVE SURGERY? ACTOR OPENS UP ON BOTCHED SURGERIES AFFECTING HER CAREER