Has NBA Hall of Famer Shaquille O'Neal ever faced Omos in the WWE? Learn all there is to know about this.
Shaquille O'Neal is widely regarded as one of the best players to ever have stepped foot on a basketball court, as well as one of the best centers ever. While on the court, Shaq was known for combining his size, speed and strength to be known as one of the most dominant physical specimens in the NBA of all time, off the court, Shaq is known for plenty of different things.
Off the court, Shaq is known for his affinity towards DJing, his sense of humour and his entrepreneurship. However, one of his lesser talked about ventures have taken the spotlight of late – after many fans asked whether he has ever gone up against WWE wrestler Omos in a ring.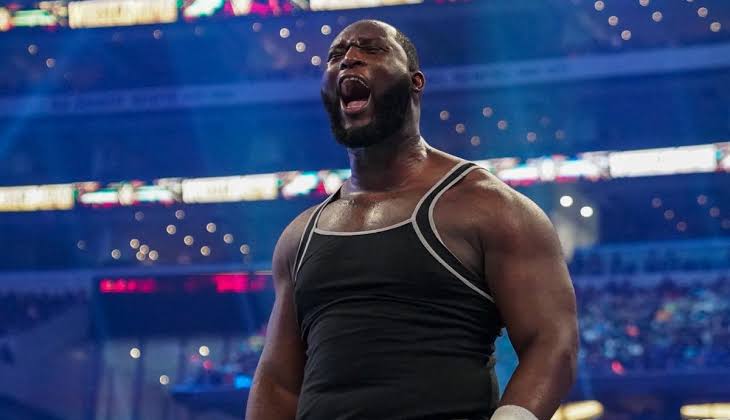 Tolupe "Jordon" Omogbehin, aka Omos, before joining professional wrestling, was a former college basketball player. Currently plying his trade in the WWE, Omos stands at a towering 7 feet and 3 inches – making him two inches taller than Shaq. Omos and Shaquille have never crossed paths as of now, even though both athletes have tried their hands in each other's sports.
How many times has Shaquille O'Neal appeared in the WWE till date?
Shaq has made a number of appearances on WWE until now, all of which we will discuss.
In 1994, the NBA legend, Shaquille O'Neal made his first appearance in the WWE (then known as WWF) as he joined Hall of Famer Hulk Hogan and presented him with the World Heavyweight Championship. O'Neal returned to make a guest appearance in the WWE in 2009 and got into a physical altercation with another giant, the Big Show. His most memorable appearance in WWE, though, was when he appeared at WrestleMania in 2016.
Shaq joined the Andre the Giant Memorial Battle Royale at WrestleMania 32. There, he squared off once again with the Big Show when he entered the ring. However, Omos might be a different animal in comparison to the Big Show as he will tower down on Shaq if the two ever cross paths – making it all the more harder for the four-time NBA Championship to emerge supreme.
More News:
• Ashley Moyer-Gleich and Luka Doncic: What happened between the NBA star and the female referee?
• How much of the Charlotte Hornets does Michael Jordan own?
• How many NBA players has Kim Kardashian dated? Which NBA stars have the Kardashians hooked up with?