Looking to add the Blaster Stance to your arsenal in Star Wars Jedi Survivor? Our guide will provide you with all the information you need to acquire this powerful ability.
Star Wars Jedi Survivor is back. Cal Kestis, the Jedi Knight is once again on a mission to save the galaxy from enemies. There are new quests, locations, weapons, and more. Cal Kestis requires weapons to complete every mission across the galaxy. There are a couple of weapons. Lightsaber Stances are primary weapons. Blaster Stance is one of the best weapons you can use for Cal.
Blaster Stance can be found in Jedha after completing some missions. Jedha is the 3rd Planet in Star Wars Jedi Survivor. You can acquire the weapon from Bode Akuna after completing main story quests. Here's everything you need to know about the Blaster Stance weapon and ways to unlock it in Star Wars Jedi Survivor. 
Steps to Unlock Blaster Stance in Star Wars Jedi Survivor
The objectives are simple. You need to leave Koboh after completing the quests and then reach the Jedha planet in order to unlock the blaster stance weapon.
Get to the planet and complete a mission where you need to locate Cere's place. Then you need to complete a tutorial given by Bode as well. Once after completing all these, then Cal has to travel again to 2 more locations. You can travel to Mantis, Cere Outpost, or Koboh. After getting done with all these, you can collect the Blaster Stance weapon from Bode Akuna. That's how this Lightsaber Blaster Stance is unlocked in Star Wars Jedi Survivor.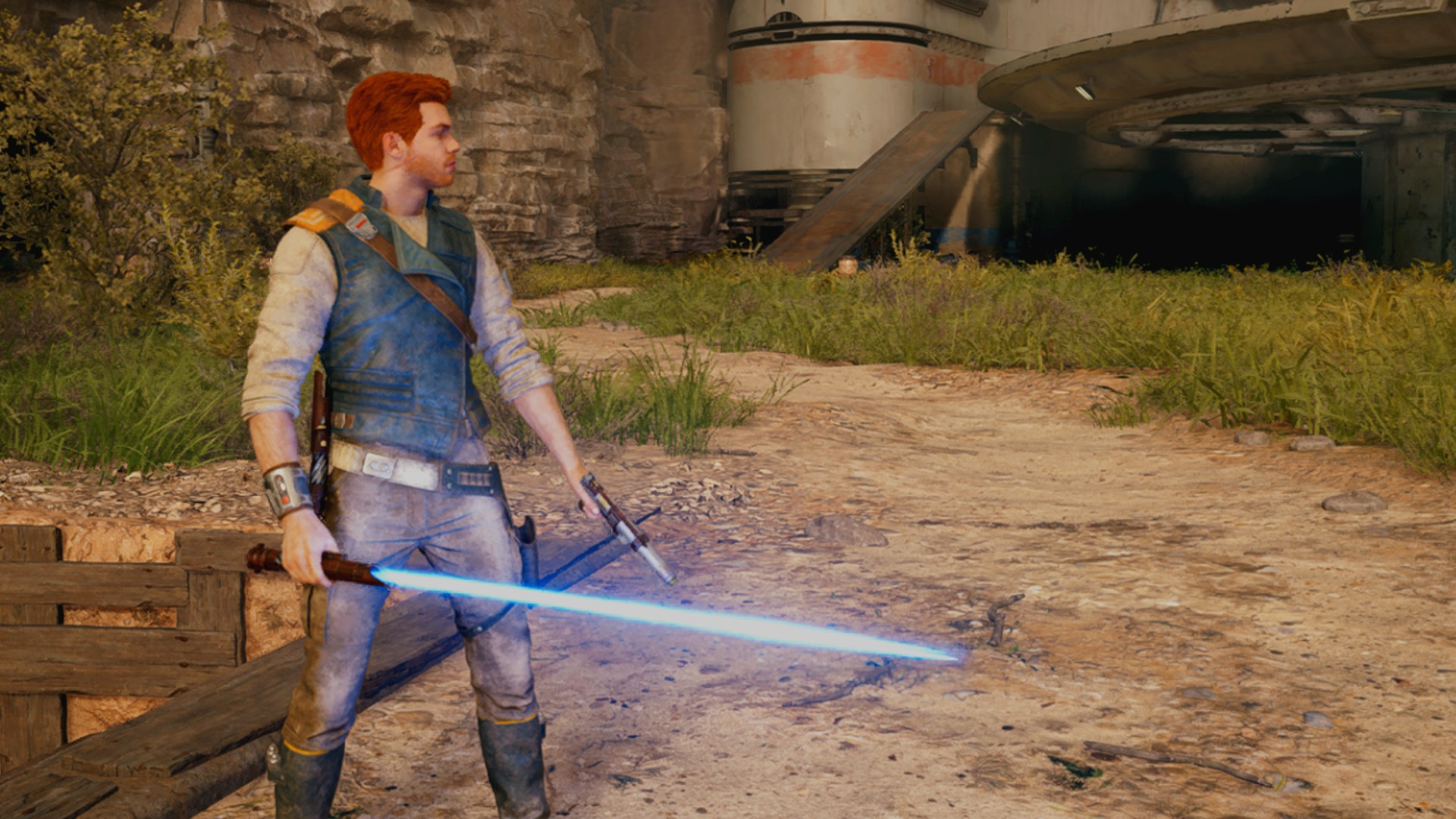 The weapon will be available to use on every planet. You can also use the Blaster Stance to complete main story missions in all planets of Star Wars Jedi Survivor. An electrifying weapon to help Cal progress faster in the game.
Blaster Stance Abilities
The Blaster Stance weapon has some incredible skills. Here's all abilities of this new weapon,
Point Blank (1 Skill) – This skill acts just before an enemy hits to blast them in a shot
Flying Lunge (1 Skill Point) – You can inch closer to an enemy with a leaping thrust and quickly unleash an attack
Improved Clip (1 Skill Point) – This skill increases maximum blaster ammo by three. The more ammo, the more damage you can deal using the blaster stance weapon
Blaster Cooldown (1 Skill Point) – You will receive extra ammunition once you strike an enemy using the lightsaber
Quick Draw (3 Skill Points) – You can kill multiple enemies using the stance blaster. This is the best skill for the blaster stance
Energizing Flurry (3 Skill Points) –  This skill performs a quick swings that quickly replenish ammunition if they are connected 
Efficient Heat Transfer (2 Skill Points) – This skill decreases the time that you require to charge a blaster shot 
You will be able to explore all upgrades in the weapon's skill tree. Use all abilities to maximize the powers of the Blaster Stance weapon. After getting Blaster Stance, you can unlock the remaining lightsaber stances. Blaster Stance and Lightsaber have always been a monstrous combo in Jedi Survivor. Use both to unleash carnage on your opponents.
That's how you can unlock and use the Blaster Stance weapon in Star Wars Jedi Survivor. Use the weapon to explode enemies and complete missions. We will come back with more Star Wars Jedi Survivor updates and guides soon. 
For more related content check out our dedicated website Gamition.
More E-Sports news:
Follow our dedicated E-Sports page for instant E-Sports news and updates