Looking for the best Heroes to use in Ever Legion battles? Check our guide to know the Top 5 heroes in Ever Legion along with Reroll guide.
Ever Legion, the fantasy Anime RPG from Westlake Technologies has been one of the best gacha games ever since its launch. Ever Legion has common features, mechanisms, and gameplay like other gacha games. But Ever Legion is known for its real-time and auto-mode combat. You can play solo, play with two heroes, and play with three heroes in all the gaming modes. You need to pick and summon your hero in the reroll before playing Ever Legion.
Every Ever Legion character belongs to a different Faction and Rarity. All the Ever Legion characters have different roles and skills along with passive and ultimate skills. To those who are looking for the best heroes in Ever Legion along with Reroll guide, here's our easy reroll guide along with the top 5 Heroes to pick for every battle in Ever Legion. Check our Ever Legion Reroll guide to know the 5 best characters in the gacha game.
Ever Legion Reroll Guide
Just like other gacha games, you need to follow a similar process in Ever Legion. Here's how to complete the Ever Legion Reroll feature easily.
Download and Launch Ever Legion on your device
Log-In as a guest
Play the tutorial battles and wait for your turn to pick your hero
You will be given 10 Heroes and there will be unlimited rolls
Pick your favorite character and you can continue to roll until you summon your hero
Now you can link your official account and start playing Ever Legion
This is how the Ever Legion Reroll mechanism is done. Follow these steps to summon your favorite SSR/Hero in Ever Legion.
Top 5 Heroes in Ever Legion
If you are having trouble pulling characters during Reroll, here are the best and top 5 heroes in Ever Legion that you can pull during reroll and use for battle.
Aaranella
The Moonlight Ranger, Aaranella is a legendary hero and she plays the continuous damage dealer and debuffer roles. Aaranella is an agility-based hero and an excellent defensive tank. Aaranella deals massive physical damage in all ranges. Her passive skill Barbed Barrage will throw arrows and make enemies bleed, and during this time the enemies will also lose more HP.
Aaranella's Ultimate Skill Raining Arrows unleashes a barrage of arrows around 10 and all these arrows will deal 80% damage from ATK. Her other special skill is Sliver Shot which throws an Icy Arrow that will deal 180% ATK of her physical damage and this will reduce your opponents' Attacking Speed for 3 seconds. Overall, Aaranella is a top-tier legendary character in Ever Legion that you can't ignore. Use Aaranella with other heroes who are good in defense and HP.
Katerina
The Audacious Witch, Katerina is a legendary character from the illuminated faction. Katerina is an excellent AoE player and she primarily plays the burst role and deals magical damage as she's an intelligence-based hero. Katerina has a couple of special skills. Her Firewall skill releases a series of swirling fireballs and her foes have to endure severe burning damage, this skill also provides her a shield and she deals 320% damage. Flowering Inferno is Katerina's ultimate skill that will submerge her opponents in a wave of flame. Whenever the Flowering Inferno skill is active, you can inflict heavy damage up to 250%. Katerina is an all-rounder with excellent HP, ATK, Def, and DMG stats.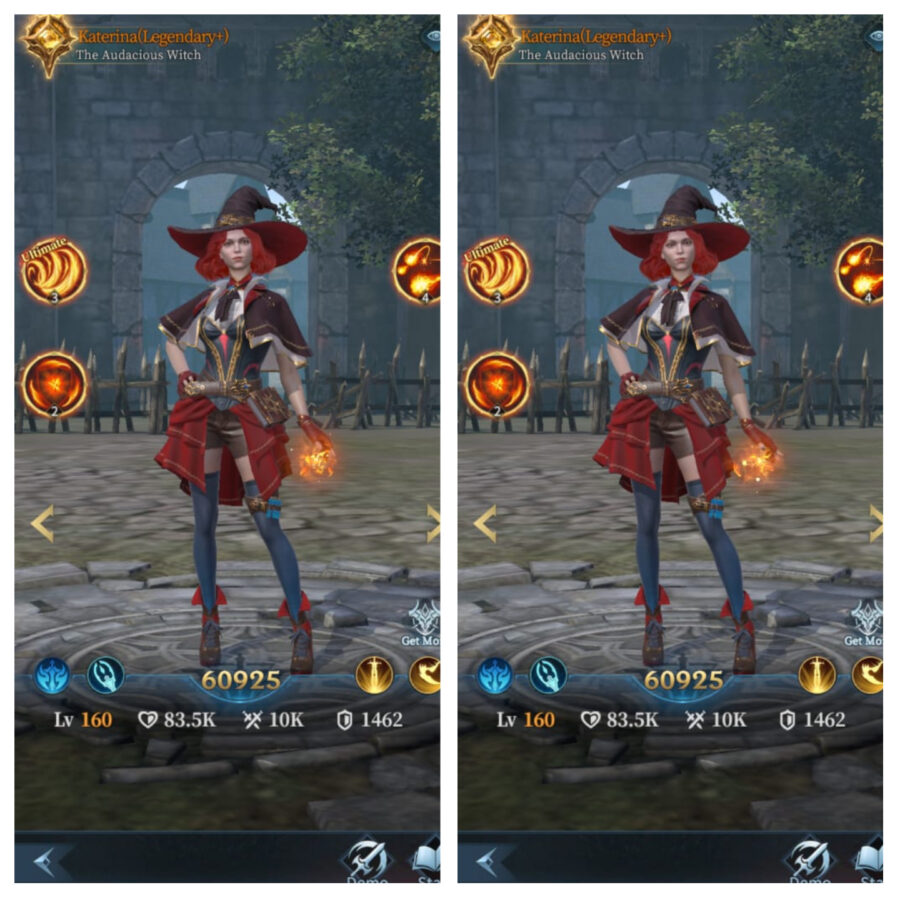 Blodeuweth
The Witch Of Thorns from the Eternal Faction. Blodeuweth is an explosive tank from the mythical class. Blodeuweth's roles are continuous damage dealer and mage. Blodeuweth deals magical damage and this intelligence-based character is a powerful ranged character.
Blodeuweth has two special skills. Her ultimate skill Rain of Thorns unleashes 8 thorny projectiles and this series of hurdles will deal damage of more than 140%. Her Death Bloom skill twirls whip, and she starts attacking after chanting for a few seconds. The Death Bloom skill allows her to deal 160% damage for a few seconds. Blodeuweth is one of the best mythical heroes in Ever Legion and you can consider pulling her as your SSR during the reroll process.
Ruthven
The Shadow Baron, Ruthven is a massive DPS tank. Ruthven is a legendary + Hero in Ever Legion and deals massive physical damage. The Agility-based hero from the Eternal Faction plays the tank role. Ruthven is the best AoE hero from Ever Legion with several special skills. Ruthven's ultimate skill Lake of Blood transforms him into a Pool of Blood and he becomes immune to all types of damage and attacks for 6 seconds.
Ruthven can deal 55% more damage as long as the skill is active. His other skill, Vampire's Gift, buffs his allies with a huge boost to their life leech attributes and this lasts up to 8 seconds. Ruthven also restores his HP from his allies from the life-leeching attribute effect. Overall, Ruthven is a great addition to your team and the most picked hero during the reroll.
Heinrich
Heinrich, the best mythical hero in Ever Legion, is an intelligence-based hero from the Eternal Faction and deals magical damage. He is a mage tank and can deal huge damage in the AoE zone. Heinrich or otherwise known as The Masked Death has two skills. His passive skill Eternal Curse will deal massive damage whenever spells are cast, and this skill is used in 3 stages. His other ultimate skill is Inner Demons which will reduce your opponents' HP gradually for some time. Heinrich is an excellent AoE hero and you can maximize his powers using his special skills. Overall, Heinrich can be used for all battles and you can also pick Heinrich as your character during the reroll process.
For more related content check out our dedicated website Gamition.
More E-Sports news:
Follow our dedicated E-Sports page for instant E-Sports news and updates