If you are looking for the best ways to get Genshin Impact Primogems then you are at the right place. We have listed all the ways in this guide.
If you play Genshin Impact then you know very well that Primogems are the game's most important currency. They're what fuels the game's gacha system. For every 160 primogems, players get one wish. Every 1600, they get a ten-roll. Unfortunately, they're the most challenging currency to farm for in the game. Primogems are typically only rewarded in small amounts. Luckily, there are some of the best ways to get the Genshin Impact primogems. This guide will cover all of them for you.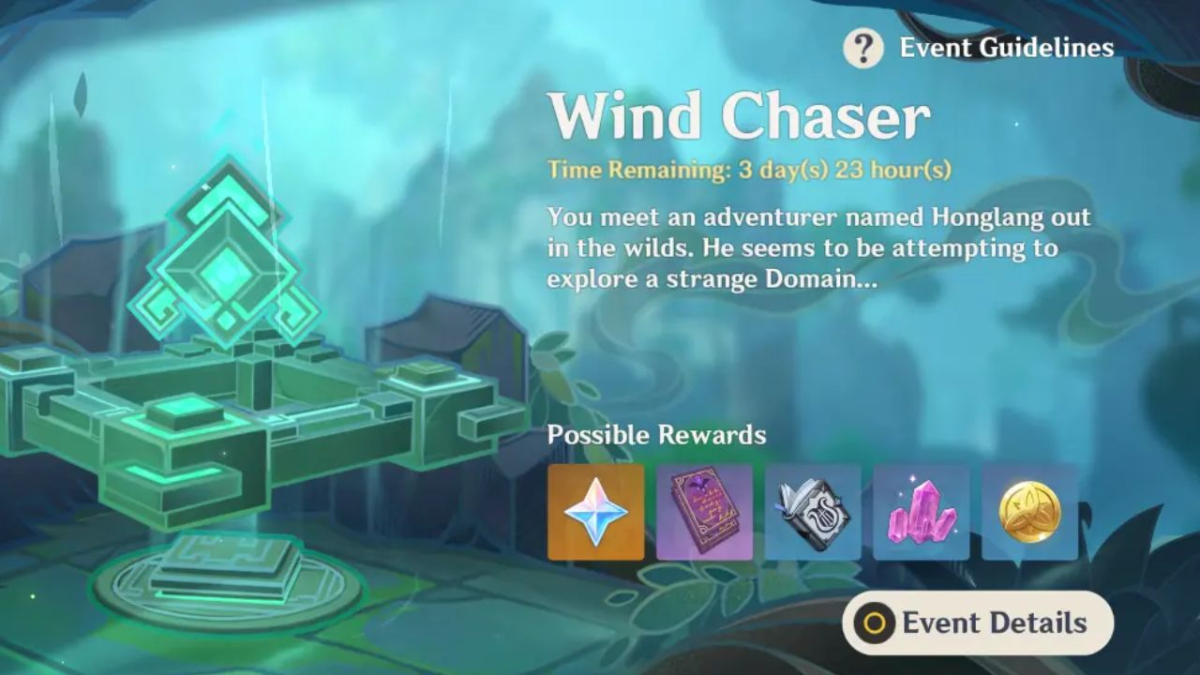 Redeeming Codes
In the game, acquiring primogems can be made easier by redeeming codes. These codes are typically distributed during live stream events, wherein the game developers usually give out two or three redemption codes for each update live stream. It's important for players to act quickly though, as these codes have a limited duration before they expire.
Fortunately, there are two codes that remain active throughout the game. One of these is "GENSHINGIFT", which grants players 50 primogems and can be redeemed once per month. The other code, "BSPD3ZRXU985", rewards players with 60 primogems but can only be used once per player.
Serenitea Pot
The Serenitea Pot, also known as the Teapot, is the player housing system that becomes available after reaching Adventure Rank 28 and completing Chapter I, Act III of the Archon Quest. It is followed by the World Quest 'A Teapot to Call Home'. By leveling up their 'Trust Rank' within the Teapot, players can earn Primogems. They can check by speaking to Tubby, the Teapot Spirit. The Trust Rank consists of 10 levels, with each level granting 60 Genshin Impact Primogems. To earn Trust, players must create new Furnishings for the first time.
In addition to leveling up Trust Rank, players can also earn Primogems by creating specific 'Gift Sets' for their characters. Each character has two Gift Sets that they prefer. After players create and place a Gift Set in the Teapot, they can invite characters who favor it to the set for a special dialogue. Completing the dialogue for the first time rewards players with 20 Primogems, meaning that a total of 40 Primogems can be earned per character if both of their preferred Gift Sets are made.
World Quests
Completing world quests can be a great way to earn Genshin Impact primogems. Although the amount of primogems varies depending on the quest, players can usually expect to receive around 20 to 60 gems. In general, the more challenging the quest, the more generous the rewards from Hoyoverse.
While not all quests offer primogems as rewards, most of the ones that do can be found in Liyue and Inazuma. Many players complain that it can be a tedious process to farm primogems without spending real money in the game. However, with the upcoming release of Sumeru, it's possible that more quests rewarding primogems will become available.
The Spiral Abyss
One of the easiest ways to earn Genshin Impact primogems is by tackling the Spiral Abyss floors. However, this method requires players to have at least eight well-equipped characters for two teams. Nevertheless, completing the Spiral Abyss floors is the fastest way to obtain primogems in a short amount of time.
When players complete floors 1 through 8 of the Spiral Abyss with three stars, they receive 100 primogems as a reward. Similarly, completing floors 9 through 12 with three stars will grant players 50 primogems. Additionally, by completing floors 1 through 8 with a three-star rating, players can receive a one-time Star's Bounty of 2,400 primogems.
Events
One of the main benefits of participating in events is the generous primogem rewards they offer. On average, players can expect to earn around 420 primogems per event. Although this may seem like a small amount, completing just four events will provide enough primogems for a ten-roll, with 80 left over.
Participating in events is not only a great way for players to earn primogems, but also to become more immersed in the game's world and lore. Many of Genshin Impact's most intriguing stories are only revealed through these event quests, making them an essential part of the gaming experience for any avid player.
Chests & Teleport Waypoints
Players will come across different types of chests that can offer varying amounts of Genshin Impact primogems. It ranges from as little as 2 to as many as 40 gems. While scouring the map for all these chests may be a tedious task, it's worth noting that completing the exploration progress of a specific nation grants a special reward of primogems.
Unlocking Teleport Waypoints may only give players a measly amount of five primogems per waypoint, but it's still a worthwhile endeavor as it can add up over time. There are currently 160 waypoints scattered throughout Teyvat, and unlocking them all can yield up to 800 primogems in total. Many players make it a priority to unlock these waypoints as soon as new regions become available to maximize their primogem gains.
Adventurer Handbook
Adventurer Handbook is a valuable resource for players as it contains important information about Commissions, Domains, Enemies, and most importantly, Experience. The Experience tab is particularly noteworthy as it offers various rewards for first-time completion based on the player's progression.
The Experience tab is divided into chapters, each with several tasks such as opening chests, activating Waypoints, leveling characters, and defeating bosses. By completing all of these tasks, players can earn valuable rewards such as Primogems. The Adventurer Handbook is an essential tool for players looking to maximize their experience in Genshin Impact.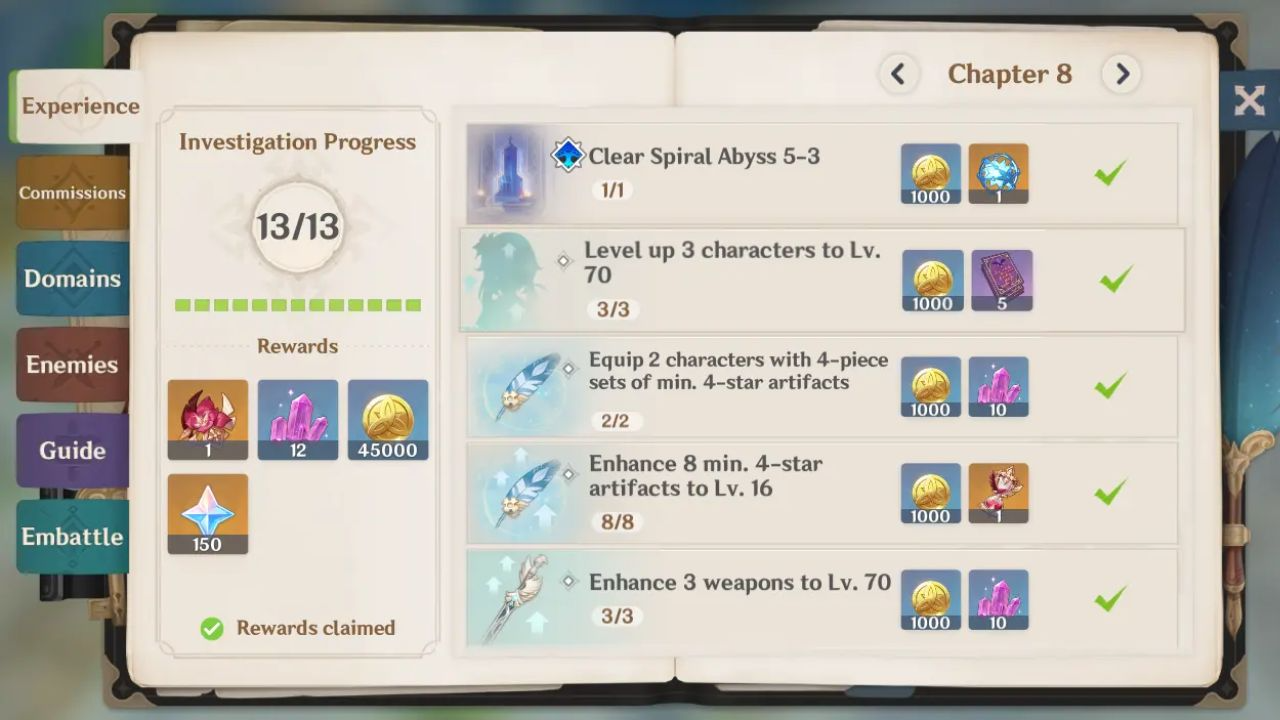 Daily Hoyo-Lab Check-Ins
To get Genshin Impact primogems, one of the simplest methods is to take advantage of Hoyo-Lab's daily check-ins. These check-ins not only offer valuable character-building resources and Mora, but also provide players with 60 primogems each month. Additionally, players can earn 20 primogems at the end of every week for completing the check-in. Although this may not seem like much, it's an effortless way to gain more gems in conjunction with other techniques like quest completion and achievements. Furthermore, it's a convenient alternative for players who may not be able to log in to Genshin Impact every day.
Daily Commissions
Completing daily commissions is a good way to earn Genshin Impact primogems. These missions are short and simple. It typically requires only 10 to 15 minutes of a player's time before they can log out for the day. If the daily commissions in one region become tedious, players can easily switch to another available location to complete them.
There are four daily commissions to finish each day, and players are rewarded for visiting Katheryne at the Adventurer's Guild. Completing these missions can earn players ten primogems, while the Guild will grant an additional twenty.
For more related content check out our dedicated website Gamition.
More E-Sports news:
Follow our dedicated E-Sports page for instant E-Sports news and updates