In the world of professional sports, fans are always eager to learn more about their favorite athletes' personal lives, especially when it comes to their romantic relationships. One such athlete who has caught the attention of fans and media alike is New York Jets quarterback Zach Wilson. His enigmatic relationship with Nicolette Dellanno has been a topic of curiosity and intrigue. Let's dive into the details and uncover who Nicolette Dellanno is, her connection to Zach Wilson, and the buzz surrounding their relationship.
Nicolette's Rise to Fame along with Zach Wilson
Nicolette Dellanno is not a household name like some other celebrities, but her connection to Zach Wilson has thrust her into the spotlight. Nicolette Dellanno stands out as an up-and-coming star. At just 21 years old, she has already achieved remarkable success on platforms like Instagram and TikTok, amassing over 40,000 Instagram followers and nearly 250,000 TikTok followers. Her content primarily consists of engaging lip-syncs, mesmerizing dance videos, and a variety of trending social media challenges.
While Nicolette Dellanno's online presence is undoubtedly remarkable, it's her connection to NFL star Zach Wilson that has truly piqued the public's interest. The two crossed paths in a rather unconventional setting – a Yankees game, where they were spotted together. Their presence at the game ignited a whirlwind of rumors and questions about the nature of their relationship. It became clear to fans and the media that this was more than a chance encounter.
Despite the public attention, Zach Wilson and Nicolette Dellanno have managed to keep their relationship relatively private. Both have been cautious about sharing intimate details or photos on social media, leaving fans guessing about the extent of their connection. This secrecy has only fueled the fascination surrounding their romance.
In the world of professional sports and entertainment, maintaining a private life can be a challenging endeavor, especially when one's personal life becomes a topic of public scrutiny. This became evident when Zach Wilson's ex-girlfriend, Abbey Gile, entered the picture. Abbey had accompanied him to the 2021 NFL Draft when he was selected second overall by the New York Jets. However, since then, Abbey has been linked to Washington Commanders wide receiver Dax Milne, who happens to be a former BYU teammate of Zach Wilson.
The drama surrounding Zach's previous relationship took a surprising turn when Milne posted two cozy photos on Instagram, featuring a blonde woman whose face was conveniently shielded from the camera's view. Social media users were quick to react, with some referring to Abbey Gile as a "homie hopper." In response, an Instagram account featuring her name as the handle replied, "He was sleeping with his mom's best friend … that's the real homie hopper."
Support from Loved Ones
Zach Wilson's mother, Lisa, has been notably supportive of his relationship with Nicolette Dellanno. Amid the challenges and pressures of being a professional athlete, Lisa has gushed over Nicolette and expressed her admiration for her son's girlfriend. Her words have provided a glimpse into the positive impact Nicolette has had on Zach's life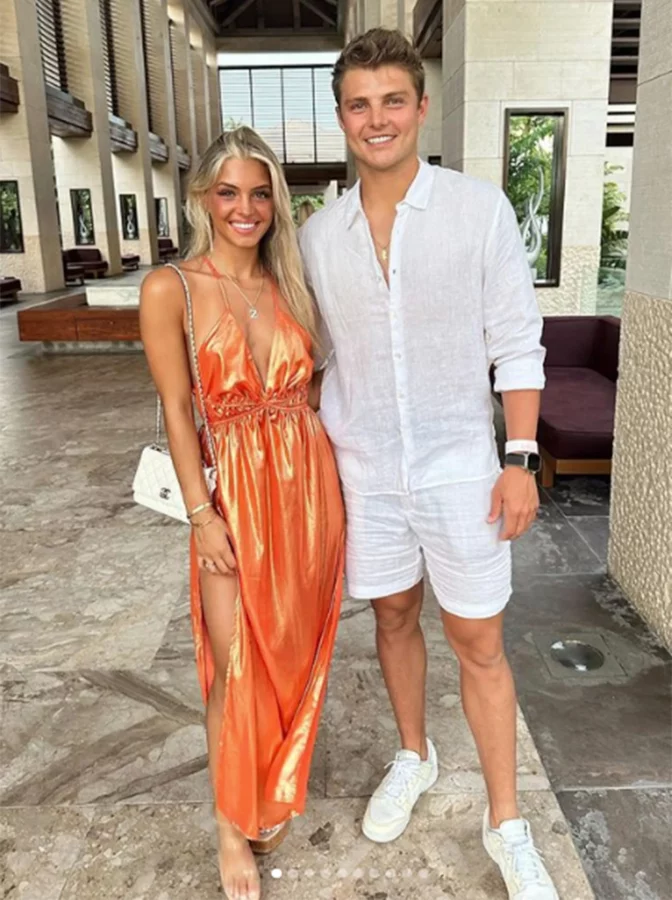 As Zach Wilson continues to make strides in his football career with the New York Jets, Nicolette Dellanno's presence by his side has become a symbol of their relationship's strength. They are a young, attractive couple that represents the classic "power couple" dynamic, where each partner supports and complements the other's ambitions and passions.
In the end, what truly matters is not just who Zach Wilson's girlfriend is, but the depth of their relationship and the journey they undertake as a couple. The future for Zach and Nicolette remains an intriguing tale waiting to be written. Whether they choose to share more about their personal life or continue to cherish their moments privately, their love story is one that fans will watch with great interest.
So, whether you're a die-hard fan of Wilson or simply curious about the lives of celebrities, Nicolette Dellanno's presence in his life is a testament to the power of love and support in the face of fame and scrutiny. In the end, it's not just about who Zach Wilson's girlfriend is, but how their relationship shapes their personal and professional lives, and the impact they have on those who admire them from afar.
More entertainment news: