Who are The Carota Boys: The Carota Boys recently met Jannik Sinner in Turin – here's everything you need to know
Jannik Sinner has a distinct fan club known as the Carota Boys, where six enthusiasts dress up as carrots. While fan clubs are common in sports, the Carota Boys bring a unique and quirky element to supporting the talented Italian player, joining the ranks of other tennis stars like Novak Djokovic, Roger Federer, and Rafael Nadal with their dedicated fan bases.
Making their debut at the 2023 Roland Garros, the Carota Boys garnered significant attention from fans who eagerly wanted photos with them. The members of the group also had the opportunity to introduce themselves. Lorenzo, Carrot 1, is a travel enthusiast. Francesco, Carrot 2, has a passion for tennis. Alessandro, Carrot 3, enjoys music. Herberto, Carrot 4, unsurprisingly favors tennis. Gianluca, Carrot 5, is a coffee lover, and Enrique proudly holds the title of Carrot 6.
The choice of carrots for Jannik Sinner's fan club has its roots in 2019 during the Vienna Open when Sinner was spotted eating a carrot during a changeover. The Carota Boys continued their support in London at the 2023 Wimbledon, witnessing Sinner's victories in the early rounds. However, they had to depart after a few matches, prompting Sinner to discuss them in one of his post-match interviews. "They are not here anymore, unfortunately. Obviously, I miss them a lot, maybe they are watching now, so I'm saying hi to you guys. I played in Vienna three years ago (it was in 2019), and the match before mine went to the third set, and I was very hungry. And I haven't had a chance to eat, so I told my coach I needed something to eat, and he brought me a carrot."
Carota Boys finally met Jannik Sinner at the 2023 ATP Finals
The Carota Boys had a special encounter with Jannik Sinner in Turin during the 2023 Nitto ATP Finals. As Sinner made his official debut at the season-ending championships, the carrot-clad superfans, inspired by Sinner's red hair and his habit of eating carrots during matches, have been devotedly following him worldwide since the Internazionali BNL d'Italia in the spring. This added a unique and festive touch to Sinner's presence at the Nitto ATP Finals, completing the experience for both the player and his carrot-costumed supporters.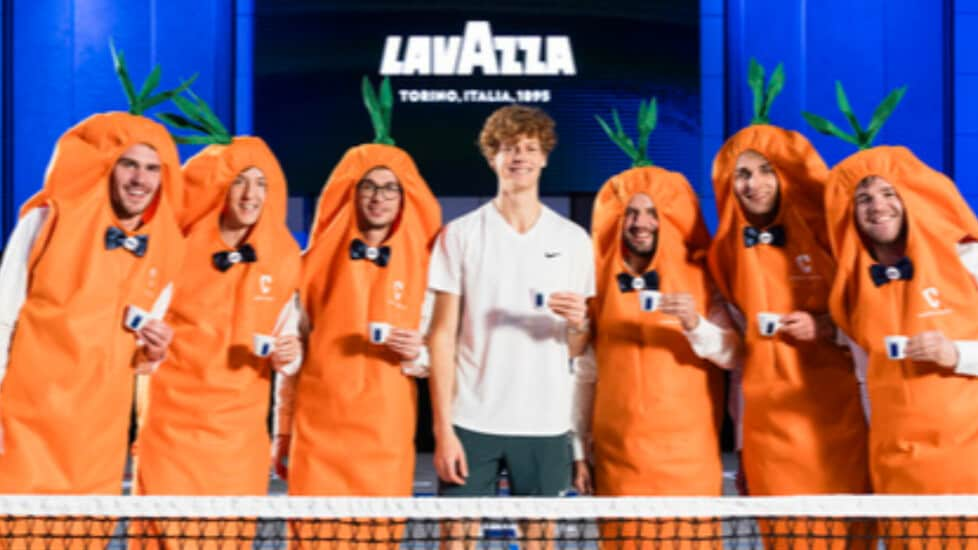 Lavazza-sponsored, the Carota Boys hinted at an upcoming video featuring Jannik Sinner, coinciding with his debut as the No. 4 seed in the stacked Green Group at the 2023 Nitto ATP Finals. This group includes defending champion Novak Djokovic, Australian Open finalist Stefanos Tsitsipas, and former No. 4 Holger Rune. With Sinner's participation and the Finals being set in Italy at the Pala Alpitour, it was almost a given that the Carota Boys, who had been present to support Sinner at Roland Garros, Wimbledon, and the US Open, would be there in person in Turin.
Which are some of the most famous fan groups in Tennis?
1. Federer's Fanatics: Roger Federer, often considered one of the greatest tennis players, boasts a massive fan following known as "Federer's Fanatics." This global group of enthusiasts transcends borders and cultures, united by their admiration for Federer's elegant playing style and sportsmanship. They gather online and at major tournaments, waving Swiss flags and donning red attire to create a vibrant and unmistakable presence in the tennis world.
2. Nadal's Armada: Rafael Nadal's fan group, aptly named "Nadal's Armada," draws inspiration from the Spanish word for fleet. These passionate supporters emulate the relentless spirit of their idol, often clad in Spanish colors and waving banners adorned with slogans like "Vamos Rafa." Their unwavering support echoes the intensity of Nadal's on-court demeanor, creating an electrifying atmosphere at tournaments worldwide.
3. Djokovic's Nolefam: Novak Djokovic has a dedicated fan base known as the "Nolefam." This global community celebrates Djokovic's mental resilience and versatility on the court. They engage on social media platforms, using the hashtag #Nolefam to share their support. Whether it's cheering at Grand Slam finals or participating in online discussions, Nolefam members are known for their fervent loyalty to the Serbian tennis icon.
4. Serena's Sisters: Serena Williams has a special connection with her fan group, often referred to as "Serena's Sisters." This diverse and empowering community rallies behind Williams, celebrating her achievements both on and off the court. With a strong emphasis on unity and sisterhood, this fan group transcends traditional tennis fandom, creating a supportive network that extends far beyond the confines of the tennis arena.
5. Murray's Murrays: Andy Murray's fan base, affectionately known as "Murray's Murrays," showcases the Brit's widespread appeal. These fans appreciate Murray's tenacity and sense of humor. Whether he's competing in a Grand Slam or overcoming injury setbacks, Murray's Murrays stand by their favorite player, creating a lighthearted and resilient community that reflects the spirit of the three-time Grand Slam champion.
More Tennis news
Follow our dedicated Tennis page for instant Tennis news and updates