Let us explore what Andy Reid said about Travis Kelce and Taylor Swift in the recent post-match press conference.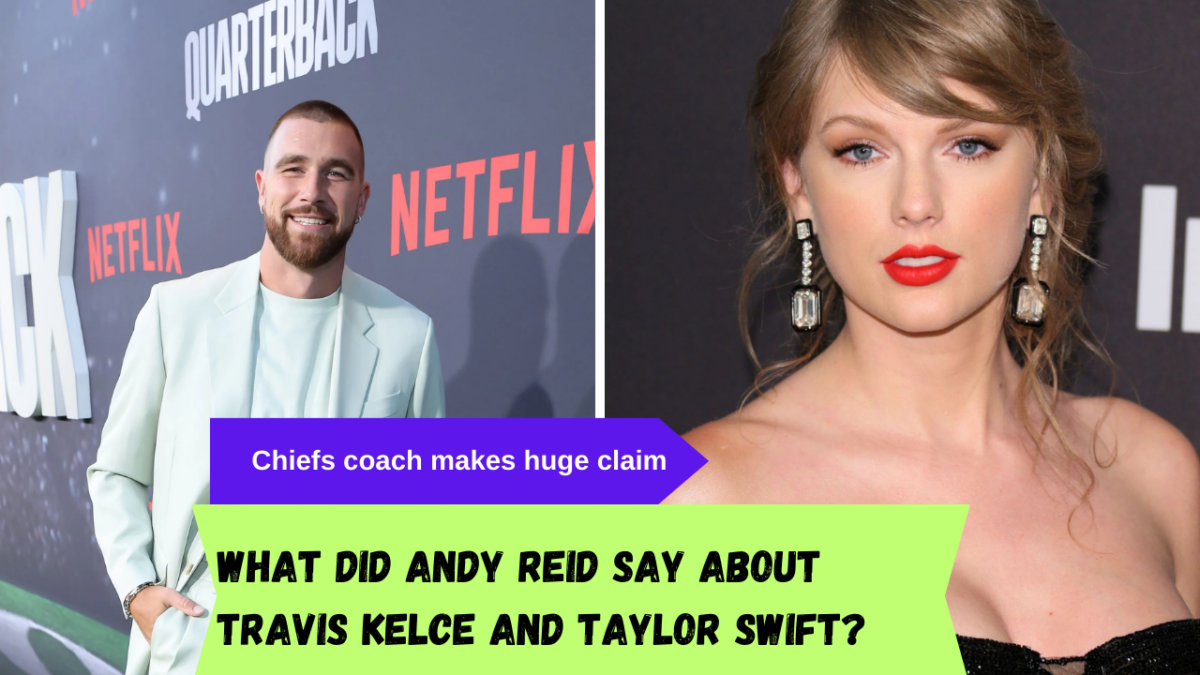 Kansas City Chiefs head coach Andy Reid made a lighthearted comment about setting up American football player Travis Kelce and pop star Taylor Swift during a press conference.
This playful remark came after Swift was spotted attending an NFL game between the Chicago Bears and the Kansas City Chiefs, where she cheered from a suite alongside Kelce's mother, Donna. The two were seen leaving together after Kelce's team secured a victory, and the video of their exit went viral.
Coach Andy Reid jokingly stated, "I met her before – I set them up." This humorous comment fueled speculation about a potential romance between Kelce and Swift. 
Travis Kelce's teammate, Patrick Mahomes, shared his thoughts on Swift, describing her as a talented singer and expressing his desire to meet her someday if she indeed ends up dating Travis Kelce. Mahomes mentioned that Travis Kelce has a knack for casually mentioning things, like attending major events or meeting celebrities, without making a big fuss about it.
Regarding Taylor Swift's presence at the game, Mahomes revealed that Kelce had mentioned it to him at the last minute. Travis Kelce has a reputation for mentioning significant events or plans in a nonchalant manner. For example, he had casually mentioned attending a World Series game in the past, leaving Mahomes surprised by his calm delivery of exciting news.
Despite the rumors and the video capturing them leaving the Chiefs game together, there has been no official confirmation or comment from Travis Kelce or Taylor Swift about the status of their relationship. While there have been hints and speculations, the two have kept their personal lives private.
Travis Kelce's Romantic Journey
Travis Kelce, the NFL star, found himself in the midst of romance rumours with Taylor Swift in September 2023, setting the gossip mill abuzz. This spark of interest came after reports hinted that they were spending time together. Just two months earlier, Kelce had an amusing anecdote about trying and failing to give Swift his phone number during one of her Eras Tour concerts.
These speculations seemed to get some confirmation when Swift was seen enthusiastically cheering for Kelce while sitting in his suite alongside his mother during a Kansas City Chiefs. However, prior to the Taylor Swift connection, Kelce's romantic history had its share of twists and turns. Let's delve into his past relationships.
Maya Benberry:
In 2016, Travis Kelce embarked on a unique romantic adventure by starring in his own reality dating show on E! called "Chasing Kelce." In this show, 50 women, one from each state, competed for his affections.
Despite his initial reservations, Kelce ultimately chose Maya Benberry, the contestant from Kentucky, as the winner. He confessed that he had been attracted to confident women but acknowledged that it sometimes came across as arrogance. Their relationship, however, lasted only a few months before they parted ways for reasons unknown.
Reflecting on his reality TV stint seven years later, Kelce admitted that it felt awkward because he didn't have much control over the show's direction. Initially attracted by the prospect of having fun and making quick money, he later had mixed feelings about the experience.
Kayla Nicole:
Following his relationship with Benberry, Travis Kelce entered into a romance with sports broadcaster and model Kayla Nicole, which lasted from 2017 to May 2022.
Their love story began with Kelce making moves on Instagram, where he followed her, liked her posts, and watched her Instagram Stories. According to Kelce, Nicole eventually initiated contact, which led to their connection.
The couple made several public appearances together, attending red-carpet events and sharing their journey on social media. However, in August 2020, they experienced their first breakup amid rumors of infidelity. Kelce strongly denied these allegations, describing them as false and imploring people to refrain from spreading hate.
A few months later, Kelce and Nicole decided to give their relationship another shot, but it ultimately ended for good in May 2022. Although they didn't publicly disclose the reasons for their split, they refuted claims that it was due to financial matters, denying reports that Kelce had made Nicole "pay half of everything."
Zuri Hall:
Shortly after the final breakup with Kayla Nicole, Kelce was once again at the center of romance rumors, this time with Zuri Hall, a correspondent for "Access Hollywood."
In October 2022, rumors swirled as Hall was spotted in Kelce's family suite during a Chiefs game. A video featuring Hall and Kelce also circulated, further fueling the speculation. Fans keenly observed that both Hall and Kelce's ex, Nicole, had simultaneously unfollowed each other on social media, adding to the intrigue.
However, neither Hall nor Kelce addressed these rumours publicly, leaving their relationship status shrouded in mystery.
In conclusion, Travis Kelce's journey through the realm of romance has seen its share of ups and downs, from reality TV dating shows to high-profile relationships. While his connection with Taylor Swift has drawn attention in recent times, Kelce's past romantic endeavors have also left their mark on his personal life, often playing out in the public eye with a mix of speculation and curiosity.
Read More:
WHO DID TAYLOR SWIFT CHEST BUMP? IS SHE DATING TRAVIS KELCE?
WHO IS CARRIE UNDERWOOD MARRIED TO? LEARN ALL ABOUT MIKE FISHER