Tyrese Martin is a 23-year-old shooting guard/ small forward for the Atlanta Hawks. Here is everything you know about his net worth, records, endorsements, personal life and career.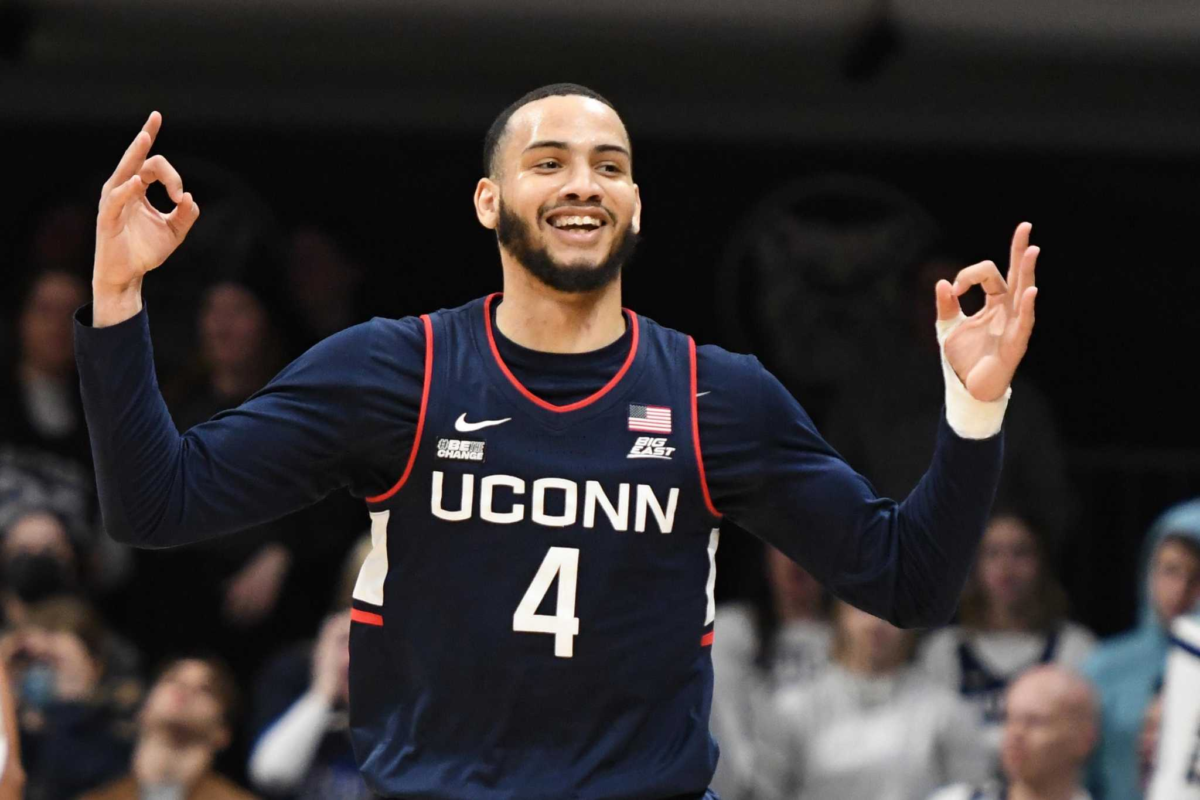 Tyrese Martin Facts
Birth Place
Allentown, Pennsylvania
Father's Name
NA
Mother's Name
Pamela Rynearson
Star Sign
Pisces
College
Rhode Island (2018 – 2020)
University of Connecticut (2020 – 2022)
Net Worth
$ 50,000
Salary
$ 1,368,823
Age
23
Date of Birth
March 7, 1999
Height
6 ft 6 in (1.98 m)
Weight
215 lb (98 kg)
Nationality
American
NBA Draft Year
2022
NBA Draft Pick
Round: 2 / Pick: 51st overall
Playing Career
2022 – Present
Position
Shooting guard / Small forward
Teams
2022–present Atlanta Hawks
2022 →College Park Skyhawks
Achievements
Eastern Pennsylvania Conference (MVP)
Wife/Girlfriend
NA
Children
NA
Endorsements
NA
Tyrese Martin is a 23-year-old for the Atlanta Hawks. He completed his early education at William Allen High School and Massanutten Military Academy, where his passion for basketball started. He completed his college career with the University of Connecticut in 2022. The Golden State Warriors signed him during the 2022 NBA draft. This article will explore his contract details, net worth, personal life and career.
Tyrese Martin Career
Martin's basketball journey started at William Allen High School in Allentown, Pennsylvania. During his senior year, he put up an impressive performance with an average of 21.3 points and 11.4 rebounds per game. This earned him the title of Eastern Pennsylvania Conference MVP and helped his team secure their first EPC championship since 2006.
To increase his chances of being noticed by college programs, Martin played a postgraduate season at Massanutten Military Academy in Virginia. In 2017, he committed to playing college basketball for Rhode Island, having received offers from several other colleges such as Minnesota, Utah, and Seton Hall.
For his junior year, Martin transferred to UConn to play under head coach Dan Hurley, who had previously recruited him to Rhode Island. Due to the COVID-19 pandemic, Martin worked a full-time job at a warehouse in Allentown after his mother was laid off. He was granted a waiver by the NCAA for immediate eligibility at UConn but was suspended for the season opener for playing in an unsanctioned summer league game.
In March of 2022, Martin declared for the 2022 NBA draft, forgoing his remaining college eligibility. He was eventually selected by the Golden State Warriors with the 51st overall pick and was later traded to the Atlanta Hawks.
Tyrese Martin Achievements
Eastern Pennsylvania Conference (MVP)
Tyrese Martin's Net worth and Salary
| | |
| --- | --- |
| Current Contract: | 2 yr(s) / $2,737,645 |
| Average Salary | $ 1,368,823 |
| Guaranteed at Signing | $ 450,000 |
| Signed Using | Entry Level/Minimum |
| Free Agent: | 2024 / UFA |
The young gun at the age of 23 is donning the Atlanta Hawks' jersey as a dual position player as a Shooting Guard and a Small Forward. He signed a two-year deal with the team worth $2.7 million, with a guaranteed sum of $450,000. This translates to an annual average salary of approximately $1.4 million.
He will become a free agent in 2024, so it remains to be seen if he will continue playing with the Hawks or move on to a new team. His career has just begun and he has much room for growth. As of 2023, his estimated net worth stands at $50,000. The future holds much promise for this up-and-coming player, let's keep an eye out for where his journey takes him.
Tyrese Martin's Personal Life
Tyrese Martin, born on March 7, 1999, hails from Allentown, Pennsylvania in the United States. He is 23 years old. Raised by a single mother, Pamela Rynearson, along with his three younger sisters, Martin grew up in a nurturing environment. Despite being a well-known basketball player, Martin has managed to keep his personal life out of the media spotlight.
Currently, he is considered to be single, as no information regarding his relationship status is available to the public. Martin's upbringing and background have likely played a major role in shaping him into the dedicated and hardworking athlete that he is today.
Tyrese Martin Endorsements
In 2021, he began his professional career and it can be difficult for less recognized players to obtain endorsement deals unless they have gained significant popularity. As of 2023, there is no information about him acquiring any sponsorship agreements. Nevertheless, it is expected that with his remarkable showings on the court in upcoming seasons, he will catch the eye of possible endorsement companies.
FAQs on Tyrese Martin
(Q)
What is the net worth of Tyrese Martin?
His net worth is estimated at about $ 50 K.
(Q)
When was Tyrese Martin drafted?
He was drafted in 2022 by the Golden State Warriors.
(Q)
How old is Tyrese Martin?
He is 23 years old, born on March 7, 1999.
(Q)
How tall is Tyrese Martin?
He is 6 ft 6 in (1.98 m).
(Q) How much is Tyrese Martin's weight?
He is 215 lb (98 kg).
(Q)
At which position does Tyrese Martin play?
He is a Shooting guard / small forward.
(Q)
Is Tyrese Martin married?
No, he is considered to be single and not dating anyone.
Read More
• LeBron James shares remarks on new signing Rui Hachimura, says, "We Don't Want Rui to Fit In, We Want Him to Fit Out"
• Former NBA player makes bizarre mailman and dog comparison over LeBron James' reaction to missed call
• How did LeBron James become a billionaire?