Steph Curry is one of the biggest names in NBA and here are his net worth, salary, final records and endorsements
Steph Curry Facts
| | |
| --- | --- |
| Birth Place | Akron, Ohio |
| Father's Name | Dell Curry |
| Mother's Name | Sonya Curry |
| Star Sign | Pisces |
| College | Davidson College |
| Net Worth (2023) | $160 Million |
| Salary (2023) | $70 Million |
| Age | 35 |
| Date of Birth | March 14, 1988 |
| Height (cm) | 191 |
| Weight (kg) | 84 |
| Nationality | American |
| NBA Draft Year | 2009 |
| NBA Draft Pick | 7th overall |
| Playing Career | 2009-present |
| Position | Point Guard |
| Teams | Golden State Warriors |
| Achievements | 4x NBA Champion, 2x NBA MVP, 9x NBA All-Star |
| Wife/Girlfriend | Ayesha Curry (2011) |
| Children | Riley, Ryan and Canon |
| Social Media | Instagram, Twitter |
| Endorsements | Under Armor, Nissan Motor, Vivo, Chase |
Stephen Curry, the son of former basketballer Dell Curry, is considered by many to be one of the greatest, if not, the greatest NBA shooter of all time. He plies his trade as a point guard for the Golden State Warriors.
Curry has been a part of the Warriors ever since he was picked as the 7th overall in the 2009 drafts. He is widely regarded to have revolutionized the three-pointer game.
The 6ft 3 Ohio-based Curry has won the Most Valuable Player award twice and is also a nine-time NBA All-Star.
Curry is one of the main reasons why fellow basketballer Lebron James has a couple of rings less alongside his name. He single-handedly thwarted James' Cavaliers thrice, during the 2015, 2017, and 2018 finals respectively.
Steph Curry Stats
Final Appearances: 6
Championship Rings: 4
Season MVP: 2
Finals MVP: Nil
All-Stars MVP: Nil
No sooner did he arrive in the NBA, Curry began revolutionizing the game with his three-pointers. Due to his pin-point accuracy he now is third in the list of most three-pointers scored in NBA history.
He is a 7 time NBA All-Star and has featured thrice in the All-NBA first team and twice in the second team.
Curry has won the Most Valuable Player award twice. Once, when he led the GSW to a victory against Cavaliers in the 2014-2015 season. He won the award, the second time, the following year as GSW fell to a resilient Cavaliers in the finals.
Steph Curry Rings
Curry has three championship rings alongside his name. And, all three wins have been against Cleveland Cavaliers headed by LeBron James.
In the 2015 season the GSW won the title in 6 games, with Curry coming up clutch in Game number 5, scoring a whopping 37 points.
Curry won his second ring in 2017, as he combined with MVP Kevin Durant to once again take the series in 5 games.
The 2018 finals were a cakewalk for the GSW. They steamrolled the Cavaliers to a 4-0 win, with Curry scoring 37 points in the 4th game. He won his latest ring in 2022.
Steph Curry Net Worth and Salary
Steph Curry has a mind-boggling net worth of $160 million. He was sixth in the list of Forbes' World's highest-paid athletes of 2020.
According to Spotrac, Curry is expected to earn around $70 million for the year 2023.
Steph Curry Family and Personal Life
Steph Curry was born in Akron, in the same hospital LeBron James was born. He was born to basketballer Dell Curry and Sonya Curry. He has two younger siblings – a brother and a sister.
His brother Seth Curry is a basketballer as well. He plays for the Philadelphia 76ers. His sister Sydel Curry is a volleyball player.
Curry married Canadian actress Ayesha Disa Alexander, all the way back in 2011. The pair first met a church group when they were teenagers. They have three children, together and currently reside in California.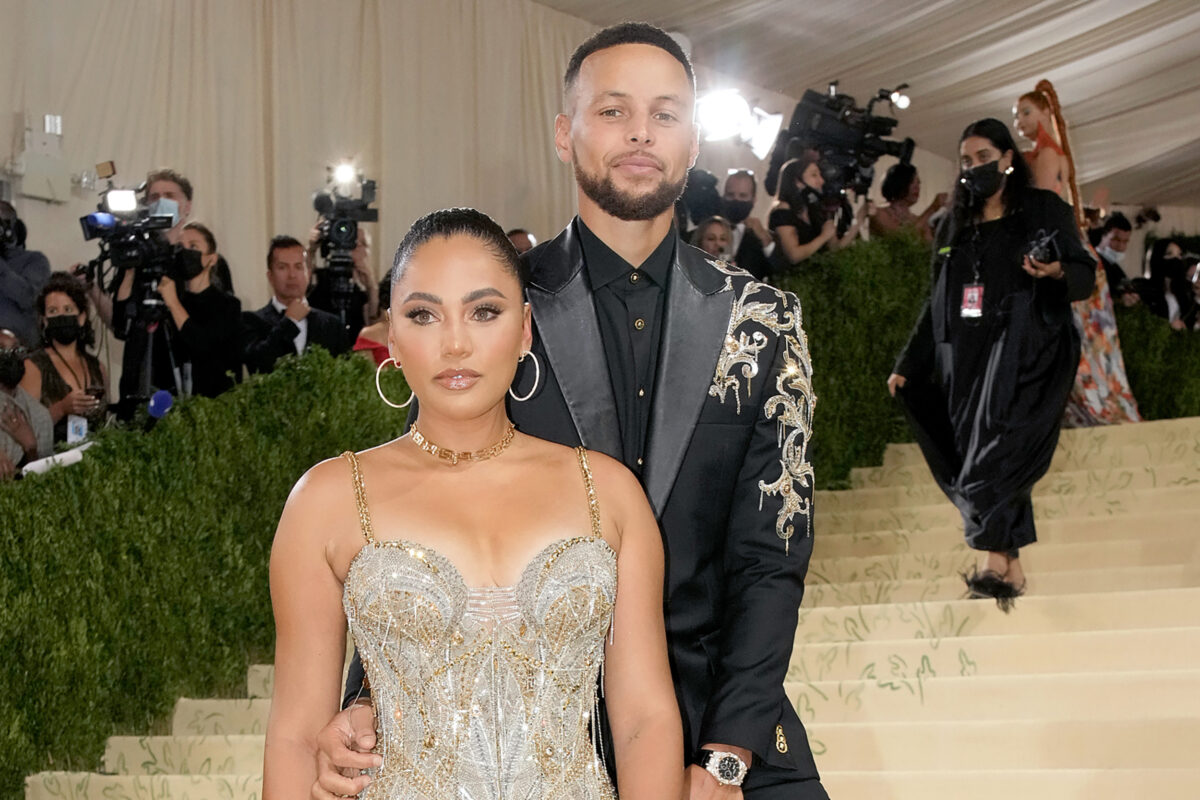 Besides this, Curry is actively involved in philanthropic activities as well.
Steph Curry Endorsements
Steph Curry is one of the biggest Under Armor athletes there is. He has a contract with the popular sports brand that runs until 2024. Other endorsement deals include JP Morgan, Unilever, Nissan Motor, Chase, and Vivo.
Besides this, Curry also has his own company SC30 which manages his brand endorsements, investments and philanthropic ventures.
Some FAQs about Stephen Curry
How many Championships does Stephen Curry have?
Stephen Curry has 4 Championship rings.
Which team does Stephen Curry play for?
Stephen Curry has been with Golden State Warriors from 2009.
Who is Stephen Curry married to?
Stephen Curry is married to Canadian actress, Ayesha Curry.
What is Stephen Curry's net worth?
Stephen Curry has a net worth of $160 Million.
Is Seth Curry related to Stephen Curry?
Yes, Seth Curry is the younger brother of Stephen Curry.
More NBA Articles:
Follow our dedicated NBA page for more NBA articles and news updates