Seth Curry is an American basketball player and here is more about his net worth, salary, records, and endorsements
Seth Curry is a professional basketball player who currently plays for the Brooklyn Nets in the NBA. Let's know more about Curry's life, career, net worth, etc.
Seth Curry Facts
Birth Place
Charlotte, North Carolina
Father's Name
Dell Curry
Mother's Name
Sonya Curry
Star Sign
Virgo
College
Liberty University (2008–2009) Duke University (2010-2013)
Net Worth (2023)
$16 million
Salary (2023)
$8,496,653
Age
32
Date of Birth
August 23, 1990
Height (ft)
6 ft 2 in (1.88 m)
Weight (kg)
84 kgs (185 lbs)
Nationality
American
NBA Draft Year
2013
NBA Draft Pick
Undrafted
Playing Career
2013-present
Position
Shooting guard / Point guard
Teams
Santa Cruz Warriors (2013–2014)
Memphis Grizzlies (2013–2014)
Cleveland Cavaliers (2014)
Erie BayHawks (2014–2015)
Phoenix Suns (2015)
Sacramento Kings (2015–2016)
Dallas Mavericks (2016–2018)
Portland Trail Blazers (2018–2019)
Dallas Mavericks (2019–2020)
Philadelphia 76ers (2020–2022)
Brooklyn Nets (2022-present)
Wife/Girlfriend
Callie Rivers (m. 2019)
Children
Carter Lynn
Endorsements
JBL, Under Armour, Subway, AQUAhydrate, RXBAR, DICK'S Sporting Goods, Active Faith Sports, Nike, Adidas
Seth Curry Career
Seth Adham Curry a.k.a Seth Curry is a Shooting guard / Point guard who currently plays for the Brooklyn Nets. Curry appeared for the 2013 NBA Draft but unfortunately, he went undrafted.
After going undrafted, Curry signed a non-guaranteed contract with the Golden State Warriors on August 23, 2013. However, he was later waived by GSW on October 25, 2013, after appearing in six preseason games.
Curry then joined the Santa Cruz Warriors of the NBA Development League as an affiliate player in 2013. Notably, on January 5, 2014, Curry both made his NBA debut and was waived by the Memphis Grizzlies.
Next, on March 21, 2014, Curry signed a 10-day contract with the Cleveland Cavaliers. However, the Cavaliers did not extend Curry's contract. So, Curry finished the 2013–14 NBA D-League season, averaging 19.7 points, 3.1 rebounds, 5.8 assists, and 1.4 steals in 38 games.
Then, again on March 11, 2015, Curry signed a 10-day contract with the Phoenix Suns. This time too, the Suns did not extend his contract. Simultaneously, at this time, Curry was playing for the Erie BayHawks in the NBA D-League.
Finally, on July 22, 2015, Curry signed a two-year, $2 million guaranteed deal with the Sacramento Kings. After the 2015–16 season, Curry became an unrestricted free agent.
Then on July 15, 2016, Curry signed with the Dallas Mavericks. Unfortunately, Curry's season was cut short as he was diagnosed with a stress reaction of his left tibia.
On July 6, 2018, Curry signed a two-year contract with the Portland Trail Blazers. With the Blazers, Curry went to the 2019 NBA Playoffs and made it to the Western Conference Finals. However, in the WCFinals, Curry lost against the Golden State Warriors.
On July 10, 2019, Curry returned to Dallas Mavericks, signing a four-year contract. Subsequently, on February 28, 2020, Curry scored a career-high 37 points against the Miami Heat.
On November 18, 2020, Curry was traded to the Philadelphia 76ers. With the Sixers, Curry made the 2021 NBA Playoffs but lost against the Atlanta Hawks in the Western Conference Semi-finals.
In 2022, he signed for the Brooklyn Nets.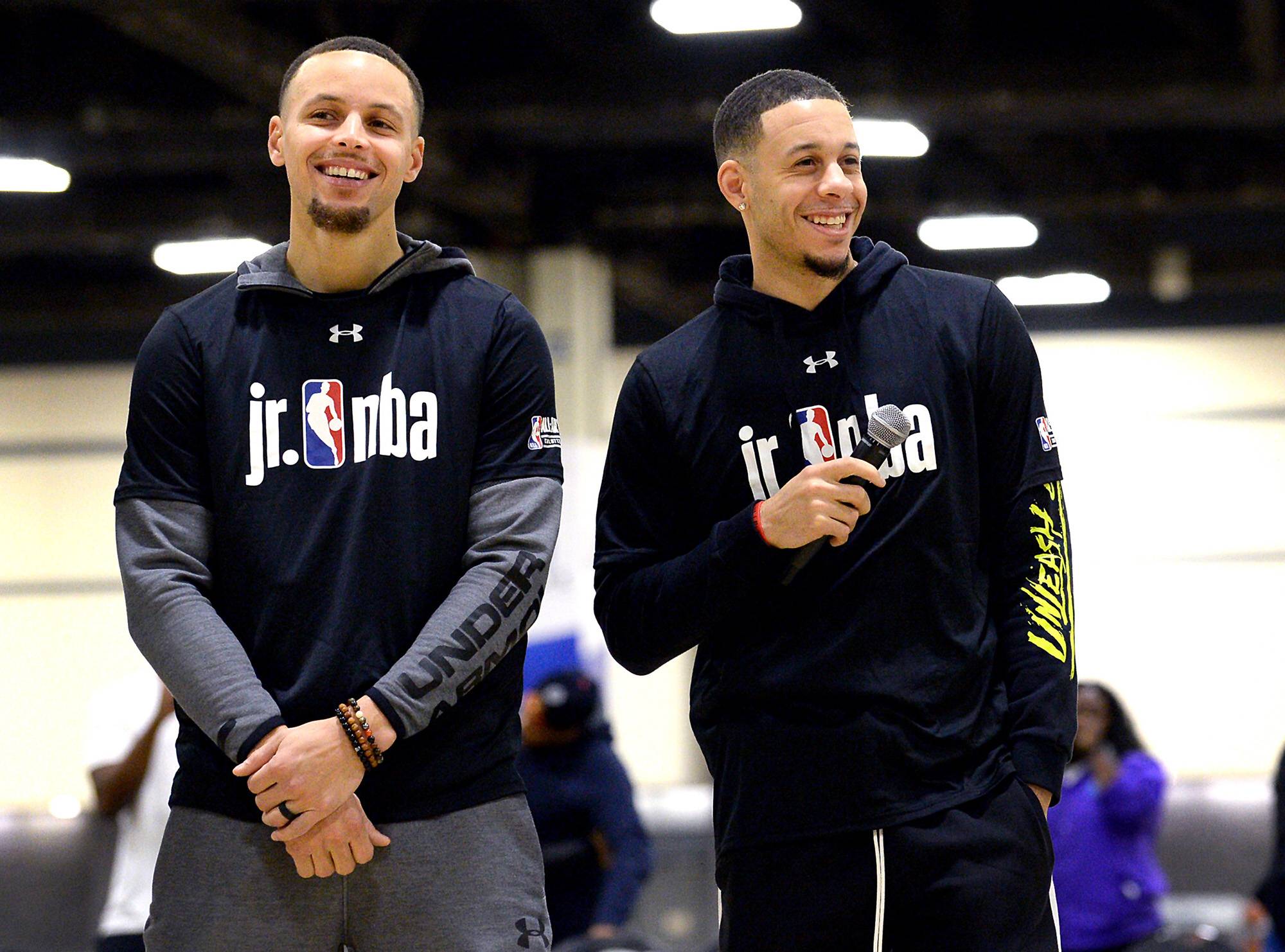 Seth Curry Achievements
2× NBA D-League All-Star (2014, 2015)
All-NBA D-League First Team (2015)
All-NBA D-League Third Team (2014)
NBA D-League All-Rookie First Team (2014)
Second-team All-American – SN (2013)
First-team All-ACC (2013)
Third-team All-ACC (2012)
Seth Curry Net Worth and Salary
According to sources, Curry is reported to have a net worth of $16 million as of 2023. Most of his net worth is acquired from his salary and various endorsements.
Furthermore, according to hoopshype, Curry, while playing for the Philadelphia 76ers earned an annual salary of $8,207,518 in the 2021-22 season.
With his Nets contract currently, Curry is set to make a reported $8,496,653 in 2023.
Seth Curry Personal Life
Born in Charlotte, North Carolina, 32-year-old Curry is the son of Dell Curry and Sonya Curry. Curry's father, Dell, is a former NBA player, while his mother, Sonya, is a former Virginia Tech women's volleyball player.
Further, Curry has two siblings named Stephen Curry and Sydel Curry. Stephen Curry is currently one of the most famous NBA players.
According to reports, Curry is married to Callie Rivers since 2019. Callie and Curry have a daughter together named Carter Lynn. Carter was born in May 2018.
Seth Curry Endorsements
According to several reports, Curry has endorsement deals with JBL, Under Armour, Nike, Adidas, Subway, AQUAhydrate, RXBAR, DICK'S Sporting Goods, and Active Faith Sports.
It can be assumed that Curry earns a good amount of money from these various endorsement deals.
Curry also owns a luxurious mansion in Waxhaw, North Carolina worth $1.55 million. The mansion covers a total area of 7,650 square feet, including 4 bedrooms, 4 full and 3 half bathrooms.
FAQs about Seth Curry
(Q) What is the age of Seth Curry?
Seth Curry is 32 years old and he was born on August 23, 1990.
(Q)
What is the net worth of Seth Curry?
Seth Curry has a net worth of $16 million as of 2023.
(Q)
Where was Seth Curry born?
Seth Curry was born in Charlotte, North Carolina.
(Q)
In which year was Seth Curry drafted?
Seth Curry went undrafted in the 2013 NBA Draft.
(Q)
In what position did Seth Curry
play?
Seth Curry plays in the position of Shooting guard / Point guard.
More NBA news
Follow our dedicated NBA page for instant NBA news and updates