Ayesha Curry is the wife of Steph Curry and here's more on her family, education, career, and her relationship with Stephen.
Ayesha Curry, the wife of American basketball player Stephen Curry, is a renowned Canadian-American Actress, TV personality, Cookbook Author, and Philanthropist. This multifaceted woman has been married to the player since 2011, so let's look further into their relationship, her career, net worth, and more.
Ayesha Curry Facts
| | |
| --- | --- |
| Birth Place | Markham, Ontario, Canada |
| Nationality | Canadian-American |
| Father's name | John Alexander |
| Mother's name | Carol Alexander |
| Birthdate | March 23, 1989 |
| Star Sign | Aries |
| Age | 32 |
| Husband | Stephen Curry (m. 2011) |
| Children | Riley Elizabeth, Canon W. Jack, and Ryan Carson Curry |
| Net Worth (2021) | $16 Million |
| Year active | (2008-current) |
| Agency | Creative Arts Agency |
| Height | 5 ft 8 inch (1.73 m) |
| Weight | 70 kg (155 pounds) |
Who is Ayesha Curry?
Ayesha was born on March 23, 1989, to John and Carol Alexander in a town in Ontario Canada. The 32-year-old actress has ventured into many of her interests, starting with her acting career at the mere age of 12.
She attended Weddington High School and after her graduation, she moved to Los Angeles to become a star. Starting off with a short film – Underground, she has appeared multiple times on screen.
She also took to her cooking skills by starting off with her YouTube channel and now she has a show of her own on TV – Ayesha's Homemade. Alongside multiple TV cooking shows, she has also been a judge on The Great American Baking Show.
Apart from these, she has full-grown business ventures including magazines, restaurants, retail stores, and more. She also built the "Eat. learn. Play. Foundation" with her husband. The foundation is responsible for providing better childhoods, food on plates, providing quality education, and building safe spaces where children can thrive.
Ayesha Curry's Husband Steph Curry
Wardell Stephen Curry II or Steph Curry barely needs an introduction as he remains to be one of the top star players to ever play in the NBA.
Born in Akron, Ohio, on March 14, 1988, in an athletic family where his father Dell Curry is a former renowned member of the Cleveland Cavaliers. He attended the Charlotte Christian High School and then Davidson and was picked 7th in the 1st round of the 2009 NBA draft.
Steph Curry has been a member of the Golden State Warriors since 2009 and remains to be the highest-paid player in the league today. He has had many career achievements, one only can dream of, including back-to-back NBA championships and many more.
Ayesha Curry and Steph Curry's Relationship
Ayesha Curry and Stephen met as teenagers in a church group in North Carolina. The two refrained from dating but they had been attracted to each other ever since.
And when they tied the knot in 2011, Stephen confirms he had not a single doubt in his mind that this was the woman he wanted to spend the rest of his life with.
Today, the two are "couple goals" for many, and still today, they don't forget to take time out for the other.
Apart from being parents to three lovely children, the two also run a philanthropic foundation dedicated to helping children grow happy, healthy, and fed.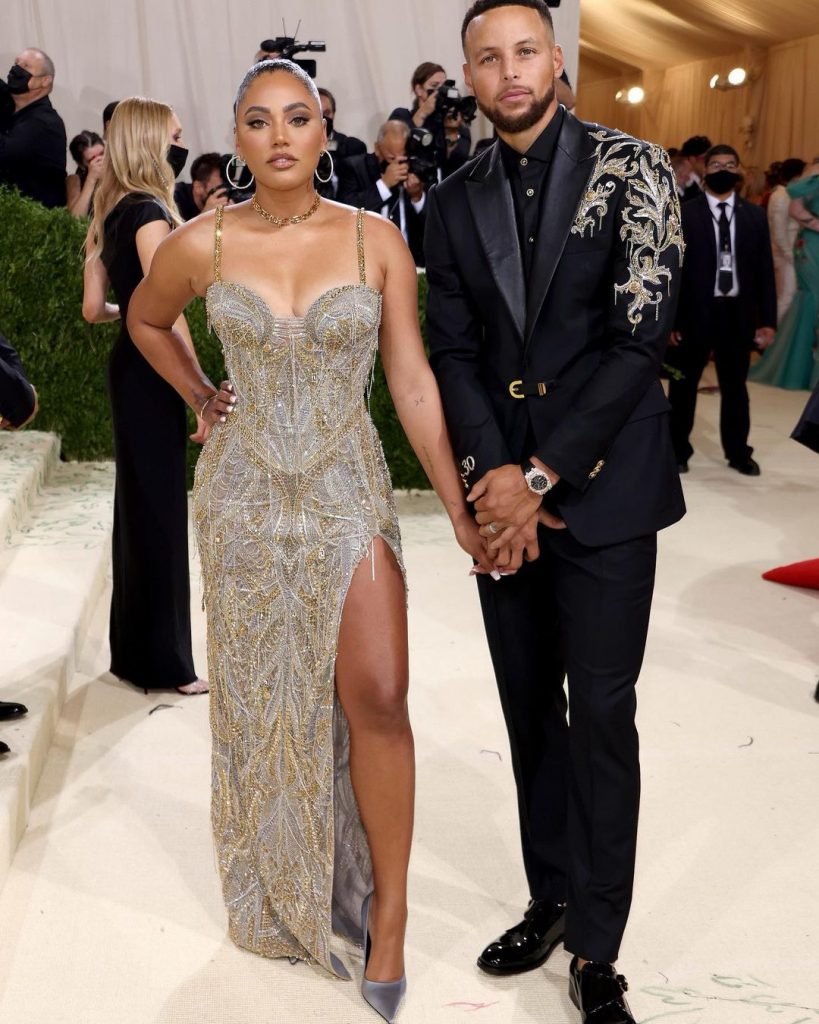 Ayesha and Steph Curry's Net worth
According to sources, Steph Curry's current net worth stands at $160 million and that of Ayesha is at $16 million.
FAQs about Ayesha Curry
Who is Ayesha Curry?
Ayesha Curry is a Canada-born American Actress, with multiple TV shows, a philanthropist, an entrepreneur, a cookbook author, and the wife of Steph Curry.
What is Ayesha Curry's Food Network Show?
Ayesha Curry has her cooking show – Ayesha's Homemade on Food Network.
What is Ayesha Curry's Age?
Ayesha Curry was born in 1989 and is currently 32 years old.
More NBA Articles:
Follow our dedicated NBA page for more NBA articles and news updates