Jerry Jones' Dallas Cowboys were a team of legends, which not only won consecutive Super Bowls but were also a financial superpower. However, after winning two back-to-back silverwares, even then no one understand why a team which had the caliber to achieve so much more, shattered at the topmost level.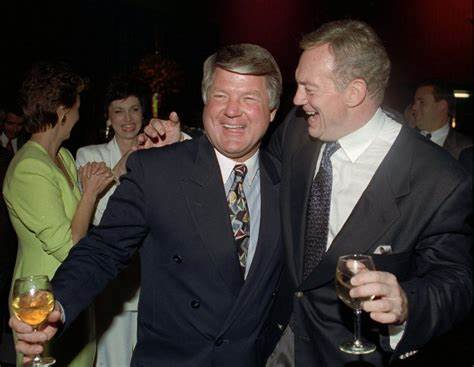 Although there have been many speculations upon the same – who better than Jimmy Johnson and Jerry Jones to give their true insights. On a recent occasion, when the Cowboys owner was asked about his stint with the former Head Coach – Jones had nothing but applause as he complimented him for their time together.
Jerry Jones spoken about Jimmy Johnson on 105.3TheFAN and said, as per Jon Machota, "I'm proud of what we were able to accomplish. I'm proud that we got together. Anybody that thinks working in highly competitive/tense situations that everything is a rose garden, that's not life. But it worked good for us."
Jerry Jones applauds Jimmy Johnson's stint as HC
Jerry Jones and Jimmy Johnson seemed to be a match made in heaven for football fans. The former wore the title of general manager as soon as he bought the team and got rid of Tex Schramm. However, he had granted Johnson most of the power that normally comes with it. One might know that things got ugly when Johnson was on the verge of leaving the organization yet that was only going to be a morale lesson for the Cowboys owner.
That being said, as Jerry Jones has stated in the pasta s well, many could have pulled the same magic form the 1994 Cowboys as Johnson did. But what the latter achieves as a Head Coach was something beyond exemplary.
Having built, maintained and nurtured a team to its full potential, perhaps Jimmy's efforts in building the history of this organization would always be huge yet shockingly under spoken!
Also Read: "My MVP so far is Jalen Hurts"- Skip Bayless puts the Eagles QB ahead of Josh Allen and Patrick Mahomes in the MVP race
Also Read: "Can't believe the Steelers traded you": NFL Fans react to Chase Claypool announcing his arrival in Chicago
Also Read: "It's possible": Dolphins WR Tyreek Hill seems optimistic on MVP odds after fanatic start