Whenever the name Rob Gronkowski comes up, all fanatics know that they are talking about one of the greatest ever tight ends of all-time. When asked about who he would take down in the octagon, Rob was quick to admit that the 4xSuper Bowl Champ would easily take down his friend, Tom Brady but things could be different when he spoke about Aaron Donald. 
Having retired in 2019, Rob Gronkowski came back to the field for just one season in 2020 with the Tampa Bay Buccaneers. Having won the Super Bowl in his only stint, coming out of retirement, this tight end solidified his claim as the greatest ever tight end. But after retirement, it seems like Rob Gronkowski seems to enjoy his time, figuring out things in other leagues. 
The recent most of which was in WWE wherein he won 24×7 Championship at WrestleMania 36. He even showcased his form in basketball playing in the celebrity big 3 game. 
Rob Gronkowski warns everyone about the power of Aaron Donald 
Even when Rob Gronkowski is over 6 feet tall, the scare of Aaron Donald is still holding still in his sub-conscious, which can even be seen in the video above. However, the craziest reaction came when the name of Vince Wilfork was brought up. 
For those who are not aware – the 2 x Super Bowl champion Vince Wilfork played for the Patriots and the Texans as a nose tackle. Weighing a staggering 147 kgs, Wilfork was an absolute force to reckon with in the league's world. This is exactly why and how, when Rob was asked if he can take down Vince, his answer was, "oh no no no no."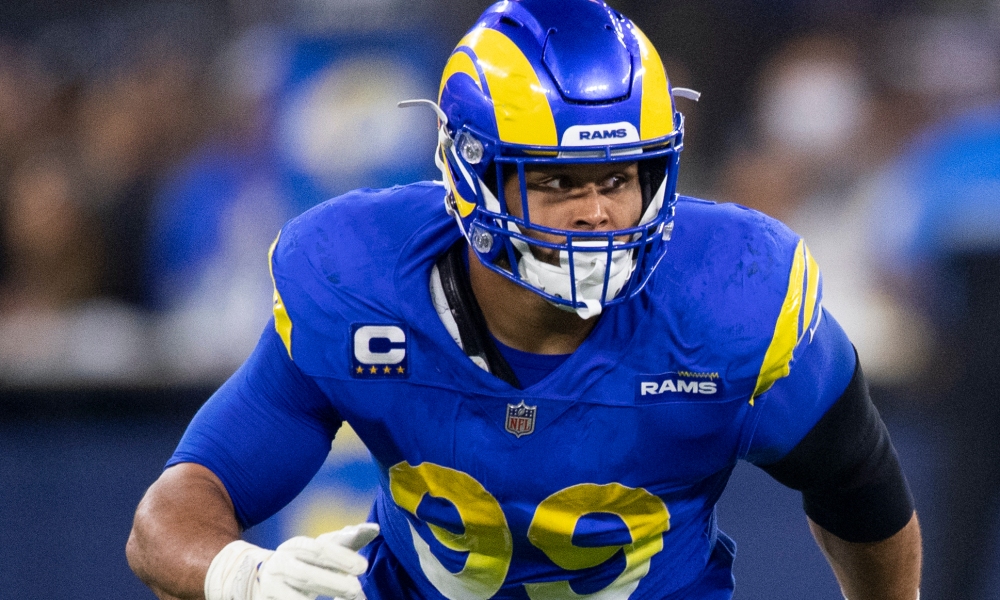 That being said this only goes onto show the respect these veterans share for one another. But hopefully Rob doesn't face Aaron Donald anything soon in a physical banter.
Also Read: "He's so much more talented than me"- Tom Brady once claimed Aaron Rodgers would surpass him if he was on the New England Patriots
Also Read: "Is this better than OBJ": NFL World goes crazy after Steelers Rookie WR George Pickens produces an insane catch against the Browns
Also Read: "He can run, he's talented with his legs, obviously. He's turning himself into a really good passer": Jaguars HC Doug Pederson had nothing but words of praise for Justin Herbert ahead of Week 3 matchup