Is Jimmy Garoppolo gay? Learn all there is to know about the NFL star quarterback's relationship history.
An Illinois native, James "Jimmy" Garoppolo is an American football quarterback who plays in the National Football League (NFL) for the San Francisco 49ers. Garoppolo played college football at Eastern Illinois. In the 2014 NFL Draft, Garoppolo was drafted in the second round by the New England Patriots. In October 2017, the Patriots traded Garoppolo to the 49ers.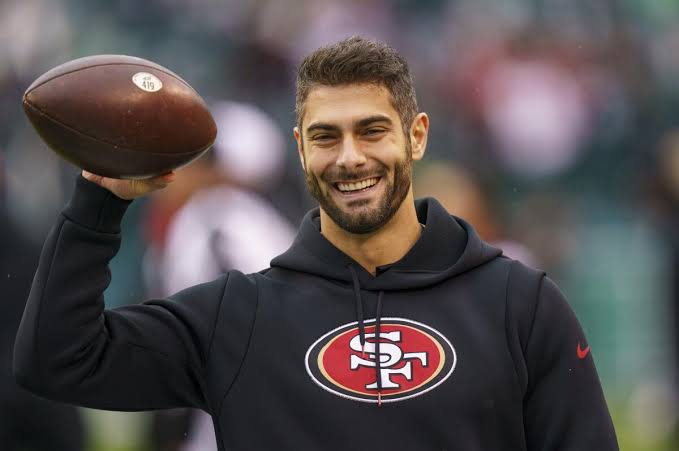 After spending the first 4 seasons of his career as a backup to Tom Brady, Garropolo was traded to the 49ers in 2017 after which he established himself as an important part of the team. In 2019, Garoppolo returned to post his ACL injury and led the 49ers to their first 8–0 start since 1990.
He also helped the team play in the Super Bowl LIV where they lost to the Kansas City Chiefs. Owing to his widespread popularity, there is a lot of speculation as to who Jimmy Garropolo has a wife, whether he is dating someone as well as questions about his sexuality.
Who is Jimmy Garoppolo dating right now?
Jimmy Garoppolo claims that he is currently not involved in any relationship and allegedly single as of now. However, he has been rumored to be linked with two of them. They are Alexandra King and Kiara Mia. Jimmy prefers to have a private and disclosed lifestyle and has stated that he does not like his private matters to be a hot topic on the news.
It has been reported that Garoppolo started dating Alexandra King in 2017 when he was playing with the New England Patriots. However, they seem to be no longer dating.
Even when they were dating, Jimmy didn't want their relationship to be public. However, Alexandra posted in the Valentine Days of February 2018 as Jimmy as her 'valentine' which speculated further rumors which Jimmy has been known to deny from time to time.
Who is Alexandra King?
An Instagram model, Alexandra Rose King is a social media star. She was born on May 27, 1995, in Boston, Massachusetts. She majored in Arts & Design from the University of Massachusetts and wanted to pursue a career in modeling and performances. Her parents are Martin and Stacy King. She has two elder siblings, brothers – Timothy and Trevor, and she is the youngest.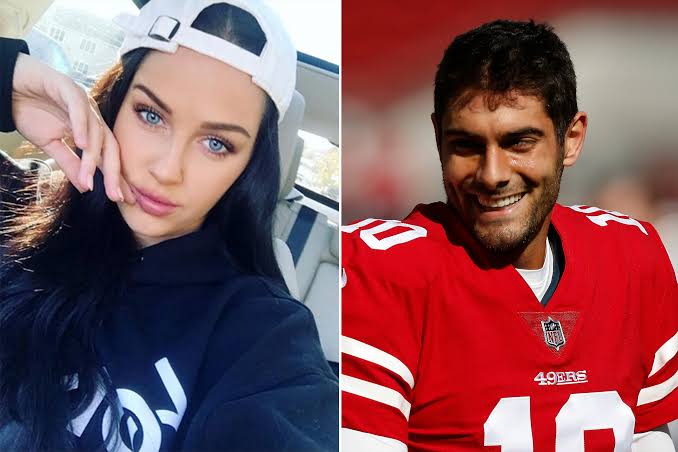 King's nationality is American and she is of white descent. She currently models for some promotion campaigns for some products and brands. She also owns a YouTube account of her own where she uploads make-up tutorials and vlogs from time to time. Though King is certainly Garoppolo's most famous ex-partner, she is not the only one as Garoppolo also dated Kiara Mia in and around the same time.
Who is Kiara Mia?
Reports claim that Jimmy was dating Kiara Mia in mid-2018 when he was still dating Alexandra King. Kiara is an adult film star, actress, and model who lives in Los Angeles, California. In 2011, when Kiara was in her mid-30s, she started her career in the porn industry. She is also known to have several AVN Awards nominations to her name.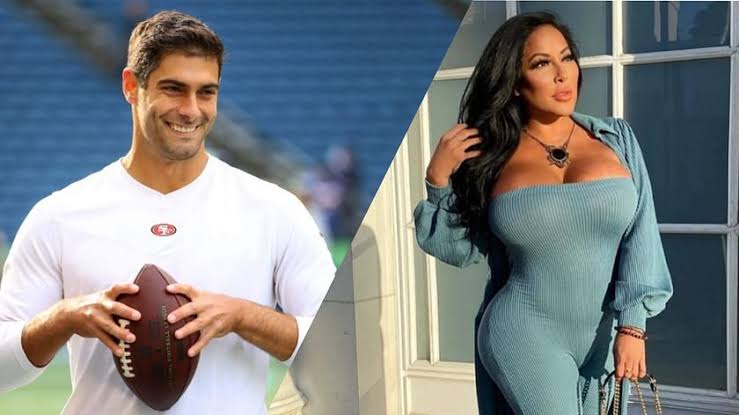 Mia's real name is Deanne Marlene Munoz, and she was born on May 20, 1976. Her ethnicity is Latin and she holds an American nationality. She also studied at the University of Massachusetts. Kiara is known to have one younger brother. The acting was one of her childhood interests. In 2005, she had a chance to appear in the action crime movie Harsh Times, in a small role, alongside Christian Bale and Eva Longoria. She also appeared in the comedy television show Beach Heat: Miami, and in the comedy film Maul Dogs, later in 2015.
Despite his flings, Garropolo is yet to put on a wedding ring as he remains happily single as per reports. Garropolo has an obscure dating history too with most of his relationships under the wraps. The charismatic quarterback for the San Francisco 49ers is yet to find a perfect match for him. This has sparked speculation whether Garropolo is gay or not.
Is Jimmy Garoppolo gay?
As it turns out, there is no concrete evidence to prove the notion that Garropolo is gay.
The first rumours about Garoppolo being gay started off when he was traded to the Same Francisco 49ers for no apparent reason – which was followed up by rumours about a prominent NFL quarterback being gay. The fact that Garropolo was going out with an A-list adult performer made speculative fans spark rumours of Garropolo's straight sexuality being a front.
However, there is no concrete evidence to support Garropolo's rumoured homosexuality. Until we find any strong evidence to support the rumours, it would not be fair to speculate about a celebrity's sexuality – whose life we do not seem to know a lot about.
More News:
• WHO DID TAYLOR SWIFT CHEST BUMP? IS SHE DATING TRAVIS KELCE?
• DID CARRIE UNDERWOOD HAVE A WARDROBE MALFUNCTION? HERE IS WHAT THE STAR SAID