Kareem Abdul-Jabbar shares how he really felt about LeBron James breaking his long standing all time NBA scoring record.
The Los Angeles Lakers went up against the Oklahoma City Thunder in their latest outing at the Crypto.com Arena on Tuesday, with their talisman LeBron James set on breaking the all-time scoring record in NBA history.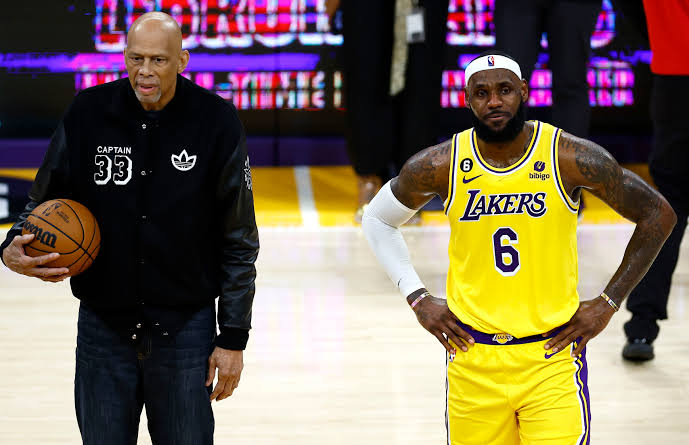 Over his career spanning two decades in the NBA, LeBron James has created and broken multiple records to get to where he is right now – all but one. While he currently is the only player in NBA history to have 10,000 points, assists and rebounds and also features in the top ten of both all-time charts for points and assists – he only had Kareem Abdul-Jabbar's all-time scoring record left to break.
And as LeBron James hit the Thunder with a fadeaway jump shot with the seconds ticking off near the end of the third quarter, history was made as LeBron overtook Kareem Abdul-Jabbar to become the highest scorer of all time in the NBA. LeBron created history in his own right, and strengthened his argument even further in the discussion for the greatest player of all time.
In a poetic gesture, Kareem Abdul-Jabbar was in attendance to watch LeBron break his record – and the legendary Laker gave his thoughts on how he feels about his record being broken.
What did Kareem Abdul-Jabbar have to say about his record being broken?
In an article published only hours after LeBron broke his record, Abdul-Jabbar spoke about how he feels about having his record broken.
"It takes unbelievable drive, dedication, and talent to survive in the NBA long enough to rack up that number of points when the average NBA career lasts only 4.5 years," wrote the 75-year-old Abdul-Jabbar, praising James' grit, and saying he is "thrilled" for the new-record holder.
"It's not just about putting the ball through the hoop, it's about staying healthy and skilled enough to climb the steep mountain in ever-thinning oxygen over many years when most other players have tapped out," Abdul-Jabbar added. While the two have not reportedly had the best of relationships in the past, the night proved to be a fitting passing-of-the-torch moment for two legends.
More News:
• "Runaway GOAT" – Skip Bayless explains who is the GOAT between Michael Jordan and LeBron James
• Watch: Shaq wants LeBron James to admit he is a GOAT after becoming record scorer
• How long has LeBron James been in the NBA?