Wondering how to solve the Rookwood trial in Hogwarts Legacy? Here is the complete to Rockwood's trial in the game
Hogwarts Legacy has many puzzles and mysteries In Hogwarts castle for you to solve. Charles Rookwood trial is one such level that will test your puzzles skills. It is a main quest and can be unlocked by meeting professor Fig in the map chambers of Hogwarts castle. Child's Rookwood is one of the keepers of Hogwart's Legacy.
You have to defeat a swarm of goblins at Rockwood castle in Rookwood Trial in Hogwarts Legacy. Players can find Charles's portrait as they go deeper into the castle. You have to interact with this portrait to unlock the Rookwood puzzle. Then you'll be required to solve a series of puzzles and defeat formidable enemies to complete this Hogwarts legacy trial successfully.
How to complete Rookwood's Trial in Hogwarts Legacy?
As mentioned above Hogwart's legacy has many questions that let you experience and be a part of the magical world in a more interesting way. Charles Rookwood trial Is an important quest that will test your puzzle-solving abilities. It is the 2nd trial in Hogwart's legacy after the Percival trial.
Like the previous trial, the Charles Rookwood trial also has an archway. This works like a parallel dimensioning which you can enter and pull objects back and forth from. It can get a bit confusing so I like to see how to complete the 2 main Archway puzzles.
Charles Rookwood trial Blocking puzzle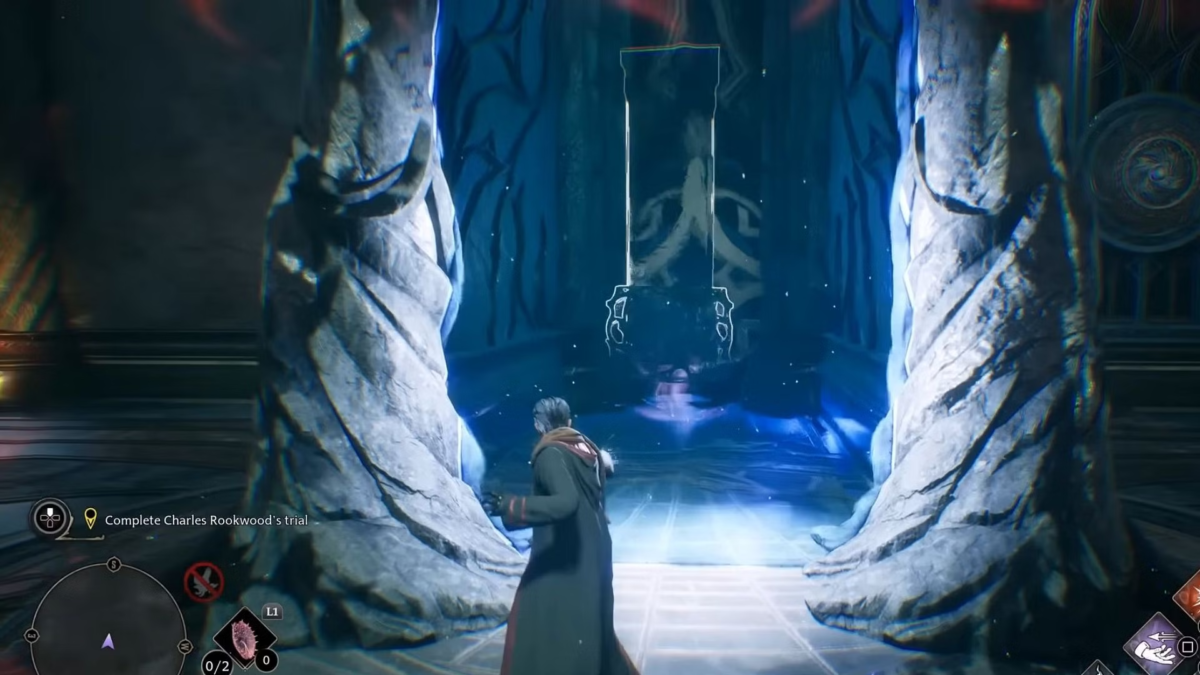 After you enter the child's Rookwood trial your 1st major puzzle has a pillar blocking the archway back to the original reality. Here is how to solve it.
Use a basic cast on the button on the right-hand wall.
Cast the spell Accio through the Archway, and pull the pillar into your current reality. Here it will turn into a cube.
After it turns into a cube, make sure you remove the pillar and now you can walk around the Archway to go to the next room.
Charles Rookwood trial bridge puzzle
This is your last and final puzzle in Charles Rookwood Trial before the big boss involves a broken bridge that you will have to navigate to reach the other side. Follow these steps to complete this last puzzle.
Use a basic cast on the wall-mounted button, Rotate the archway a little toward the ledge from where you came in.
On this ledge cast the spell love so on the cube to levitate it. Then a floating cube will appear and climb on this floating tube to get up onto the bridge.
And now rotate the wall-mounted button again to rotate the bridge back towards its original position. You will now be able to jump across to the next room.
These are all your solutions to both the puzzles in Rockwood's trial in Hogwarts Legacy. Hope now you can clear the trial and move on to the next puzzle waiting for you in the wizarding world. Now that you know how to complete Rookwood's trial, what are you waiting for? Go solve the puzzles as given and complete this quest.
For more related content check out our dedicated website Gamition.
More E-Sports news:
Follow our dedicated E-Sports page for instant E-Sports news and update