Check our guide and tips to complete the Bunnies on the Run weekly quest in Disney Dreamlight Valley.
New weekly and daily quests are added to the eggstravaganza event in Disney Dreamlight Valley. WALL-E, the popular Disney Pixar character is available in the valley and you can get new quests from him in the realm. WALL-E also offers you some rewards and experience points for completing new quests. Bunnies on the Run is a new quest part of the eggstravaganza event and you can unlock this quest after an interaction with WALL-E. Bunnies on the Run quest will be available once a week.
You will get access to all new eggstravaganza quests once you are done with Pride of the Valley content update. Bunnies on the Run quest is all about catching bunnies in the plaza and returning them to WALL-E. Earlier, there were flower-based quests and right now WALL-E tasks players with catching bunnies. Here's how you can easily complete the Bunnies on the Run quest in Disney Dreamlight Valley.
Disney Dreamlight Valley Bunnies on the Run Quest – Guide and Walkthrough
Meet WALL-E in his realm and unlock the quest. Make your way to the plaza and look out for some bunnies. You have to catch five different bunnies. Wait for check option and use the right controls to catch all five bunnies. Catching them can be a challenging task, wait for a while and catch all 5 bunnies.
Interact with bunnies and get hold of them. Next, you can get to the spot where WALL-E is located. Return all bunnies to him and now you will be able to complete this weekly challenge.
That's how you can complete this quest. The objectives are simple, catch bunnies running around the plaza and hand them over to WALL-E. Then you can collect your rewards.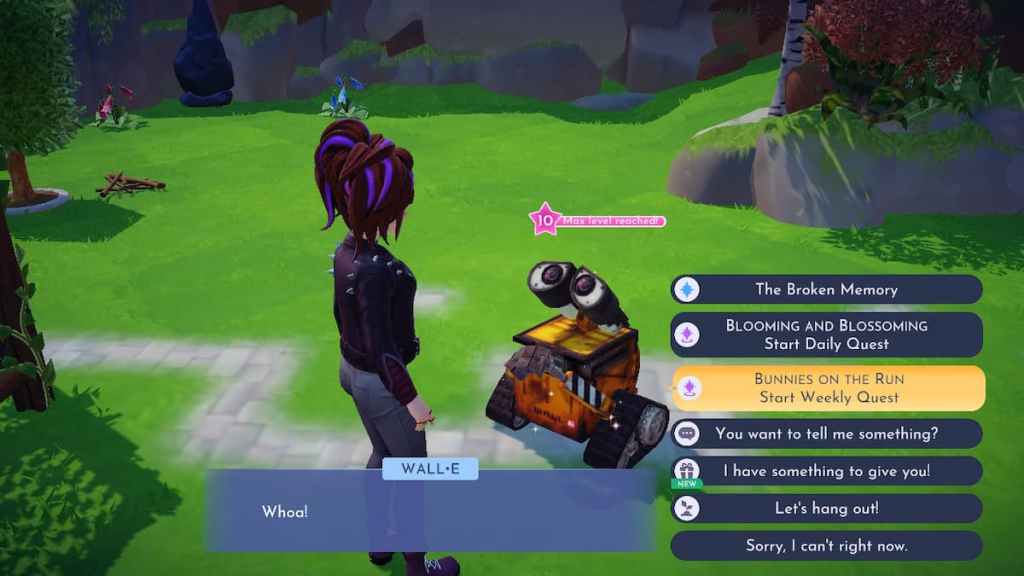 Rewards
 Friendship(1000)
 x20 Egg-cellent Fruit
 x20 Wild Spring Egg
 x5 Spring V-EGG-etable
That's everything you need to know about completing the bunnies on the run quest in Disney Dreamlight Valley. Catch bunnies and return them to WALL-E to unlock free eggs. 
Who is Disney Dreamlight Valley: WALL- E?
WALL-E is a well known fictional character from the Disney Pixar film "WALL-E" . Disney Dreamlight Valley is known for bringing popular Disney characters and pets into the game. Earlier it was Simba and Nala. Now, the team of Disney Dreamlight Valley has added the WALL-E character to the valley. You can complete several quests given by WALL-E and earn more spring eggs and add them to your inventory.
 Initially WALL-E will be located in the WALL-E Realm. You have to unlock and complete The Shy Little Robot quest to make WALL-E join your valley. After completing the quest, you can invite him to your place. WALL-E offers various quests. Some quests can be completed daily and others can be completed weekly. Complete all eggstravaganza event quests.
For more related content check out our dedicated website Gamition.
More E-Sports news:
Follow our dedicated E-Sports page for instant E-Sports news and updates