Blazing Bull in Sekiro is a battle against power. Find out how to defeat this boss in Sekiro with our comprehensive guide.
Sekiro's Blazing Bullfight is one difficult battle you will come across in the game. This Bull boss is quite infuriated and could be difficult to deal with.
The Blazing Bull is different than the other bosses you will come across in the game. He is an enormous yellow monster that drains out your energy a lot. His yellow posture bar drains depending on how fast you can give damage to it. Your main objective is to bring down his vitality or health. This boss gradually loses his posture upon using its vitality.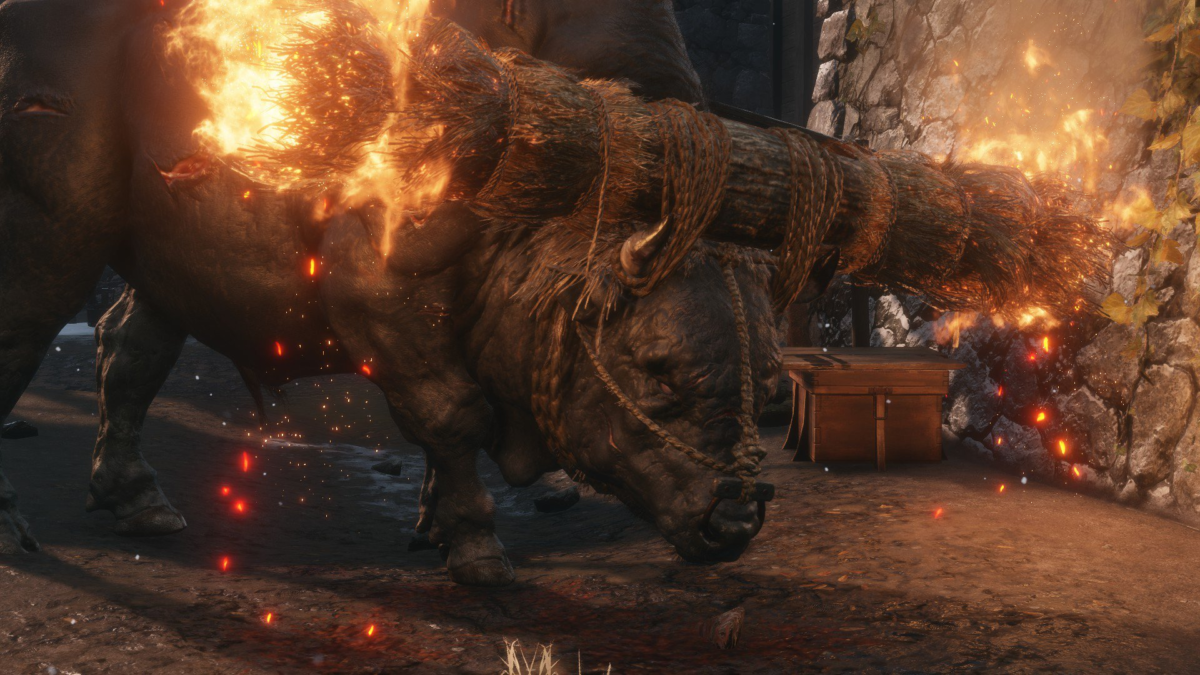 How to beat Blazing Bull in Sekiro? Here is how you can take down the infuriated bull boss in Sekiro. Follow these steps as given below.
Eliminating Blazing Bull's Army
Your first step toward completing this Quest is taking down the Blazing Bull's Army in the area where you fight him. When you first enter the arena kill all the Enemies that are close to the door with Backstabbing Death blow.
Put yourself between the two other Enemies and the blessing bull and walk forward when the blessing Bull emergence from its Hiding Place. This position would like you to kill either both of them or Kill one of them. If it doesn't kill them don't try to kill the Blazing Bull right away. Make sure to keep a distance from all your Enemies and the weak ones will die soon.
Now you can clear the arena. The Blazing Bull is quite aggressive in its action and fast, so you ought to be fast too. Keep your distance and run around the battlefield. Let the Blazing Bull destroy the wooden Tower San Francis. This will give you more space to run around freely for the next phase of the fight.
You can make use of the Shinobi Firecracker that would help you give a moderate effect in the fight. This could give you some time then stand the blessing bull. However, do not rely on this weapon completely as it can only last very long.
Wait till the Bull stops to change direction and run behind it then use the shinobi firecracker. Wait till the bull stops to change its direction and then when behind it and use the shinobi firecracker again.
Chase the Blazing Bull in Sekiro
One time to keep in mind that never let the Bull chase you. Instead, you chase it and make sure to be fast.Blazing Bull races on fire on one and the other end is not on fire. Now chase the non-flaming and cut its back with your sword.
Lock on to the Blazing Bull and run circles around it. You just have to hold on to its non-flaming and go around it irrespective of what direction it swings you. Just make sure to keep your distance and run around it as Blazing Bull is right now just angry and on Rampage. Keep your destiny circle around, and watch its movement. Attack the Bull again when it's turning or paused.
You have to keep following the blessing bull as it will pause on occasions to change its direction. It will also Run into walls and turn around. Close the gap and slice when it hints towards moving and follow it as it makes a Run. It should not take you much time to bring him down however it's not a short fight but a fight of vitality.
The Blazing Bull will destroy all of the wooden structures in the arena when it's angry so you can take advantage of this by creating space for yourself for this fight. It is angry and on a Rampage it will not run in a definite direction so if it doesn't destroy anything around him you can make it do so by running around the structure and the Bull. Remember that you are the bull's target so it will cheese you wherever you go. Just make sure to let you start running as soon as he is about to make contact with whatever structure it is going to destroy and you are nearby to it.
Make sure that you are away from his head when he is in flames. Stay behind him and you can stun him if you want to as mentioned above. When you ever find yourself at the front of his head, use the button and press it in a direction away from his head preferably to word his Butt. You can also land other attacks with your step dodge. When you have given enough damage to the Blazing Bull will pass and collect itself for a few seconds. This is your chance to get in a few swings three or four, and then back away.
About Sekiro
Sekiro Shadows Die Twice is an action-adventure game released in 2019 by Fromsoftware. The game follows the adventure of a Shinobi known as a Wolf for tries to take revenge on a Samurai Clan that imprisoned him and kidnapped his Lord. The gameplay emphasizes the fictional setup of Japan during the Sengoku period and takes its inspiration from Buddhist mythology and philosophy.
The game can be played from a third-person view and has good action mechanics. Includes gear upgrading a skill tree and Limited ability customization. Sekiro has a Katan combat that you can use to attack any enemy's posture and balance. This came also let's play to use various tools to assist them with combat and Exploration.
Overall the game has good features that allow players to instantly eliminate enemies if they can get in range undetected. The game is available to play on PlayStation 4, PC, and Xbox One.
That's everything to do to fight the Blazing Bull in Sekiro.
For more related content check out our dedicated website Gamition.
More E-Sports news:
Follow our dedicated E-Sports page for instant E-Sports news and updates