Crimson Dread Dragon is an intimidating flying dragon boss in God of War Ragnarok. Check our guide and tips to defeat Crimson without any struggle.
Beating the dragon-type bosses in God of War Ragnarok is an extremely difficult challenge. Crimson Dread Dragon boasts higher powers and stats than the normal bosses of Ragnarok. And to defeat Crimson Dread Dragon, you need to use the best weapons and effects. You need to visit the Vanaheim realm to defeat Crimson Dread Dragon and also complete the For Vanaheim quest in the game. Crimson Dread Dragon is an agile creature and the fight will be a long one. The boss unleashes massive fire projectiles and balls that can kill Kratos in a second.
You need to have Leviathan Axe, Rage Effect, and Draupnir Spear to defeat this flying dragon boss in God of War Ragnarok.  You need to reach the plains in Vanaheim and then also find the Birgir for completing the Vanaheim quest to get access to this boss fight in the Plains realm. Here is our God of War Ragnarok Crimson Dread Dragon boss fight with an easy guide and tips.
Crimson Dread Dragon Boss Fight & Walkthrough
You need to make your way to the Vanaheim realm and find the boss in its place. The battle against Crimson Dread Dragon will be harder and longer at the same time. Make sure to carry Spear, and Axe along with Sonic and Sigil arrows. Relics will also be a great addition to defeating this flying red dragon.
Phase 1
The red dragon starts the fight with its bite attacks and the boss will constantly breathe fire to deal huge damage. The boss' fire-breath attacks can be vulnerable and you need to parry them. Then the boss lunges forward to bite Kratos and deal damage, you can dodge and move to your left. Crimson Dread Dragon is extremely dangerous while breathing fire and these are denoted by red rings. And whenever you reduce the boss' HP, crimson starts flying and attacks from the air. The red dragon unleashes a series of fire projectiles and unblockable attacks. Use the Spartan rage effect and Atreus Arrows to overcome them. You can also parry its bites.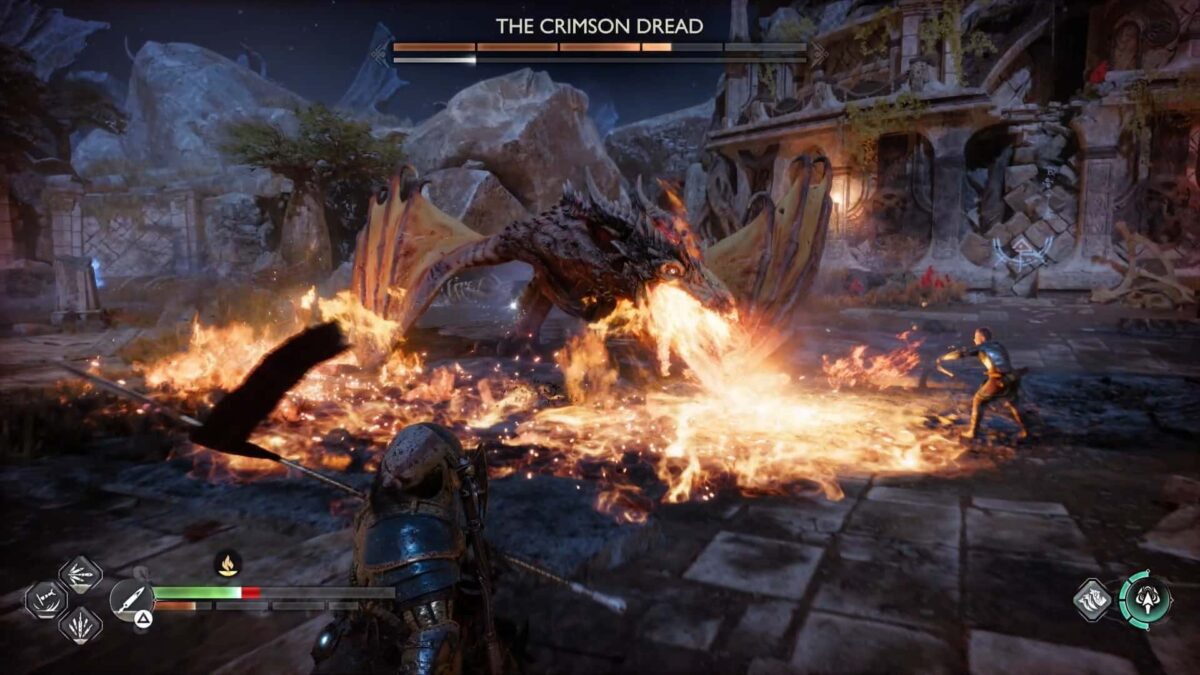 Once again the boss breathes fire and unleashes bite attacks. Use your Leviathan Axe with Spartan rage effects and then you can proceed to deal damage on its head to quickly reduce its HP. You also need to utilize runic attacks and relics. You can also dodge its claw attacks. After one-third of the boss' HP reduces, it will start flying and unleash fire projectiles to deal massive damage. You need to stun the boss with a spear and then deal damage in the short gap. Keep dealing more damage and the next round gets started. Once you reduce the boss' health to 50%, the next round against the Crimson boss will get started.
Phase 2
The strategy doesn't change much for phase 2. The Crimson Dragon boss will once again begin this round by unleashing fire projectiles. The boss runs faster to bite Kratos and stun him, just use Leviathan Axe and Atreus' Arrows and try to attack its head to stun the boss. Keep dealing more damage with your weapons. Instead of going to the defensive mode, you can start attacking from all sides to drain the red dragon's HP. You can avoid parrying in this phase and only dodge the unblockable attacks of Crimson for the last phase. Deploy runic attacks and spartan rage to attack faster and deal more damage. Crimson will start breathing fire and goes aerial once again, you need to block his red and yellow ring fire attacks.
Use sonic arrows and also infuse spartan rage effects to stun the boss regularly. Crimson becomes more aggressive and it will once again lunge forward and bite Kratos, this time you can use your axe to attack its head. The boss will run out of energy and keep attacking with your spear and axe to reduce his health bar to zero. Once the boss runs out of energy and stamina it will collapse, then you can also collect the rewards from Crimson and leave the place. Finally, you will complete the boss fight against the Crimson boss after enduring some serious attacks. That's how you can defeat Crimson in the game. The rewards for defeating the Crimson boss are here and you can claim them and leave the spot.
Kratos and Atreus XP
Dragon Claw
Frozen Flame
Bonded Leather
Purified Crystalline 
That's everything you need to know about the God of War Ragnarok boss fight against the Crimson Dread Dragon boss. Follow our best tips, tricks, and strategies to defeat the crimson boss. Our easy guide should help you to beat crimson and acquire rewards in the game. We will come back with more God of War Ragnarok updates and guides soon.
For more related content check out our dedicated website Gamition.
More E-Sports news: 
Follow our dedicated E-Sports page for instant E-Sports news and updates