Alexander Zverev is the number 19 ranked tennis player in the world, and here is everything you need to know about the German, including his net worth, salary, records and endorsements
Alexander Zverev Facts
| | |
| --- | --- |
| Birth Place | Hamburg, Germany |
| Father's Name | Alexander Zverev Sr. |
| Mother's Name | Irina Zvereva |
| Star Sign | Taurus |
| College | Kurpfalz Gymnasium und Realschule Mannheim |
| Net Worth | $36 million |
| Prize Money till date | $34,735,339 |
| Age | 26 |
| Date of Birth | April 20, 1997 |
| Height | 6 ft 6 in (1.98m) |
| Weight | 198lbs (90kg) |
| Nationality | German |
| Achievements | 2020 US Open Finalist, World No.2 |
| Girlfriend | Sophia Thomalla |
| Children | Mayla (born to Brenda Patea) |
| Endorsements | Adidas, Richard Mille |
| Social Media | Twitter, Instagram |
Alexander 'Sascha' Zverev is one of the greatest modern-day tennis players of all time. Hailing from Germany he is currently ranked number 22nd in the world.
Alexander Zverev Net Worth and Earnings
Alexander Zverev has a net worth of approximately $36 million- thanks to his splendid exploits since he was only a teenager.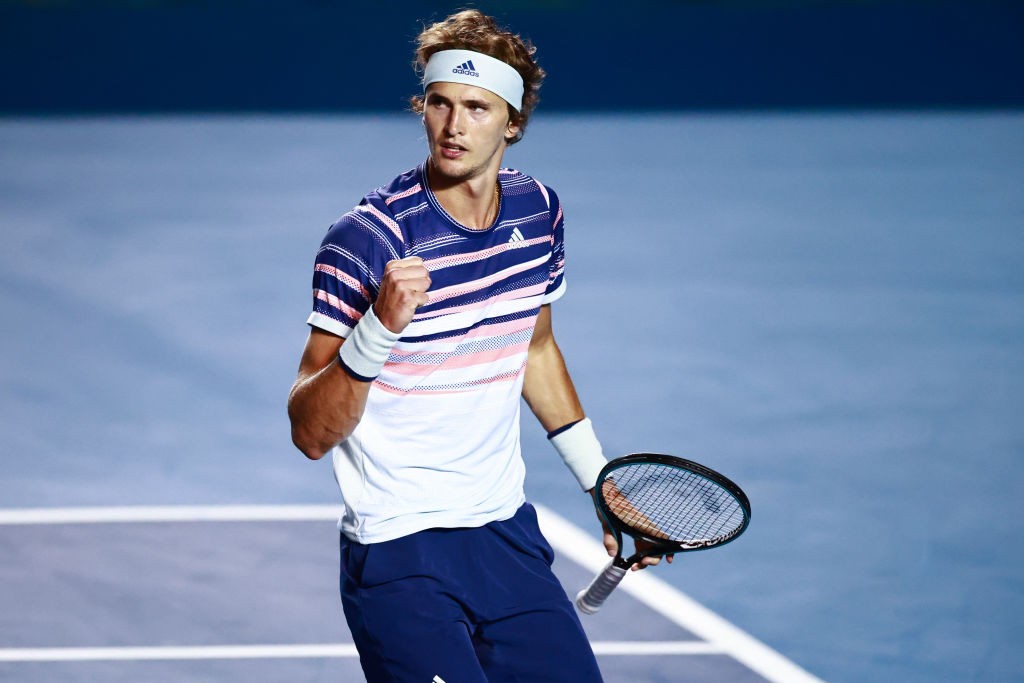 With career earnings of $34,735,339 million, Zverev is already among the top tennis earners in the all-time earnings chart, and is currently in number 7 of all-time earners.
He endorses several brands as well also bringing him a boatload of cash.
Alexander Zverev Ranking History
Alexander Zverev turned pro in 2013 when he was hardly 16 years old. By 2014, Zverev began taking part in ATP tournaments.
He finished 2015 inside the top 100, ranked 83 in the world.
2016 was a breakthrough year for Zverev as he won his first ATP title at the St.Petersburg open after defeating Stan Wawrinka in the finals.
He had also beaten Roger Federer that year at Halle – a tournament where Federer is just unstoppable.
He broke into the top 20 that year.
In the year 2017, Zverev won a truckload of titles that included two Masters titles. He ended up finishing number 4 in the world, while also achieving an impressive career ranking of number 3.
Since then Zverev has steadily maintained his ranking. The farthest he has gone is number 2, which he achieved in June 2022. He is currently ranked number 19th.
Alexander Zverev Career Titles
Alexander Zverev has 19 singles career titles to his name. His first was at the St.Petersburg Open in 2016.
In the year 2017, he won 5 ATP titles, which included 2 Masters titles.
2018 saw Zverev add more titles to his name, while 2019 was a bit dry with just 1 title. Zverev won 2 titles at Cologne in 2020.
However, he is yet to win a Grand Slam with his best performance to date being US Open 2020 runner-up.
He reached the semifinals of the French Open in 2022 but will be hoping to get his hands on that elusive Grand Slam title soon.
Alexander Zverev Family, Personal Life
Alexander Zverev was born on the 20th of April, 1997 in Hamburg, Germany to parents Alexander Zverev Sr. and Irina Zvereva. He has an older brother Mischa Zverev who is a successful tennis player as well.
Zverev was in a relationship with model Brenda Patea. The pair recently split. They have a daughter named Mayla – born in 2021.
He was previously in a relationship with Olga Sharypova. Things turned nasty when Sharypova accused Zverev of physically abusing her.
Nonetheless, Zverev has been romantically linked with Sophia Thomalla since last year.
In 2022, Zverev revealed that he has been suffering from diabetes since being diagnosed with the disease at the age of three. However, that hasn't stopped him from competing at the highest level of professional tennis.
Zverev Sponsors and Endorsements
 Alexander Zverev is sponsored by some of the world-famous brands such as Richard Mille, and Adidas. He also has a sponsorship deal with Swizz watchmaker Rolex.
FAQs about Alexander Zverev
(Q) What is Alexander Zverev's net worth?
Alexander Zverev has a net worth of $36 million.
(Q) When was Alexander Zverev born?
Alexander Zverev was born on the 20th of April, 1997.
(Q) Where was Alexander Zverev born?
Alexander Zverev was born in Hamburg, Germany.
(Q) Who are Alexander Zverev's parents?
Alexander Zverev's parents are Alexander Zverev Sr. and Irina Zvereva.
(Q) What is Alexander Zverev's relationship status?
Alexander Zverev is currently dating Sophia Thomalla.
(Q) How many children does Alexander Zverev have?
Alexander Zverev has one daughter named Mayla with ex-girlfriend Brenda Patea.
More Tennis news
Follow our dedicated Tennis page for instant Tennis news and updates