Manu is a former WWE star and was recently hospitalised after a serious cardiac issue 
Manu, real name Afa Anoa'i Jr., is a former WWE star who recently suffered a severe cardiac issue and is in hospital.
The 38-year-old spent quite a few years wrestling in the Indies and was also part of WWE for a while.
Anoa'i Jr. also owns BattleField Pro Wrestling, which is based in Pennsylvania. 
What happened to Manu and how is he doing?
The Sun reported the story of Manu suffering a condition. A GoFundMe page has been set up to help Manu cover the costs associated with his treatment.
The target is $100,000, and a family member, Mike Klecker, added that the former WWE star is fighting for his life.
"He is currently fighting for his life at the moment.

"He went through many tests and major cardiac procedures."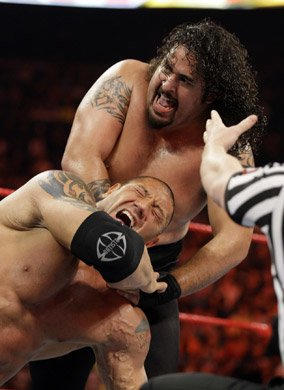 Klecker added that Manu's heart wasn't working all that well, and there are major medical bills that will need to be cleared. 
"His heart injection fraction is only working at 35% and his heart is filling with fluid by the hours.

"Afa has an extremely long road to recovery. He has major medical bills, and medications needed."
The update on the GoFundMe page adds that Afa also has two children, and the raised funds would not only help clear the bills but help the family too. 
Is Afa Anoa'i Jr. related to Roman Reigns?
Afa Anoa'i Jr. is part of the huge Samoan Anoa'i family and is related to a lot of the top wrestlers in WWE and other promotions. 
His father, Afa Anoa'i is the brother of Roman Reign's father, and hence Manu is the cousin of the leader of the Bloodline.
This means that Manu is also related to stars such as Jay and Jimmy Uso, who both are his cousins, just like Roman Reigns.
Further, Umaga is also a cousin and even The Rock is related to Manu as The Rock's father had married into the Anoa'i family. 
Manu left the WWE in 2009 and faced some top names such as Batista. He even had storylines with and against Cody Rhodes, Randy Orton and more. 
He was released by WWE in 2009 but was linked with a return in 2023. The Bloodline has had members such as Jimmy, Jay and Solo Sikoa, but it was not to be for Manu. 
More WWE news
Follow our dedicated WWE page for instant WWE news and updates.