K-pop, a genre that has taken the world by storm in recent years, has garnered a massive global following due to its catchy melodies, captivating choreography, and charismatic idols. In this article, we'll embark on an exciting journey through the K-pop universe, shining a spotlight on some of the most popular groups that have conquered Instagram and the international music charts.
1. BTS
One cannot delve into the world of K-Pop without mentioning BTS, short for Bangtan Sonyeondan. Comprising seven South Korean heartthrobs, each member brings their unique charisma to the group:
RM (Leader and Rapper)
Jin (Vocalist)
Suga (Rapper)
J-Hope (Rapper and Dancer)
Jimin (Vocalist and Dancer)
V (Vocalist)
Jungkook (Vocalist and Dancer)
The dedicated fanbase, known as the "ARMY," is one of the most passionate and engaged fandoms in the K-Pop universe.
2. BLACKPINK
BLACKPINK, the all-girl powerhouse, has taken the world by storm with their fierce charisma and killer fashion sense. The group consists of four remarkable members:
Jisoo (Vocalist)
Jennie (Rapper)
Rosé (Vocalist)
Lisa (Rapper)
Their hits like "Ddu-Du Ddu-Du" and "Kill This Love" have earned them a special place in the hearts of K-Pop enthusiasts.
3. TWICE
TWICE, another dynamic girl group, has been making waves with their infectious energy and colorful music videos. This group boasts nine talented members:
Nayeon (Lead Vocalist)
Jeongyeon (Lead Vocalist)
Momo (Main Dancer)
Sana (Lead Dancer)
Jihyo (Leader and Main Vocalist)
Mina (Main Dancer)
Dahyun (Main Rapper)
Chaeyoung (Main Rapper)
Tzuyu (Vocalist and Visual)
With a string of hits like "Cheer Up" and "Fancy," they have a massive global following.
4. EXO – The Kings of K-Pop
EXO, renowned for their powerful vocals and intricate dance moves, consists of these talented members:
Xiumin
Suho (Leader)
Lay
Baekhyun
Chen
Chanyeol
D.O.
Kai
Sehun
Hits like "Love Shot" and "Monster" have solidified their status as K-Pop royalty, and their devoted fanbase, known as "EXO-Ls," ensures their enduring popularity.
5. NCT
NCT is a unique group with a rotational concept, allowing members to form subunits with different musical styles. This diversity keeps fans eagerly awaiting their next release. NCT includes various subunit members: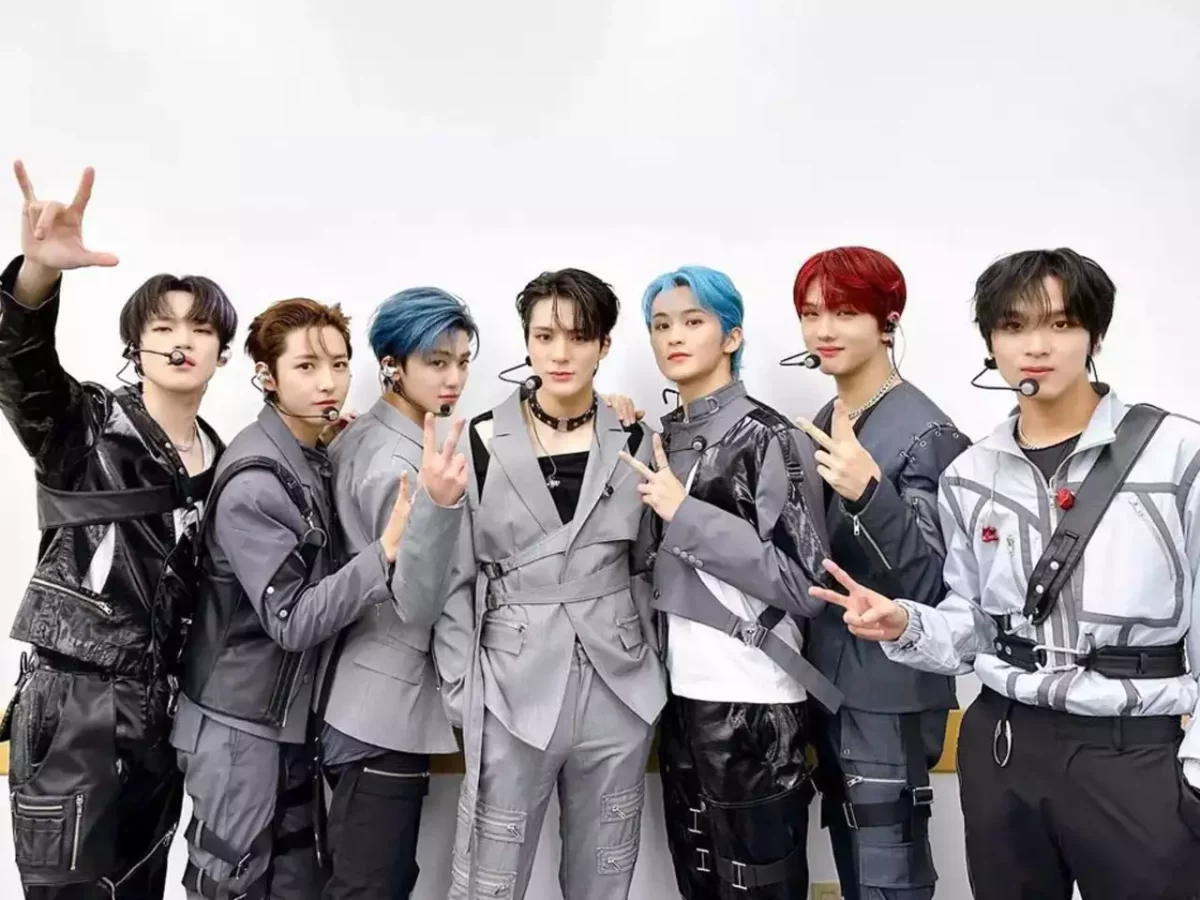 NCT 127: Taeyong, Taeil, Johnny, Yuta, Doyoung, Jaehyun, Jungwoo, Mark, and Haechan.
NCT Dream: Mark, Renjun, Jeno, Haechan, Jaemin, Chenle, Jisung.
WayV: Kun, Ten, Winwin, Lucas, Xiaojun, Hendery, Yangyang.
6. GOT7
GOT7 has made a significant impact on the international K-Pop scene. Their music resonates with a diverse range of fans, and the group comprises seven talented members:
JB (Leader and Lead Vocalist)
Mark (Main Rapper and Visual)
Jackson (Lead Rapper and Main Dancer)
Jinyoung (Lead Vocalist and Visual)
Youngjae (Main Vocalist)
BamBam (Lead Rapper and Main Dancer)
Yugyeom (Main Dancer and Maknae)
Hits like "Just Right" and "Hard Carry" have solidified their status as K-Pop royalty.
7. ATEEZ
ATEEZ, a relatively newer group, has quickly risen to prominence with their powerful performances and compelling music. The group consists of eight members:
Hongjoong (Leader and Rapper)
Seonghwa (Vocalist)
Yunho (Main Dancer)
Yeosang (Vocalist)
San (Lead Dancer and Lead Rapper)
Mingi (Main Rapper)
Wooyoung (Main Dancer)
Jongho (Main Vocalist)
8. Red Velvet
Red Velvet is known for their versatility, seamlessly switching between different musical genres. The group consists of five talented members:
Irene (Leader and Visual)
Seulgi (Main Dancer and Lead Vocalist)
Wendy (Main Vocalist)
Joy (Lead Rapper and Vocalist)
Yeri (Maknae and Lead Rapper)
9. Stray Kids
Stray Kids burst onto the K-Pop scene with their energetic performances and thought-provoking lyrics. The group consists of eight members:
Bang Chan (Leader, Rapper, and Producer)
Lee Know (Main Dancer and Rapper)
Changbin (Main Rapper)
Hyunjin (Lead Rapper and Visual)
Han (Lead Rapper)
Felix (Lead Rapper)
Seungmin (Main Vocalist)
I.N (Maknae and Vocalist)
10. MAMAMOO
MAMAMOO is renowned for their powerful vocals and soulful performances, and the group consists of four talented members:
Solar (Leader and Main Vocalist)
Moonbyul (Main Rapper and Main Dancer)
Wheein (Lead Vocalist)
Hwasa (Lead Rapper and Maknae)
These immensely talented artists contribute to the unique charm and appeal of their respective groups, making K-Pop a genre filled with diverse talents and personalities that fans worldwide adore.
Apart from these groups, K-Pop boasts an array of talented artists and groups, each with its own unique style and dedicated fanbase. As K-Pop continues to evolve, it's essential to keep an eye on the latest trends and emerging talent in the industry.
What Sets K-Pop Apart?
K-Pop's global dominance can be attributed to several factors. First and foremost, it's the incredible dedication and talent of the artists themselves. The rigorous training and hard work they put into their craft are evident in their stunning performances and music videos.
Another critical element is the close connection between K-Pop groups and their fans. Fandoms play a significant role in the success of K-Pop acts, with fans not only supporting their favorite artists but also participating actively in fan events, streaming music, and sharing content on social media.
Additionally, K-Pop's unique blend of catchy melodies, mesmerizing choreography, and visually stunning music videos sets it apart from other music genres. It's a genre that's not just about music; it's a complete entertainment package.
The Global Reach of K-Pop
K-Pop's reach extends far beyond South Korea's borders. With the advent of the internet and social media, K-Pop groups can connect with fans worldwide instantly. Online platforms like YouTube and Twitter have played a crucial role in spreading K-Pop's influence globally.
Moreover, K-Pop groups often release music in multiple languages, including Korean, English, and sometimes other languages, making it more accessible to a diverse international audience. This approach has undoubtedly contributed to K-Pop's global appeal.
Conclusion
K-Pop's popularity is showing no signs of waning, and the groups mentioned here are just the tip of the iceberg. The genre continues to evolve, with new talent emerging regularly. Whether you're a seasoned K-Pop enthusiast or a newcomer eager to explore this captivating musical world, there's always something exciting happening in K-Pop. So, dive into the mesmerizing world of K-Pop and discover your own favorite groups and artists – the journey promises to be a thrilling one!
More entertainment news: