Check our Genshin Impact Hexenzirkel guide to find out everything about this secret witch organization.
Genshin Impact 3.5 version update was just released and there have been so many updates and features in the new patch update. There are new skins, playable characters, and weapons. Apart from all these, there's a new addition in Genshin Impact which existed a long time back in the game. Hexenzirkel, the witch coven society is back once again in the latest Windblume's Festival event in Genshin Impact 3.5 and Hexenzirkel is an organization full of witches that first appeared in the game's "Beyond this World's Star" a story quest by Mona. Mona is a playable character from Anemo element and she's also an Astrologist in the game. Right now travelers have discovered more about the Hexenzirkel Witch organization through the game's "Joy Above the Clouds" quest.
Several members are a part of this witch secret society and travelers have found more about the active members and their backgrounds in the new story quest event. Even a story teaser was officially launched by the HoYoverse team. All witches are not members of this organization and some witches have openly denied their interest. As of now, Alice is an active member of the Hexenzirkel group and she's also the leader of this coven full of witches. Here's everything you need to know about the Hexenzirkel organization in Genshin Impact and all about its members.
Hexenzirkel Organization in Genshin Impact
The secret society of all mages, also known as Hexenzirkel is described by Lisa as a gang that regularly conducts Irminsul explorations and meets for tea parties. Hexenzirkel is known as the "Circle of Witches" in German and Korean, "Sabbath of Witches" in Russian, and "Coven" in Spanish  The entire Hexenzirkel organization consists of only female mages who are both human and non-human. A new story teaser of the Mages' Tea Party was also launched recently. Here are all the active members of this mysterious witch coven.
Alice
The senior and most experienced mage and also the leader of the Hexenzirkel group is the first member. She's also one of the prominent characters in Teyvat and is most known as the "Author of the Travel Guide ". The Code name for Alice is "A" and she doesn't lie about the organization. Alice the elder of Hexenzirkel and also the mother of Klee is a popular witch in Teyvat and she's often said that the organization is also a gang of friends who also fight within themselves. She has many titles and she boasts skills in Alchemy, Astrology, Magic, Engineer, and Medicine. Alice is also the one mentioned by Mona in her voice line. Hexenzirkel gang has often fought against the Anemo Archon, Barbatos.
Rhinedottir
Rhinedottir or Gold is the next member of this secret witch group. Rhinedottir's position seems to be a mystery and she's been codenamed as R. Rhinedottir is a researcher and practitioner of "Art of Khemia ". He is often deemed as the "Great Sinner" of Khaenri'ah. Rhinedottir is also the creator of Albedo and Dubin.
Barbeloth
Barbeloth is well known as a teacher of Mona. Her location and position are unidentified. She's been given the codename "B". Barbeloth or Old Hag, is a master hydromancer and she's often been the rival of Alice. Barbeloth is a powerful astrologer and even Mona desired to surpass Barbeloth to become the greatest astrologer in Teyvat.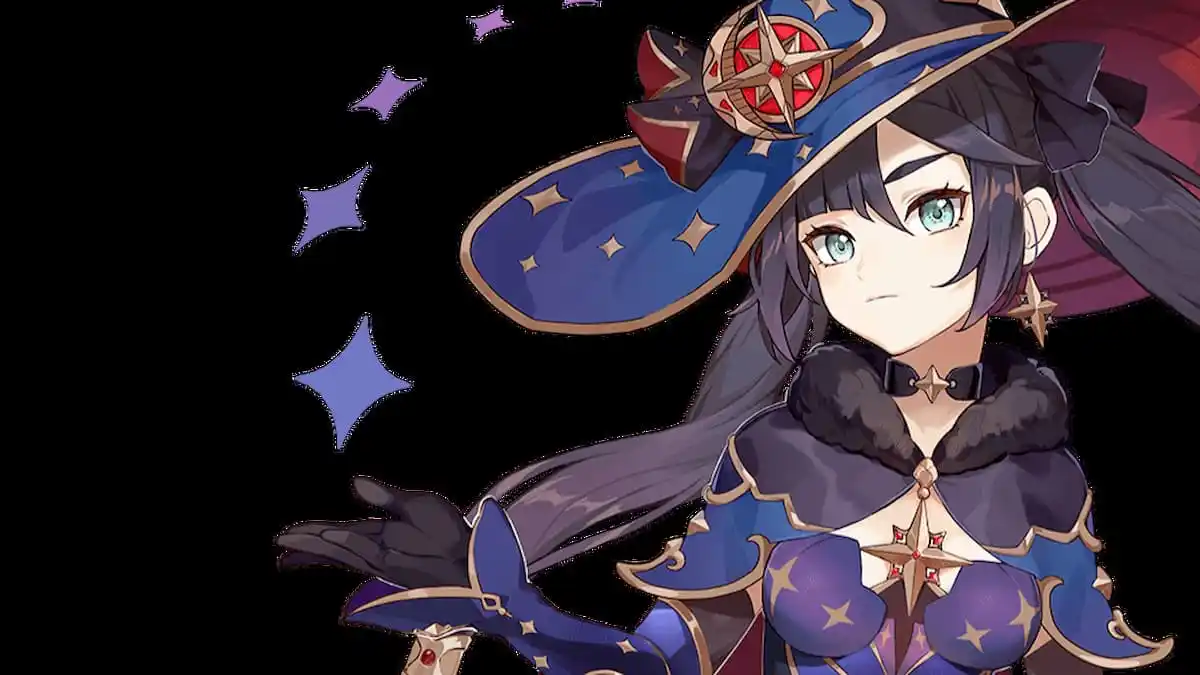 Mona
Mona is confirmed to be a part of this witch coven and Lisa's voice over reconfirmed it once again. She is a student of Barbeloth and one of the best Astrologists in Mondstadt. Her position and codename are unknown yet.
Nicole
Nicole is a mysterious character who has never appeared in Teyvat. She's been described as a " Guide who will never get Lost ". Nicole is given the codename "N" by the Hexenzirkel organization. As Though Morning Dew, the Archon Quest from Interlude Chapter: Act III – Inversion of Genesis has a voice over of Nicole at the end.
Ivanovna
Ivanovna was an incredible mage and she left the witch coven after her marriage. She is also known as J and has also appeared with a pink tea cup with rose and thorn motifs in the tea party the of Hexenzirkel gang. 
Scarlett
Scarlett was considered to be the successor of Ivanovna and there's no code word for her. She hails from Mondstadt and has appeared as an exclusive NPC in Windblume's Breathe event.
Andersdotter
Andersdotter is well known as the creator and author of "The Boar Princess", a storybook. She's a prolific writer and a human mage. You can spot Andersdotter in the latest Mages Tea Party cutscene as she appears on the cover of The Boar Princess, and also by the titular Boar Princess and the Wolf Pup. Andersdotter is known as "N" by the organization.
That's everything you need to know about the Hexenzirkel organization in Genshin Impact.
For more related content check out our dedicated website Gamition.
More E-Sports news:
Follow our dedicated E-Sports page for instant E-Sports news and updates