How will a fight between Israel Adesanya and (vs) Dricus du Plessis play out?
Israel Adesanya warned an anonymous 185-pound fighter after his stunning win over Alex Pereira at UFC 287. Unidentified because Adesanya was so afraid of giving the guy more attention by using his name, even in jest. It was obvious, though, that he was referring to Dricus Du Plessis, the sixth-ranked middleweight in the world.
Du Plessis, a South African fighter, has caused a stir by declaring his intention to become the first legitimate African UFC champion.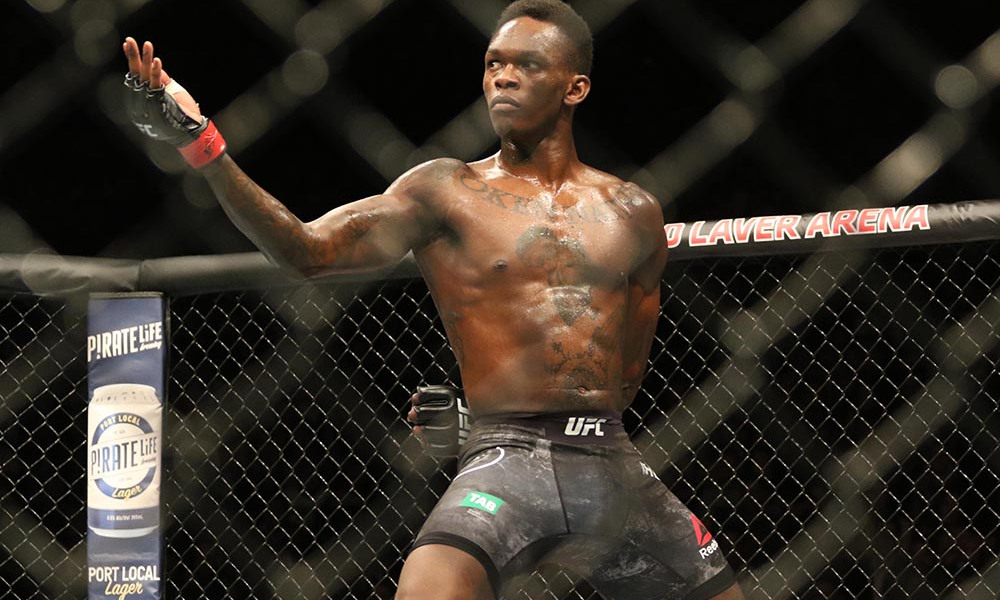 Speaking in the post-fight interview, Adesanya stated:
"F*ck, I don't want to give this n*gga no clout. I will whoop that – ugh, I wanna whoop his ass so bad. I wanna whoop his ass so bad. I want to do it in South Africa or Nigeria. But, he's gotta do work. He's gotta do something. Show me something so I can whoop his ass and I can show him history. I'll remind you."
"Because you gotta choose your words wisely when you speak on people that have come before you. People that paved the way for you. You've got to pick your words wisely. You want to try and be a big boy? I don't want to give him no clout, but if he does work – and I pray to God he keeps winning – I will gladly drag his carcass across South Africa."
Previewing a potential clash between Israel Adesanya and Dricus du Plessis
Israel Adesanya, also known as "The Last Stylebender," is a Nigerian-born New Zealand professional mixed martial artist, kickboxer, and boxer. He is the current middleweight champion of the Ultimate Fighting Championship (UFC) and has an impressive record of 24 wins and just two losses. Adesanya is known for his quick and precise striking ability, which has earned him several knockouts throughout his career. He is also skilled in takedown defense and has excellent footwork, making it challenging for his opponents to take him down.
On the other hand, Dricus du Plessis is a South African mixed martial artist who has competed in various promotions, including the UFC. He has a professional record of 19 wins and two losses and is known for his well-rounded skills. Du Plessis has shown his ability to finish fights with his striking, grappling, and submission skills. He is also known for his toughness and durability, making him a challenging opponent for anyone.
If Adesanya were to fight du Plessis, the fight would most likely be a striking battle. Adesanya's striking skills are on another level, and he is known for his ability to land precise strikes from a distance. He is also good at mixing up his strikes, making it challenging for his opponents to predict his next move. However, du Plessis is no slouch when it comes to striking. He has good power in his hands and has shown his ability to finish fights with his striking.
Du Plessis may try to take Adesanya down to the ground and use his grappling skills to gain an advantage. However, Adesanya has shown excellent takedown defense in the past and may be able to keep the fight standing. If the fight does go to the ground, Adesanya has good submission defense and may be able to avoid any submission attempts from du Plessis.
The key to this fight for Adesanya would be to use his superior striking skills to keep du Plessis at bay. He would need to use his footwork to avoid getting caught with any big strikes from du Plessis and use his precision striking to land significant blows on his opponent. Du Plessis, on the other hand, would need to use his durability and toughness to weather any storms from Adesanya and look for openings to land his own strikes.
Overall, a fantasy fight between Israel Adesanya and Dricus du Plessis would be an exciting matchup. While Adesanya would be the favorite going into the fight, du Plessis has shown his ability to finish fights and should not be underestimated. It would be interesting to see how this matchup would play out, but one thing is for sure – it would be a must-see fight for any MMA fan.
Prediction: Israel Adesanya is on a different level altogether. The only hope du Plessis has is taking the fight to the ground, which Adesanya had proved time and time again is no easy feat. We pick Adesanya to emerge victorious by KO or TKO.
More MMA news
Follow our dedicated MMA page for instant MMA news and update