Charles Oliveira has been on a remarkable 11 fight win streak, and his demolition of Justin Gaethje has sparked the idea of a fantasy matchup between him and Kamaru Usman
Charles Oliveira is the true embodiment of what a switch in mindset can do to your career. With 16 submissions and 19 finishes, Oliveira has the record for being the most dangerous finisher inside the octagon, but 'Do Bronx' wasn't always this threatening.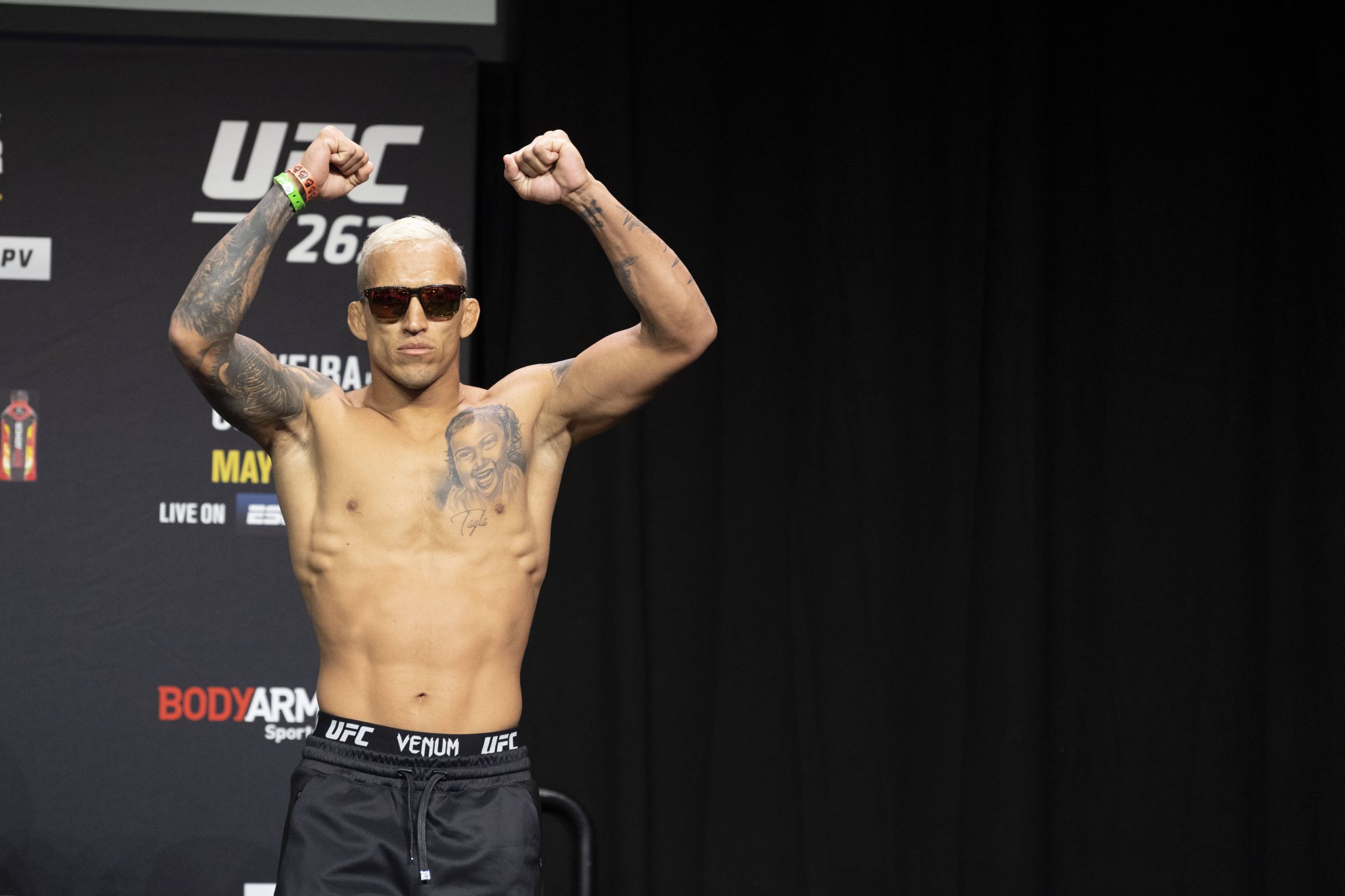 Even former UFC double champion Daniel Cormier took notice of his career revival, and asked President Dana White what happened to Charles? It is safe to say that Charles is operating entirely different than he was, and there's a change is his demeanor, his personality, his mindset, and his approach to the actual fight itself. He is one of the few complete fighters in the UFC roaster today.
Many have voiced that two or three more victories would cement Charles Oliveira as the true lightweight 'GOAT', by dethroning Khabib Nurmagomedov. Aside from Islam Makhachev and the possibility of another contender emerging at 155 lbs. there seems to be no sensible threat to Oliveira's supremacy. Fans had even suggested that Olivera should jump up in weight class in pursuit of dethroning Kamaru Usman, who's been lapping the welterweight division and faces an even adverse conundrum.
What are the chances that Charles Oliveira beats Kamaru Usman?
Kamaru Usman has been on a rampant run in the welterweight division. The P4P best fighter has been dismantling every challenge the UFC has presented him with, even beating some of them twice. Usman, and NCAA division two wrestler, utilized his phenomenal wrestling skills to capture the title from Tyron Woodley. Since then, Usman has shown a refined and reformed approach to his striking, working with one of the best striking coaches in Trevor Wittman. In his first battle against rival Colby Covington, Usman showed brilliant resilience and composed striking, eventually winning the bout via TKO. Oliveira is one of the most elite jiu-jitsu artists in the game today, but Usman has already faced better grapplers with staggering credentials in the likes of Gilbert Burns and Demian Maia.
He has an iron-willed mentality and is one of the most physically gifted athletes in the UFC roaster. Take his fight vs Demain Maia for example. The bout was everything we expected between an elite wrestler and jiu-jitsu ace. Maia started as an aggressor trying to take the fight to his preferred terrain, while Usman fended off all his takedown attempts. Throughout the fight Usman showed impressive takedown defense, and his sprawl game was on point. This allowed the Nigerian to settle into striking exchanges, and he landed strong overhand rights. The immaculate combination of calculated striking, cardio and takedown defense saw him cruise to victory even though it was not the prettiest of wins.
In the Gilbert Burns fight, Usman did not allow Gilbert to initiate any takedown advances, keeping him at bay with strong jabs and fluid movements.
A third-degree black belt in jiu-jitsu, Oliveira is like a boa constrictor, who wraps the neck, at even the slightest opportunity that presents itself. Charles has a significant striking advantage over Usman, and his finishing rate is higher than the Nigerian. He has adopted and honed Khabib's approach of walking down opponents, except that he's capable of inflicting some serious punishment on feet.
Take the Gaethje finish for example, as soon as he dropped the American, Charles realized that there is no point in wasting time with striking, and took his back immediately, like a knife through butter. He went from an armbar attempt, to half-twister, to a triangle choke, and eventually ended the fight with rear-naked choke, all within 15-20 seconds. This mastery and facile control take years and years of spending time on the mats.
So how would the fight between the two end up? While Charles has much more diverse striking, Usman has the clear advantage in pure strength. Oliveira cannot run into fire with reckless abandonment against Usman, and his recovery time will be substantially longer if the Nigerian cracks him. It's very difficult to finish Usman, and Charles would bite off more than he can chew if he ends up fighting Usman. In conclusion, the idea of this matchup favors Usman much more than Charles on paper, however, it does make for an exciting matchup.
More MMA news
Follow our dedicated MMA page for instant MMA news and updates