UFC featherweight champion Alexander Volkanovski has been wiping out the featherweight division, and this has opened up a potential move to lightweight
UFC President Dana White embraced the idea of featherweight champion Alexander Volkanovski moving up in weight to challenge for the 'double champ' status at the UFC 274 presser. Volkanovski has a backbreaking puzzle in hand when he faces Max Holloway for their trilogy bout. Although he's beat the Hawaiian on scorecards twice, there are still doubts attached to the true winner of the contest.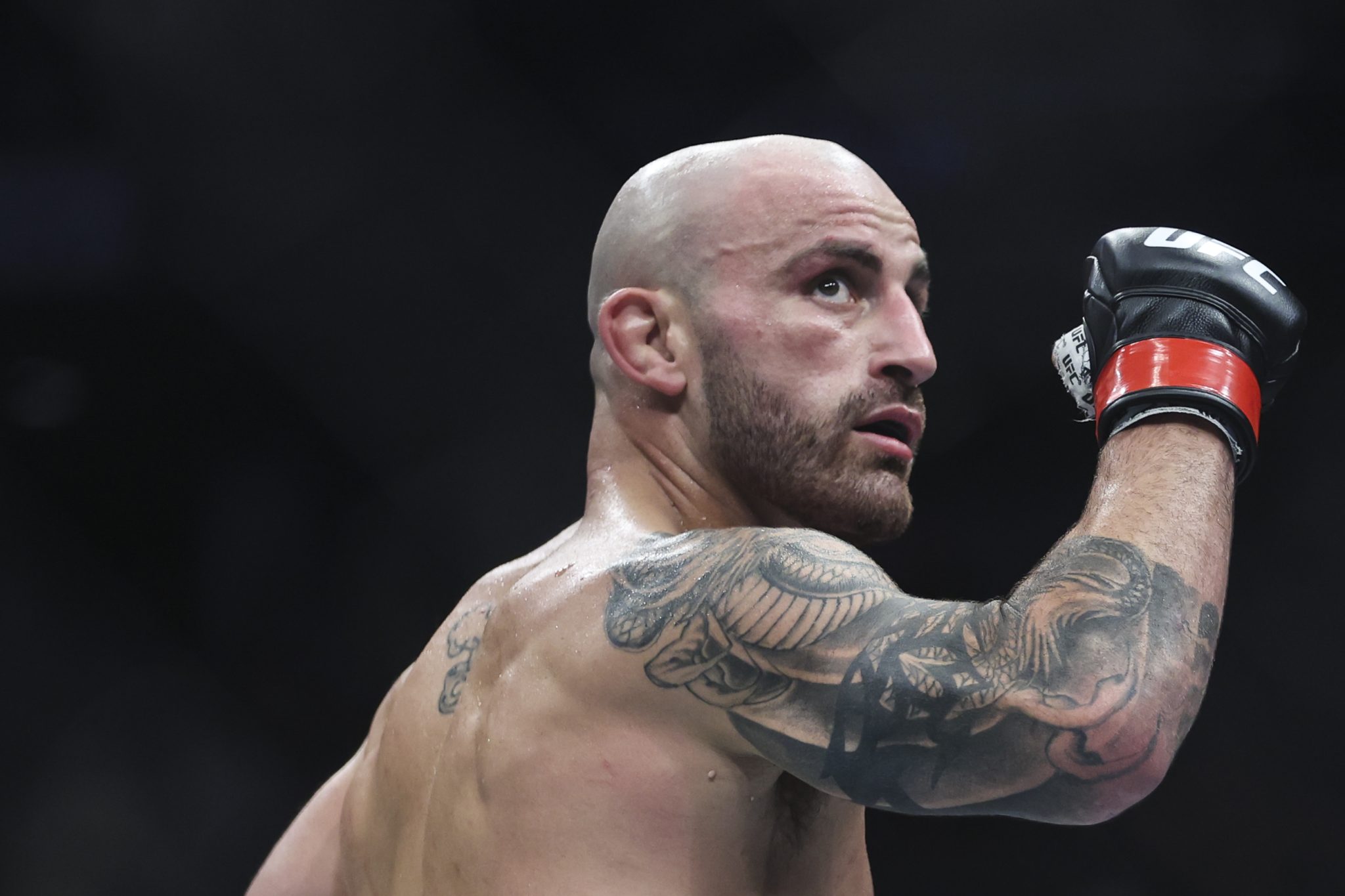 At UFC 273, Alexander Volkanovski reminded the world that there are levels to this game, and he is truly among the elite in the UFC roaster. In what was a one-sided effort, Volkanovski shut down any threat from the Zombie, and was hitting him at will with whatever weapon he fancied. In the end referee, Herb Dean had seen enough of accumulated damage and called an end to the fight, even though Zombie showed the heart of a warrior.
This victory puts the Aussie in an elite category of UFC fighters, becoming one of the only five fighters to start their UFC career at 11-0 or better. Volkanovski joins the likes of MMA royalty Anderson Silva, Khabib Nurmagomeodov, Royce Gracie and Kamaru Usman in this prestigious list.
Dana White had even suggested that with another victory over Holloway, Volkanovski might just get a direct ticket to fight for the lightweight championship, and going by the current scheme of things, it is much likely that he will face Charles Oliveira in the future.
What are the chances that Alexander Volkanovski beats Charles Oliveira?
Charles Oliveira is the true embodiment of what a switch in mindset can do to your career. With 16 submissions and 19 finishes, Oliveira has the record for being the most dangerous finisher inside the octagon, but 'Do Bronx' wasn't always this threatening.
Even former UFC double champion Daniel Cormier took notice of his career revival, and asked President Dana White what happened to Charles? It is safe to say that Charles is operating entirely different than he was, and there's a change is his demeanor, personality, his mindset, and approach to the actual fight itself. He is one of the few complete fighters in the UFC roaster today.
While there are still top contenders like Islam Makhachev and Beneil Dariush left for Charles to fight, the idea of a super fight between the Aussie and the Brazilian looks like a viable option.
Volkanovski is one of the most composed and disciplined fighter in the game today, where he's always following a systematic path to victory and manages to stay controlled even when in trouble. Every strike that he throws has a definite purpose behind it, and he wastes no movement. Another trait that separates Volkanovski from the rest is his perfect body posture and balance. Alongside city kickboxing teammate and middleweight champion Israel Adesanya, Volkanovski has mastered and implemented the art of 'micro-feints' with adroit.
In addition to that, he is fearless in his approach, and almost difficult to finish- much like the 'Terminator'. Take the Brian Ortega fight for example. Even though Ortega had Volkanovski in diar straits, where he almost submitted the Aussie with a triangle and guillotine, the Aussie wasn't afraid to play in T-city's guard, and landed vicious ground and pound for the remainder of that round.
A third-degree black belt in jiu-jitsu, Oliveira is like a boa constrictor, who wraps the neck, at even the slightest opportunity that presents itself. Charles has a significant striking advantage over Khabib, and his finishing rate is higher than the Dagestani. He has adopted and honed Khabib's approach of walking down opponents, except that he's capable of inflicting some serious punishment on feet. He does get hurt and dropped, which has never been the case with Khabib, but to his credit fighters are afraid to pass his guard.
Take the Gaethje finish for example, as soon as he dropped the American, Charles realized that there is no point in wasting time by striking, and took his back immediately, like a knife through butter. He went from an armbar attempt, to half-twister, to a triangle choke, and eventually ended the fight with rear-naked choke, all within 15-20 seconds. This mastery and facile control takes years and years of spending time on the mats.
On paper, the chances of Oliveira beating Volakanovski are stronger, which might also reflect on the odds should they fight in the future. For Volkanovski to win the fight, he has to ensure that his takedown game is on point, and that his defensive jiu-jitsu is up to the mark. He cannot afford to make a single mistake with Oliveira playing guard, and if Ortega could put him in a triangle, you better believe that Charles can do it quicker and better.
For Charles, it's important that he stays composed with Volkanovski because he's a difficult guy to put away. He has to play the long game, much like he did in his fight against Tony Ferguson and be prepared for some hard-hitting leg kicks. Both fighters are at the peak of their fighting career, and the matchup does make for an exciting fight.
More MMA news
Follow our dedicated MMA page for instant MMA news and updates