Nick Kyrgios is currently recovering from a knee injury which forced him to withdraw from the recently concluded Australian Open
Nick Kyrgios called out the hypocrisy of the media and critics on Twitter, referring to a recent incident wherein Czech tennis player Tomáš Macháč was seen eating chocolate during a press conference after his match. Throwback to last year, Nick Kyrgios was heavily criticised and termed as 'disrespectful' because he was eating Sushi after his first-round match against Paul Jubb at Wimbledon 2022. On this occasion, there has hardly been any controversy surrounding Machac's behaviour after the Czech clarified that he was too hungry after an intense three-hours long encounter.
Kyrgios always seems to be in a cloud of controversy and it doesn't come across as a surprise that he took to a public platform to call out the doubles standards of his critics. While Kyrgios often comes across as 'unruly' and 'arrogant', one would agree that he is sometimes unfairly criticised while others doing the same thing might get away without much ado. However, Kyrgios always goes about with his heart on his sleeves and that's probably what sets him apart from the rest of the players currently active in the ATP circuit.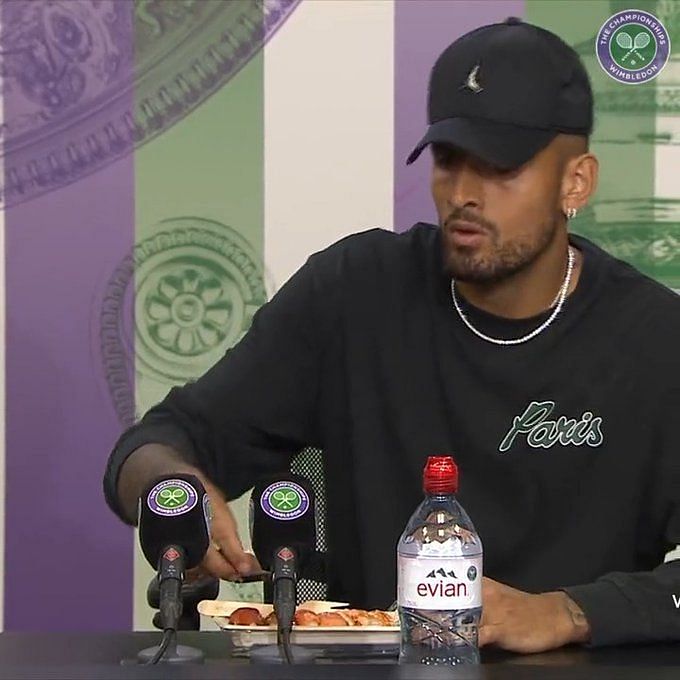 Fans react to Nick Kyrgios' comments on Twitter
Let us take a look at how fans reacted to Kyrgios' statement on social media.
"You're confusing when the word disrespect was used. I mostly remember it being used in the way you addressed the crowd in that match. The sushi thing was mostly just amusement by many who saw that presser", explained a fan.
"You literally take a breath and get called disrespectful. "How dare he take a breath", wrote another fan.
"I remember when you assaulted your girlfriend and the judge let you get away with it because you're famous.. can't win them all I guess", read a tweet.
"Why you always cry mate?", trolled another fan.
Another fan wrote: "Don't think it was what was going in to your mouth that was deemed disrespectful. Pretty sure it was the output."
More Tennis news
Follow our dedicated Tennis page for instant Tennis news and updates