Novak Djokovic and Nikola Jokic share immense mutual admiration – here's everything you should know if they are related to each other.
Novak Djokovic and Nikola Jokic were born in what was once Yugoslavia, a country that later split due to political turmoil. Djokovic hails from Belgrade, while Jokic is from Sombor.
They both began their sports careers at a young age and rose to prominence during their early adulthood. Djokovic turned pro at 16 in 2003, and Jokic was drafted by the Nuggets at 18 in 2012. Today, they are both at the pinnacle of their respective sports, and although they have their individual fan bases, they also share a strong mutual admiration. It's worth noting that they are not related by family ties.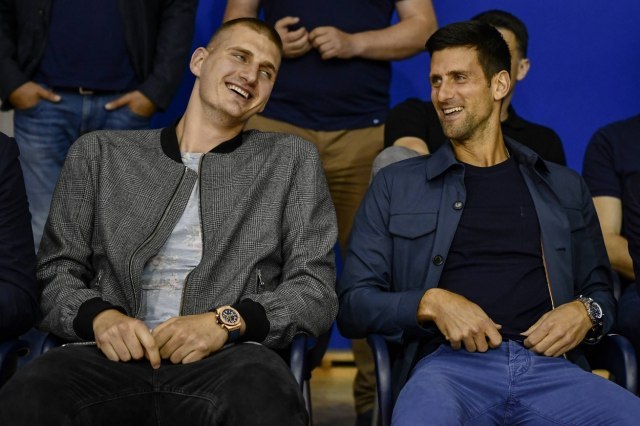 Djokovic is a big fan of Jokic and openly acknowledged that despite not being deeply knowledgeable about basketball, it's a significant achievement to have a Serbian player recognized as the best in the world. According to Djokovic, Nikola Jokic is currently the top basketball player globally, and he holds immense respect for him. Djokovic expressed his admiration by saying, "Incredible guy. Everyone is so amazed with his skills, what he does on a basketball court. I'm not a basketball expert, so I can't really talk about his game so much, but I'm a huge fan."
He also highlighted the rarity of a Serbian basketball player dominating the NBA, stating, "Obviously, a Serbian basketball player coming from Serbia, dominating the NBA, is something that doesn't happen very often. I think it never happened in the history of our basketball in Serbia, that we had the best basketball player in the NBA. That's amazing. We all love him, support him."
Nikola Jokic has established himself as an NBA superstar
Nikola Jokic serves as the center for the Denver Nuggets in the National Basketball Association (NBA). He goes by the nickname "the Joker" and is widely recognized as one of the most significant draft steals in NBA history. Jokic is held in high esteem as one of the all-time great players and centers in the league.
With five NBA All-Star selections and five All-NBA Team appearances, including three first-team selections, he has solidified his status as a top-tier player. Furthermore, Jokic earned the NBA Most Valuable Player Award for both the 2020–21 and 2021–22 seasons. He also proudly represents the Serbian national team and achieved a silver medal at the 2016 Summer Olympics with them.
Jokić's journey began when the Denver Nuggets selected him in the second round of the 2014 NBA draft. His talent quickly became evident, and in 2016, he earned a spot on the NBA All-Rookie First Team. As the 2018–19 NBA season unfolded, Jokić not only guided the Nuggets to the Western Conference Semifinals but also achieved his first All-Star selection and All-NBA First Team honors.
The subsequent season continued to showcase his excellence, with another round of All-Star and All-NBA accolades, as he led his team to the Western Conference Finals. In the 2022–23 NBA season, Jokić's standout performance reached its pinnacle as he was crowned NBA Finals MVP, propelling the Nuggets to their first-ever NBA championship. Additionally, he has etched his name among the elite in NBA history, ranking within the top 10 for the most triple-doubles by a player.
More Tennis news
Follow our dedicated Tennis page for instant Tennis news and updates