Shannon Sharpe's wife: Here is everything you should know about Shannon Sharpe's alleged wife Katy Kellner and if she cheated on the NFL Hall of Famer
Shannon Sharpe was regarded as one of the best-ever tight end at the time when he hung his boots in the NFL after representing the Denver Broncos. Being able to elaborate upon his popularity chart, the undisputed host stamped his authority on talk shows as popularity reached an all-time high.
He is also known for his super-human physique.
Who is Shannon Sharpe's wife?
His popularity has reached an extent where fans eagerly want to know all the information about his personal life, even his alleged wife– Katy Kellner.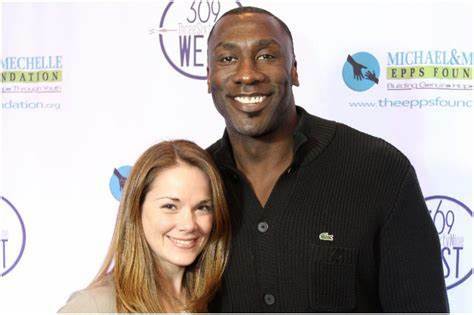 Here are the details about Shannon Sharpe's wife (alleged)
Born in Chicago, the 55-year-old NFL Hall of Famer was married to American fitness enthusiast Katy Kellner. For those who are unaware, Katy, born in 1981, is an American citizen who started her career as a Fulton County public school teacher. After teaching at the same school for more than eight years, Kellner decided to try her hand at a completely different profession.
Katy Kellner joined primary fitness training and co-founded Thousands Oak Gym in USA (California) in cooperation with Marlon Byrd. This is just when Shannon Sharpe is rumored to have parted ways with Katy, after which the latter is currently in a relationship with Luis Castillo. Moreover, Sharpe's ex-wife is working as a fitness instructor and regional director at Flywheel Sports and Cycle Bar.
Sharpe Sharpe parted ways with his wife, Katy Kellner
Sharpe, who is known to have a ripped physique even after crossing the age of 50, met Katy for the first time in the gym. The couple got engaged in 2016 after being spotted at different parties and events. While many were hoping for this to be the ideal fairytale Shannon deserved, things were only going haywire.
Shannon Sharpe was left devastated as Katy cheated on him and appeared with a baby boy Jaden Charles Byrd, from another man, Marlon Byrd. Eventually, the couple parted ways.
As of 2023, Shannon Sharpe is currently single and is not dating anyone.
Shannon Sharpe open comment about his relationships
Shannon Sharpe shocked everyone on social media when he revealed that he wanted a relationship with a woman he liked so badly that, he even paid for her divorce.
This is exactly what he said,
"I knew I wanted her. I said, You know what? I'll pay for the divorce because I believed she was the one. That's what I did, I said, Why are you arguing about this? He wouldn't sign the paper."

"I say Why are you arguing about this little bit of money? I gave him the money and filed the divorce. I did that!" 

Twitter
It is still a mystery whether he was talking about Katy Kellner here or someone else altogether.
Conclusion
So, who is Shannon Sharpe's wife? As per rumours, Katy Kellner was his ex-wife and they parted ways and she is now working as a fitness instructor.
More News:
• WHO DID TAYLOR SWIFT CHEST BUMP? IS SHE DATING TRAVIS KELCE?
• DID CARRIE UNDERWOOD HAVE A WARDROBE MALFUNCTION? HERE IS WHAT THE STAR SAID