Devin Booker and Kendall Jenner have been dating since the summer of 2020
Devin Booker has been on an absolute tear this season. The Phoenix Suns' shooting guard was named in the NBA All-Star team for the second year running.
He also helped his team reach their first ever playoffs in more than 10 years. A Booker-inspired Suns beat Los Angeles Lakers in the first round of their NBA playoffs and followed it up with a dominant performance against the Denver Nuggets in the semi-finals as well.
The Suns are currently leading the Los Angeles Clippers in the Western Conference finals, thanks to a 40-point game from Booker.
Off the court, Booker has been killing it as well. He is currently dating supermodel Kendall Jenner of the Kardashian family, and the pair have been going strong for more than a year.
Devin Booker past relationships
Devin Booker's first publicized relationship was with Jordyn Woods. Woods is a 23-year old supermodel and was one of Kylie Jenner's closest friends. She in fact lived with Kylie and was very helpful during her maternity period.
Booker and Woods were first spotted on a double-date with Kendall Jenner and her-then boyfriend and Philadelphia 76ers star Ben Simmons. Although the pair never confirmed their relationship, they were spotted together a couple of times.
However, their relationship is believed to have ended in 2019 when Boston Celtics star Tristan Thompson and Woods were spotted kissing.
It was only a year after this when Booker and Kendall began dating.
Devin Booker girlfriend
Kendall Jenner is the world's highest earning supermodel. She belongs to the famous Kardashian family, and is the daughter of Kris Jenner and Olympic gold medalist Bruce Jenner aka Caitlyn Jenner.
Though she grew up in the shadow of her famous sisters, Kim, Khloe and Kourtney, she soon carved a niche for herself.
Kendall has a staggering social media following with over 170 million followers on Instagram and 31 million followers on Twitter.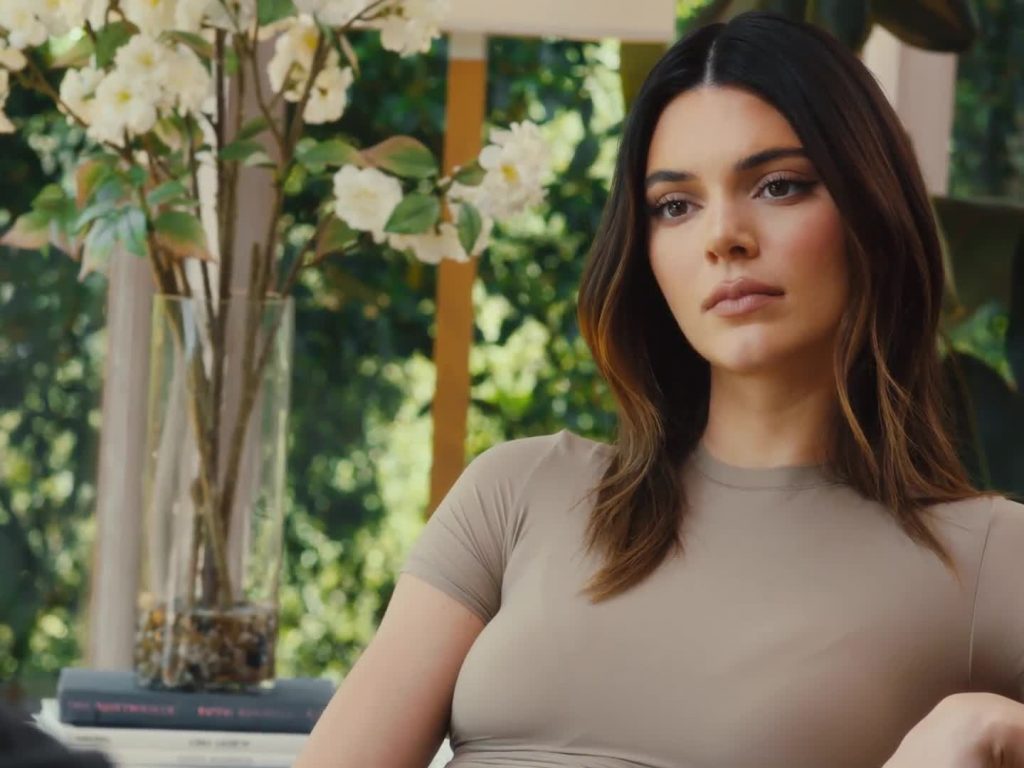 She has been modelling since the age of 13, and rose to prominence in no time. She has walked the ramp and shot covers for numerous top magazines and photographers.
She also famously featured in the then-greatest fashion show in the world – Victoria's Secret Fashion Show 2015 and 2016.
Kendall famously toppled supermodel Gisele Bundchen in the year 2017 to be named by Forbes' as the world's highest-paid model. Bundchen had held the position for 14 straight years, prior to that.
Kendall has a net worth of around $45 million, largely attributed to her modelling career. She has been in high-profile relationships with singer Harry Styles, NBA player Blake Griffin (2017), Philadelphia 76ers' Ben Simmons (2018) and now Devin Hooker.
A big sports freak herself, Kendall turns up to a lot of NBA games and loves riding her horses in her free time.
When did Devin Booker and Kendall Jenner start dating?
A year later (after Booker split with Woods) in the summer of 2020, Kendall and Booker began dating. Jenner had split from her then-boyfriend Simmons, and was single. The pair were first spotted on a beach exhibiting public display of affection.
They have been spotted together several times after that. In February, she went Insta official with Booker, posting several pictures of him and her together.
In a recent interview with Andy Cohen, Kendall opened up on her relationship for the very first time. She usually plays down questions about her relationship.
When asked about what was happening between her and Booker, she replied, "He's my boyfriend."
Now, it has been over a year, and Kendall and Booker are still going strong.
FAQs about Devin Booker and Kendall Jenner
Who is Devin Booker?
Devin Booker is a basketball player who plays as a shooting guard for the NBA team Phoenix Suns.
Is Devin Booker with Kendall Jenner?
Devin Booker started dating Kendall Jenner in the summer of 2020, and the pair are still going strong.
Does Devin Booker have a child?
No, Devin Booker does not have a child.
Who is Kendall Jenner dating in 2020?
Kendall Jenner began dating Devin Booker in 2020.
Who did Devin Booker date before Kendall Jenner?
Before Kendall Jenner, Devin Booker was in a relationship with Jordyn Woods.