Here is our Rage of Destiny Tier List where you can find the best characters in the game ranked based on their stats and overall usability in the game.
IGG.com has released Rage of Destiny, an action strategy RPG game. It invites you to a magical realm populated by adorable dragons. Rage Of Destiny has a large cast of characters, making it tough to rank them from best to worst and construct a team. Check out our Rage of Destiny tier list for quick tips on how to excel in the game and master all of the dragons. You can also check out our Awaken Chaos Era Tier List and Punishing Gray Raven Tier List.
Rage of Destiny Tier List
We've ranked all of the characters in Rage of Destiny based on their strengths and weaknesses in our tier list. All Rage of Destiny characters have been classified into six tiers: SS, S, A, B, C, and D. The SS tier contains all of the game's greatest characters, whereas the D tier contains all of the game's bad or worse characters who aren't very useful. So, to save you time and help you pick the greatest characters in the game, we've put together a Rage Of Destiny tier list.
SS Tier
They are the god tier characters in the game. You can use them for any type of content and they will excel at it. If you have obtained them, start investing in them right now.
Paulus
Kali
Bann
Bouvier
Sierra
S Tier
Characters of the S tier are the ones who will assure you a victory over your opponents. The characters will do all the work for you and guide you through the game with little to no effort on your part.
Hatharal
Celero
Yonala
Lovelace
Ephraim
Braelyn
Bodewick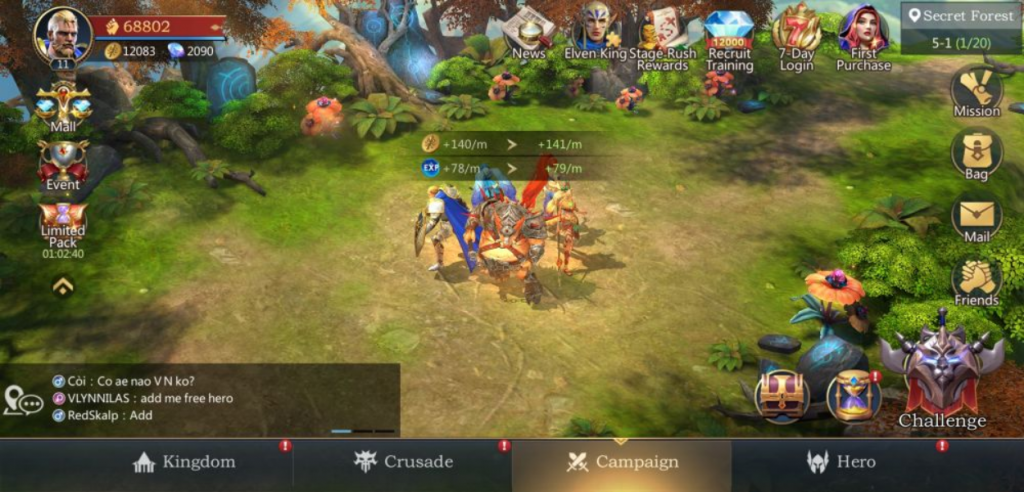 A Tier
A tier characters are for gamers that prefer an average stat distribution rather than a single outstanding stat. Choose one of these characters to give you a little bit of everything if you don't want to stick to a single sort of gameplay throughout the game.
Maxos
Luciano
Jade Magic
Vradis
Monica
Kratos
Gharr
B Tier
B-tier characters may demand some time and effort on your part, but if properly trained and used, they can be game-changers and help you win in Rage of Destiny.
Belfort
Barkin
Jessica
Dietrich
Elizabeth
Khamar
Mayelo
Grog
Kaus
Tsithia
C Tier
These characters, although being at the bottom of the list, are not utterly useless. They can be a useful addition and will occasionally help you win, but not as frequently as other characters.
Giuseppe
Virga
Baoui
Thenaron
Razoma
D Tier
D Tier Characters in Rage of Destiny are some of the worst characters. They are not that strong and offer no real value to the team. You should not use them and if you are, consider replacing them immediately.
Thordin
Aravo
Sarkasson
Farin
This was our Rage of Destiny Tier List. You can choose the est characters in the game to build your team. But while building a team you should consider all the aspects like character synergy and overall damage output of the team. You can download Rage of Destiny from the App Store and the Google Play Store.
More E-Sports news:
Follow our dedicated E-Sports page for instant E-Sports news and update