Know what you need to about the various nicknames for Kobe Bryant
The name Kobe Bean Bryant or Kobe Bryant needs no introduction. He is undoubtedly a legendary figure among the basketball fraternity all over the world.
In NBA, Bryant's name is synonyms with other basketball icons like Michael Jordan. This 6-foot-6-inch Shooting guard played only for the Los Angeles Lakers for two decades and has left behind a legacy that is bigger than the game of basketball itself.
Bryant is widely known for his teeth-gritting work ethic, his mammoth willpower, and most importantly, his love for the game of basketball, which according to Bryant himself, was above everything else.
In other words, Bryant is one inspirational dude. From the age of eight to eighty, everybody can seek inspiration from the great Kobe Bryant. Moreover, Bryant's devotion to achieving perfection was so strong that anybody could feel inspired instantly; such was Kobe's greatness.
Naturally, when you have a role model of Kobe's stature, you commonly associate them with various nicknames. Bryant was no different. Throughout his career, Bryant has enjoyed several cool nicknames. So, let us look at the various nicknames for Kobe Bryant.
"The Eighth Man"
This moniker was coined before Kobe Bryant's professional career. Bryant gave himself this pseudonym, which he used as his rap name while growing up in Philadelphia.
In a story on Bryant shortly after his retirement, ESPN's Ramona Shelburne revealed some background on the nickname.
"They'd find battles on South Street, in the Gallery (an underground mall), at Temple University or in this barbershop on N. 54th and Wynnefield Avenue. Kobe's rap name was "The Eighth Man."
"I was a battle MC. I hunted every top MC in the city and battled them," Sanchez said. "He'd come with me and watch me just destroy everyone."
After high school, they started a rap group called Cheizaw, signed a record deal with Sony and spoke on the phone almost every day. "We'd freestyle for hours. He could beatbox," Sanchez said. "I remember when he blocked [Michael] Jordan's shot. He was going crazy. He called up and was like, 'I need to be charged up. I need to freestyle for like 45 minutes.'"
"Vino"
Unfortunately, there is no story behind this cool nickname. Probably this nickname was self-given by Kobe himself or maybe this nickname is fan-made. Either way, nobody knows how it came around and stuck for this long. On the other hand, this nickname of Kobe is not that common and we barely hear about it nowadays.
"Showboat"
This moniker was given to Kobe Bryant by his most famous teammate, Shaquille O'Neal, during his playing days.
Shaq gave Kobe this nickname long before he became the All-Star and Hall of Famer that he would soon become. Shaq gave Kobe this nickname during his rookie season because he liked to brag about his abilities.
Notably, this nickname was exclusive between Shaq and Kobe, and nobody else ever used it.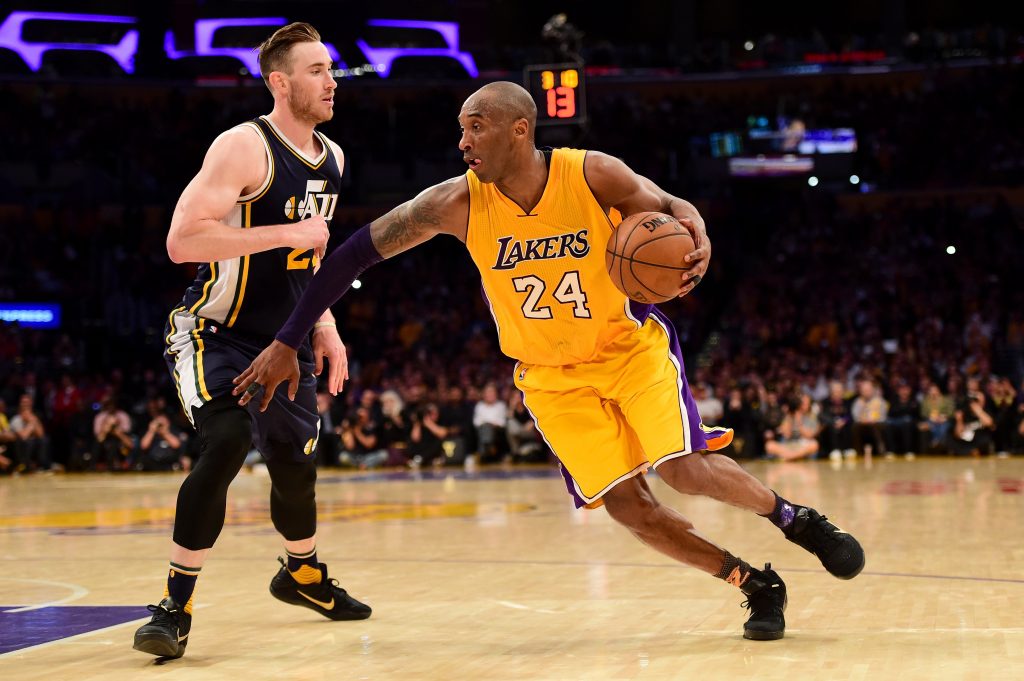 "KB24"
This nickname is quite self-explanatory and many players in the NBA use this type of nickname. Honestly speaking, this nickname is not that creative or attention-grabbing.
It's a play on Bryant's name and number, akin to the wildly popular CP3 and RG3 nicknames.
"Little Flying Warrior"
This moniker is the most outside-the-box nickname compared to all the other nicknames. 'Little Flying Warrior' sounds very catchy and has a great recall value. Definitely suits someone like Kobe.
It is said that the origin of this cool nickname is from China. Kobe has millions of fans from China and it is obvious that the fans will give a suitable nickname dedicated to their favorite player. Additionally, Kobe Bryant has an assortment of nicknames from China but by far, this nickname, 'Little Flying Warrior', is the best.
"The Eighth Wonder of the World"
This nickname is symbolic in its own terms. There are innumerous things which we can call the 'eighth wonder of the world.' As a matter of fact, this nickname has been used time and again for various contexts and purposes. Hence, the nickname is common but it definitely suits Kobe.
In fact, it is more iconic because Kobe used to wear jersey number #8 during the start of his professional basketball career. This coincidence definitely gives this nickname a supreme edge.
"Black Mamba"
This nickname is obviously the most common and the most famous nickname for the great Kobe Bryant. This is the nickname that Kobe Bryant will forever be remembered by.
Interestingly, this nickname was given by Kobe himself. He stated that he gave the nickname, 'Black Mamba', to himself so that he can separate his personal life from his professional life. And, it worked! We all know about the famous 'Mamba Mentality.'
Kobe was immensely successful both in his private and professional life. Nobody can have a second opinion about it. Honestly, Kobe's list of accomplishments is too big to mention.
Moreover, the iconic nickname of 'Black Mamba' is one of the best nicknames in basketball history. It lives on in his Mamba and Mambacita Foundation, renamed in honor of Kobe and Gianna after their tragic passing in January, 2020.
More NBA Articles:
Follow our dedicated NBA page for more NBA articles and news updates