Chris Paul is a well-known player in the world of basketball. But does Chris Paul have a twin brother? The answer might surprise you. Let us find out more about it.
There is no doubt that athletes are one of the most popular public figures in the whole wide world. Some athletes have achieved such stardom that most people can only imagine living that way. Most athletes are ideal role models, are great examples of physical strength, are exemplary humanitarian, etc.
NBA players are also very 'popular figures' all over the world. The world media leaves no stone unturned to blur the lines between the athletes' personal and professional life. Usually, this blurred line is a curse for most NBA players as they literally can't have any private moment and is always under the watch. However, some NBA players can use this immense popularity in their favor and make a certain agenda very successful. The curious case of Chris Paul having a twin brother will be remembered forever by basketball fans all over the world.
Christopher Emmanuel Paul (born May 6, 1985) is popularly known as Chris Paul. Paul currently plays for the Phoenix Suns of the National Basketball Association (NBA).
An eleven-times All-Star, Paul enjoys the famous nickname of 'CP3.' Interestingly, the number '3' in Paul's nickname is there because Paul, his father, and his older brother, all share the same initials. Now here is the catch.
Notably, Paul's older brother's name is CJ Paul. And CJ is Chris Paul's one and only brother. So, what is the ongoing hype around Chris Paul and his rumored non-athletic twin, Cliff Paul? Moreover, none of Paul's family members shares a relationship with anyone named Cliff.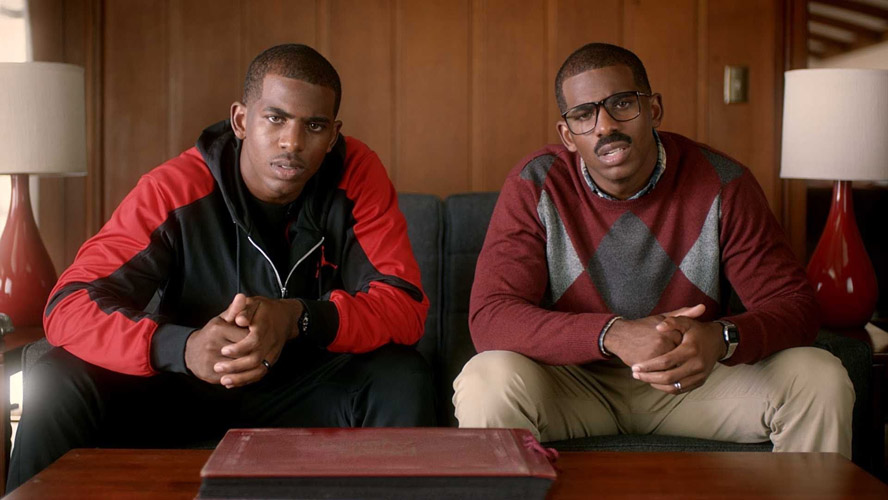 Who is Cliff Paul and what is his relation with Chris Paul?
Chris Paul was the 2005, Round 1, 4th overall draft pick by the New Orleans Hornets (later New Orleans Pelicans). This talented Point guard recently played in the 2021 NBA Finals, representing the Phoenix Suns.
However, CP3 is best known for his playing stint with the Los Angeles Clippers. He played for the Clippers from 2011 to 2017. Interestingly, at the end of the first year with the Clippers, CP3 surprised everyone by introducing his twin brother, Cliff Paul.
A very popular insurance company, State Farm, launched Cliff Paul in 2012, via a series of commercials. Cliff looks absolutely identical to his twin brother, Chris Paul, but has a mustache, is the more cerebral, and less athletic of the two brothers.
Both Chris and Cliff Paul came together in many videos, making the fans believe that they were for real.
Nevertheless, the truth was soon revealed. Cliff Paul was just an alter ego of the NBA legend, Chris Paul. All along, CP3 was playing his non-athletic character and was being the assistant to his real self like a pseudo-agent.
Sadly, all of this came to an abrupt end in 2017. The brothers had to go their separate ways as Chris was traded to the Houston Rockets. But, before parting ways, Cliff Paul dropped his last surprise for his twin brother.
Is Cliff Paul coming back?
As said before, Cliff Paul's character was sent to an early retirement because CP3 was traded to the Houston Rockets. However, the latest development suggests that Cliff is all set to make a grand comeback.
Recently, Nike's Jordan launched a new colorway for the CP3.XI. This new colorway will apparently pay tribute to the legend of Cliff Paul.
The new CP3.XI colorway comes in Desert Sand (just like Cliff's khaki pants) with a purple, blue and red plaid tongue, throat, and heel collar (just like Cliff's sweaters), and Nike even threw in some gold tips on the laces, because there's nothing like family.
Moreover, Cliff's verified Twitter handle is again active, and he recently dropped a hint by tweeting another upcoming State Farm stint.
Nothing sweeter than a brotherly reunion, right?
More NBA Articles:
Follow our dedicated NBA page for more NBA articles and news updates