Jalen Ramsey was drafted by the Jacksonville Jaguars in the 2016 NFL Draft but according to him, he wasn't supposed to be there in the first place.
Jalen Ramsey is quite arguably the best cornerback in the NFL currently and he has shown immense growth in his game since getting drafted by the Jacksonville Jaguars in the 2016 NFL Draft.
He joined the Los Angeles Rams later in his career via trade and this was a start of a glorious chapter in his life as he elevated his game to the next level while being a part of a very good defense spearheaded by Aaron Donald in which Jalen Ramsey transformed himself into one of the best players currently in the league.
The Rams won the Super Bowl last season and Ramsey was an important part of their run throughout the season as he doesn't get scared by any WR and most likely tends to dominate them which gives the Rams a big edge heading into a game against any team.
However, his journey should have not started at Jacksonville but instead at Dallas, as in his recent appearance on The Pivot Podcast with Ryan Clark, he claimed that the Dallas Cowboys promised him that they will get him in the draft which was not the case later as the Cowboys went on to pick Zeke Elliot instead of Jalen.
Talking about the time during his draft in 2016 he said, "I was in that conversation of 'Who was going to be the first defensive player taken off the board? And I just wanted to be it. But, if it didn't happen, I always grew up a Dallas Cowboys fan, really, Titans and Cowboys. So, if I go four, that's like a dream come true."
"They told me straight up to my face…. we're taking you"- Jalen Ramsey on the Dallas Cowboys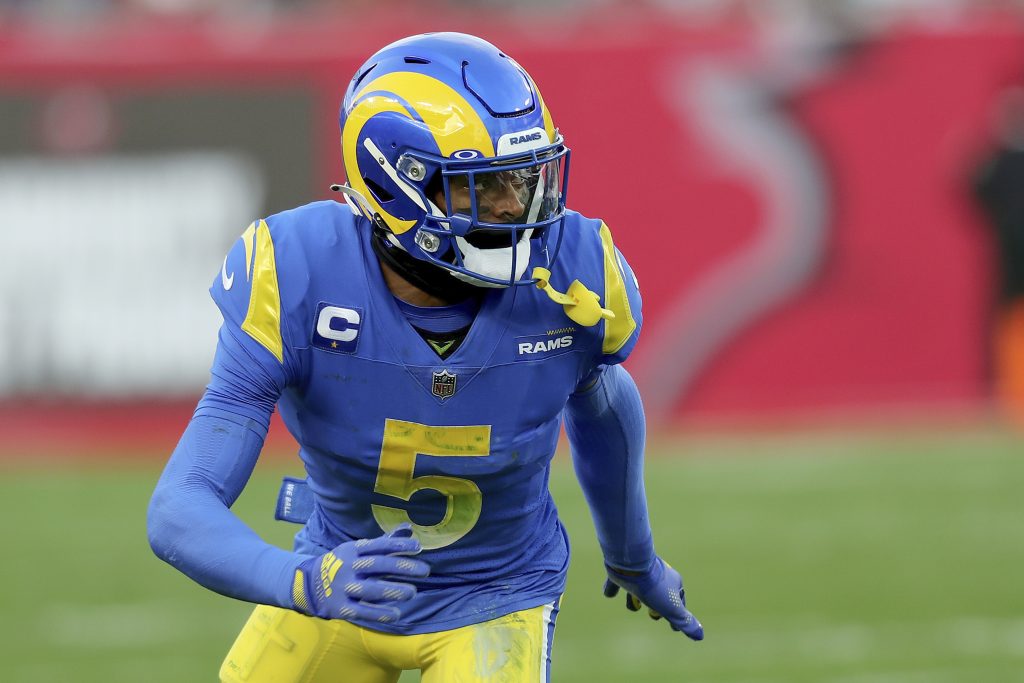 Jalen Ramsey further talked about his conversation with the Dallas Cowboys prior to the Draft and said, "When I was on my visit to Dallas, they told me straight up to my face, 'If you're there at four, we're taking you. But, we don't think you're gonna be there at four.' They said, 'we think the Chargers are gonna get you at three, but if you're there at four if you're on that board we're taking you."
Jalen said he wanted to be the first defensive player to be picked in the draft but his expectations were cut short as the Los Angeles Chargers selected Joey Bosa with the 3rd overall pick, but it gave a chance to the Cowboys to draft Ramsey and fulfill the CB's childhood dream of playing for his favorite team.
Ramsey further spoke and said, "We get to the draft, I know I ain't going one or two, those are quarterbacks. So, then the Chargers selected Joey Bosa at No. 3, and I'm like 'I really should've been the first defensive player taken off the board,' but it's cool, whatever."
He added, "So, my table was right here, my mom and posse and fam, and Zeke's table was right next to ours. So, all the cameras were on me and Zeke, I remember about 20 cameras, 10 on me and 10 on Zeke. And my mom knew Dallas was where I wanted to go, I was sitting by her and we were whispering to each other. And then in an instant, the 10 cameras that were at my table, they all went zooming noise over to Zeke's table."
Following Dallas skipping on him in the draft, Jalen Ramsey knew that he was going to be picked next by the Jacksonville Jaguars and he said, "And then as soon as they announced his pick my phone started ringing with 904 area code. And I knew, right when my phone started ringing 904 it was Jacksonville. So, that's why I was mad, I was mad because I didn't go three or four."
However, his career didn't start the way that he would have wanted but he has transformed himself into one of the best players in the league and probably the best at his position which has brought him multiple accolades and personal honors which were his goals prior to playing in the NFL.
Everything happens for a reason and the Cowboys skipping on Jalen Ramsey could have been a blessing in disguise for him as he later joined the Rams and went on to win a Super Bowl which is an ultimate goal for an NFL Player and he was able to achieve it quite early in his career.
Related Article: "This is definitely going to be a transition year"- Patrick Mahomes on the Chiefs' plans for this upcoming season
Follow our dedicated page NFL for instant NFL news and updates.