It seems like Carolina Panthers and neutral NFL Fans have had enough of Baker Mayfield missing the plot for his new team. After not being able to deliver for his side, it seems like on Sunday Night, he went further into the negative direction after the Panthers lost another game because of him, and this time against San Francisco 49ers. 
While the Carolina Panthers as a combined unit have failed to unite on the field but majority of the blame falls on the shoulder of #1 Quarterback for Panthers – Baker Mayfield, who just hasn't been able to find his form. Also, has not been able to lead his team in running the offense. 
To talk about that one particular play which has everyone questioning Baker Mayfield's football acumen – he threw a pick-six for the second consecutive Sunday. To keep it simple and short, his throw wasn't truly batted, fell into the hands of San Francisco 49ers cornerback Emmanuel Moseley who returned the interception 41 yards to the end zone. Making the Panthers eventually pay for the mistake of their Quarterback. 
Baker Mayfield bashed online by NFL Fans 
Talking about the highlights of this game – Carolina Panthers took possession at their own 22-yard line with just 7 points remaining in the first half when Derrick Brown and Yetur Gross-Matos successfully blocked a field goal, to give an energy boost tot eh rest of the team, in the hopes of making a comeback.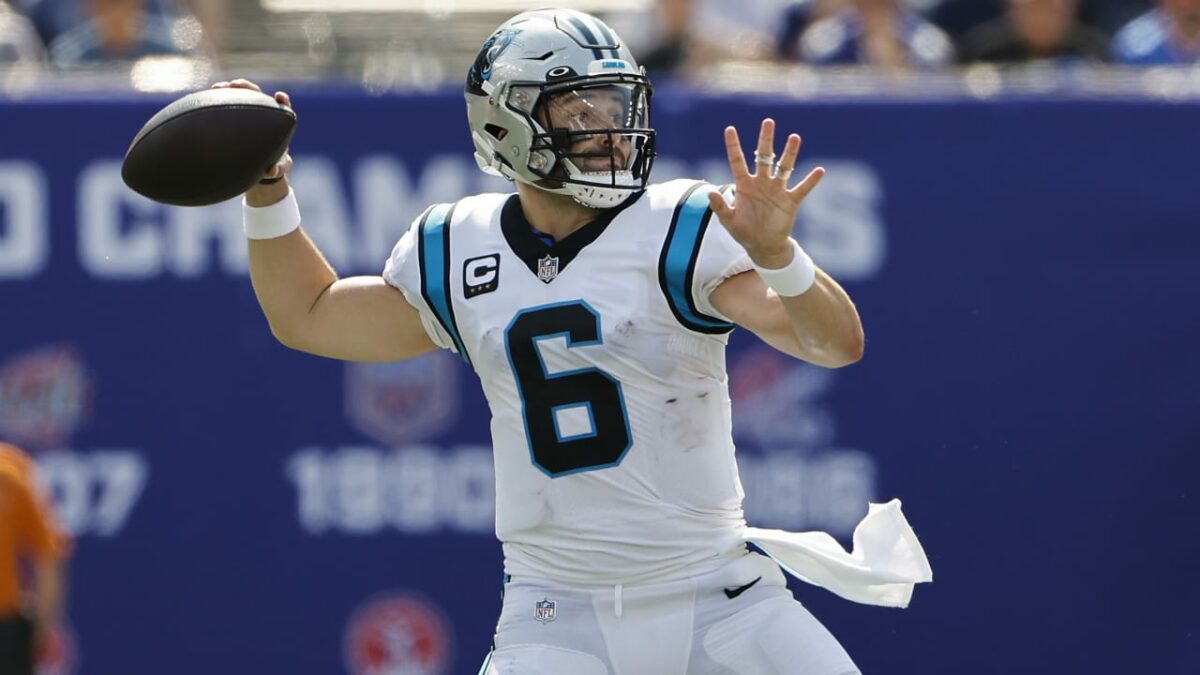 Just when the momentum could've swung in the favor of Panthers, at the 55-second mark, Baker Mayfield made the dubious decision to pump fake his attempt missing running back Christian McCaffre in the process. The humiliation rose to a point where Panthers entered halftime with a 14-point deficit and just 133 yards of total offence. To talk about the individual stats – Baker Mayfield had thrown for 95 yards on 10 of his 17 attempts. Take a look at how the NFL Fans reacted to his performance on Sunday/ in the 2022-23 season so far. 
Is this the end of Baker Mayfield? Or will the 27-year-old experienced campaigner be able to rise from the ashes? Remains to be seen. 
Also Read: "AARON FRAUDGERS STRIKES AGAIN!": NFL Fans troll Aaron Rodgers as the New York Giants cause a huge upset over the Packers in London
Also Read: Watch: Josh Allen with a 98-yard bomb touchdown pass to Gabe Davis on the first drive against the Steelers
Also Read: "Oh it's close now? There's Kirk"- Ryan Clark takes a dig at Kirk Cousins after the Vikings QB thrown an interception in a pressure situation against the Bears