Former Los Angeles Laker Kwame Brown has claimed that NBA legend LeBron James cannot quite do something that he can.
The career arcs of Kwame Brown and LeBron James started very similarly. While both the rookies were drafted in their respective NBA Drafts as the first choice picks, one lived up to the incredible expectations around him while the other infamously did not. However, all those years since being drafted as a rookie, Brown has said that James cannot do something he does.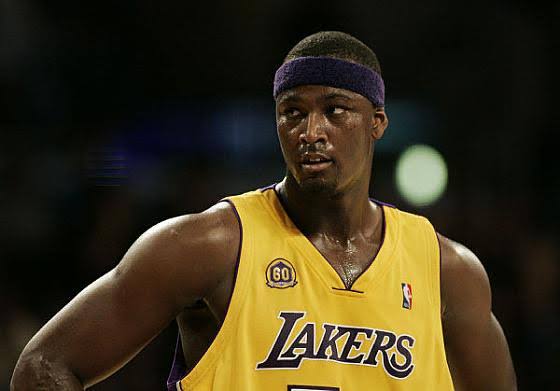 While Brown failed to live up to the hype that comes with being a number-one pick and never averaged more than 10.9 points or 7.4 rebounds in a single season, James is still dominating the league at age 38 and has earned just about every possible NBA accolade, from titles to MVPs. Still, Brown believes there's at least one reason why his NBA bust status makes him better off in life than James, per a recent episode of The Pivot Podcast where he got honest regarding fame.
Speaking on The Pivot Podcast last month, Brown said though it is disappointing to not live up to the expectations set around him – being a 'bust' is not all bad and has its perks as well. Brown explained: "I think it was better being a bust… LeBron can't do what I do… They take pictures of him everywhere he goes, I was a bust ain't nobody take pictures of me everywhere I went."
While these comments stem back to nearly two weeks ago, they were brought back into the limelight after LeBron's recent comments.
What recent comments did LeBron James make?
Since his friend and former teammate Kyrie Irving sealed a switch to the Dallas Mavericks, LeBron expressed his feelings in an interview.
While LeBron spoke about how badly he wanted to reunite with his former Cleveland Cavaliers teammate at the Lakers, he also spoke about how he struggles with fame and often cannot do things that a normal person does. LeBron came on air and said: "I don't want to say it ever becomes too much, but there are times when I wish I could do normal things."
"I wish I could just walk outside. I wish I could go to Target sometimes and walk into Starbucks and have my name on the cup just like regular people." The legendary Laker added: "I'm not sitting here complaining about it, of course not. But it can be challenging at times."
More News:
• Kyrie Irving to Lakers: Nets owner ensured Irving did not end up in LA, claims reports
• "My focus has shifted now"- LeBron James is locked in with the Lakers after Kyrie Irving's trade to Mavs
• "Maybe it's me" – LeBron James posts cryptic Twitter message as Kyrie Irving could end up at Mavs