Did something happen between the Golden State Warriors' Jordan Poole and Kay Adams? Learn all there is to know about what happened.
Jordan Poole was the unsung hero of the Golden State Warriors' 2022 title run. While he was an X factor in 2022, Poole is being viewed as a liability in 2023. Tonight, the Warriors blew another double-digit lead to the Los Angeles Lakers. As a result, the Warriors are down 3-1 in the series. However, the internet seems to be surprised at Poole's performance despite Kay Adams being in the crowd.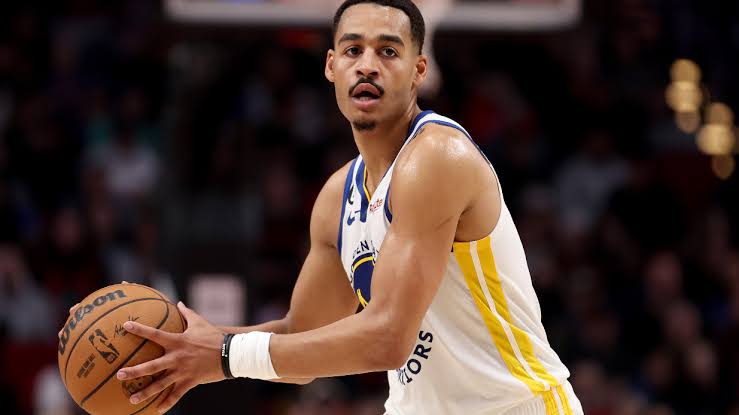 Jordan Poole seems to have his play impacted by women, often. Last season, Poole was heavily teased for his alleged crush on Malika Andrews.
As an Oakland native, Andrews provided a lot of coverage for the Warriors, during their title run. Poole is often teased for the crushes he has on various high-profile women, and his incredible performances while they are courtside. Warriors fans even jokingly asked IG "baddies" to come to the game so he could go off with a big game.
Poole is usually known for dropping excellent displays whenever he finds anyone attractive in the front row of the crowd. However, he could not channel his inner Michael Jordan with NFL analyst Kay Adams in the front row in Game 4 of the Western Conference semi-finals.
How did Jordan Poole fare in the game?
Poole was not at his usual best in the aforementioned circumstances, as he played only 10 minutes where he racked up three rebounds and two assists, but failed to rack up a single point.
After missing an integral three point attempt in Game 3 of the Western Conference semifinals where the Warriors just fell short of the Lakers, Poole had much less of a role in the following game. The star guard featured only for 10 minutes in the game and could not rack up a single point.
Poole was one of many things to go wrong in Game 4, for the Golden State Warriors. Ultimately, the Warriors played a close game, but they had several opportunities to win the game. Now they face the end of their season, trailing the series 3-1.
More News:
• The Next Generation of NBA Superstars: Young Players Poised for Greatness 
• Will Nikola Jokic get suspended for his push on Mat Ishbia?
• What happened between Suns owner Mat Ishbia and Nikola Jokic?