Larry Bird is a retired American professional basketball player who played in the NBA and here is all about his net worth, salary, records, and endorsements
Larry Bird is one of the legends of the NBA and has achieved several accolades both as a player and as a coach during his illustrious career.
Larry Bird Facts
| | |
| --- | --- |
| Birth Place | West Baden Springs, Indiana |
| Father's Name | Claude Joseph Bird |
| Mother's Name | Georgia Bird |
| Star Sign | Sagittarius |
| College | Indiana State University |
| Net Worth (2021) | $75 Million |
| Salary (2021) | $7,070,000 Million |
| Age | 64 |
| Date of Birth | December 7, 1956 |
| Height (ft) | 6 ft 9 in (2.06 m) |
| Weight (kg) | 100 (220 lb) |
| Nationality | American |
| NBA Draft Year | 1978 |
| NBA Draft Pick | Round 1/ Pick: 6th overall |
| Playing Career | 1979-1992 |
| Position | Power Forward / Small Forward |
| Teams (Player & Coach) | Boston Celtics (1979-1992), Indiana Pacers (1997-2000) |
| Achievements | 3x NBA champion, 2x NBA Finals MVP, 3x NBA Most Valuable Player, 12x All-Star, NBA All-Star MVP (1982), NBA Rookie of the Year (1980), AP Athlete of the Year (1986), Gold medal at Olympics (1992) |
| Wife/Girlfriend | Janet Condra (1975-1976), Dinah Mattingly (1989-) |
| Children | Corrie Bird, Mariah Bird, Connor Bird |
| Endorsements | Heinz Corporation |
Bird was the 1978 Round 1, 6th overall draft pick by the Boston Celtics. A hall of fame career spanning for more than a decade, Bird has achieved many accolades and was a dominant player of his time.
He used to play college basketball for Indiana State University before joining the Boston Celtics. Bird is the only player in NBA history to be named Rookie of the Year, Most Valuable Player, NBA Finals MVP, All-Star MVP, Coach of the Year, and Executive of the Year.
Larry Bird Stats
Points: 21,791 (24.3 ppg)
Rebounds: 8,974 (10.0 rpg)
Assists: 5,695 (6.3 apg)
Championship Rings: 3 (1981, 1984, 1986)
Season MVP: 3 (1984, 1985, 1986)
Finals MVP: 2 (1984, 1986)
All-Stars MVP: 1 (1982)
Olympic Gold medals: 1 (1992)
Larry Bird undoubtedly had a phenomenal career as a player. Drafted by Boston Celtics, he entered the league in 1979 and made an immediate impact. Subsequently, he won Rookie of the Year in 1980.
At the 1982 All-Star Game, Bird won the All-Star Game MVP Award. He scored 19 points in the same All-Star Game. In 1992, Bird announced his retirement and the Celtics retired jersey number 33 in his honor.
Bird played for Celtics his entire professional career, that is, 13 seasons, leading them to five NBA Finals and winning three NBA championships. He played most of his time with forward Kevin McHale and center Robert Parish and they were considered to be the greatest frontcourt in NBA history.
Bird also participated in the 1992 Olympic Games as a member of the United States men's basketball team. He was a member of 'The Dream Team' and won a gold medal in the same Olympic games.
The Celtics legend was appointed as the Coach of the Indiana Pacers in 1997. While joining he said that he would not do the job for more than three years. Bird led the Pacers to a 58-24 record in the 1997-98 season. At the end of the 2000 season, Bird resigned from the position of head coach, keeping his initial promise.
In 2003, Bird was hired by Pacers as the President of Basketball Operations. He continued in that position till 2012. He returned to Pacers again as President of Basketball Operations in 2013. He finally stepped down in 2017 and now serves the team in an advisory capacity.
Larry Bird Net Worth and Salary
64-year-old Bird has a net worth of approximately $75 million as of 2021. His net worth is generated from various business deals and from the property that he owns.
During his playing years, Bird was the first player to earn $5 million or more in the 1994-95 season. It is estimated that he earned a salary of $7,070,000 million.
Larry Bird Parents and Family
Bird is the son of Claude Joseph Bird and Georgia Bird. His father, Claude was a Korean War veteran. Unfortunately, his parents got divorced and Claude committed suicide while Bird was still in high school. He also has four brothers and a sister.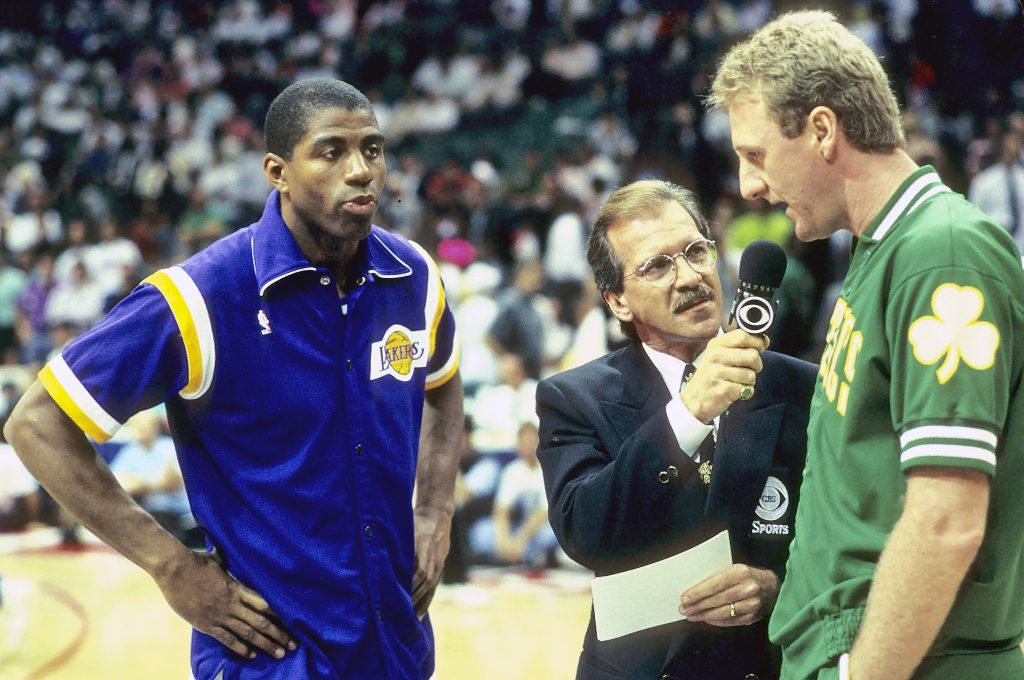 Bird married Janet Condra in 1975. They got divorced within a year and have a daughter named Corrie who was born in 1977. Later, Bird married Dinah Mattingly in 1989. They have two adopted children, Conner Bird and Mariah Bird.
Larry Bird Endorsements and Property
12x times NBA All-Star Bird appeared on some clothing advertisements and video games. He also trades in real estate. He has business deals with Heinz Corporation.
Bird owns a 6,000 square feet home in Florida which apparently costs $5 million. He also owns a house in his hometown Indiana at Terre Haute.
A big car guy, Bird owns a Thunderbird Mustang, a Ford, and 'A pacer's Indy Car'.
FAQs about Larry Bird
What is the age of Larry Bird?
Larry Bird is 64 years old and was born on December 7, 1956.
What is the net worth of Larry Bird?
Larry Bird is said to be worth $75 million.
Where was Larry Bird born?
Larry Bird was born in West Badens Springs, Indiana.
What is the height of Larry Bird?
Larry Bird's height is 6 ft 9 in (2.06 m)
What is the weight of Larry Bird?
Larry Bird's weight is 100 kg (220 lb)
Who is the wife of Larry Bird?
Larry Bird's wife is Dinah Mattingly.
In which year was Larry Bird drafted?
Larry Bird was drafted in the year 1978/ Round 1/ Pick: 6th overall
In what positions did Larry Bird play?
Larry Bird played in the position of Small Forward / Power Forward.
For what teams did Larry Bird play for?
Larry Bird played for the Boston Celtics.
How many NBA Championships did Larry Bird win?
Larry Bird is a three-time NBA Champion (1981, 1984, 1986)
What brands endorse Larry Bird?
Larry Bird is endorsed by Heinz Corporation.
More NBA Articles:
Follow our dedicated NBA page for more NBA articles and news updates