Lando Norris is one of the rising F1 stars and here is all about his net worth, family and career
Lando Norris is one of the young promising drivers of modern-day Formula 1 who has a multi-million dollar contract and races for McLaren.
Lando Norris Facts
| | |
| --- | --- |
| Birth Place | Bristol, England, United Kingdom |
| Father's Name | Adam Norris |
| Mother's Name | Cisca Norris |
| Star Sign | Scorpio |
| Education | Millfield School |
| Net Worth (2023) | $30 Million |
| Salary (2023) | $4 Million |
| Age | 23 |
| Date of Birth | November 13, 1999 |
| Height (cm) | 1.70m (5′ 6″) |
| Weight (kg) | 68kg |
| Nationality | British-Belgian |
| F1 Debut | 2019 |
| Teams | McLaren |
| F1 Race Wins | 0 |
| F1 Pole Positions | 0 |
| F1 Championship Wins | 0 |
| Achievements | Autosport British Competition Driver of the Year(2019,2020), Karting World Championship(2014), FIA Formula 3 European Championship(2017), Autosport British Club Driver of the Year(2016) |
| Social Media | Instagram, Twitter, Youtube |
| Endorsements | McLaren, Bell Helmets, Wearegrip, ADD Management, PAP |
McLaren driver Norris is one of the young promising talents in F1. He debuted for the British racing team in 2019 and has ever since impressed with his time on the grid. The 21- year old has entered his third season in his F1 career and is facing a big challenge to live up to expectations.
Mclaren scouted and picked the Brit in 2017 to become a junior driver. Since then, Norris has been under a lot of spotlight to make it to the zenith of motorsport. Lando initially wanted to pursue a motorcycle racing career. However, that soon changed when he attended his first kart race.
From finishing third overall in a BTCC support series championship in 2014, Norris went on to win the 2017 FIA European Formula 3 Championship. Subsequently, he finished runner-up behind fellow Brit George Russell in the 2018 FIA Formula 2 Championship.
Norris bagged a multi-year extension to stay with McLaren beyond 2021, which indicates the faith the team has placed in their driver. Recently, he secured his third F1 podium finish of 2021 by finishing third at the 2021 Austrian Grand Prix.
Lando Norris net worth and salary
According to sources, it is estimated that Norris is on an annual salary of around $4 million in 2023 with McLaren. This figure excludes driver performance bonuses and personal sponsors.
Norris is one of the upcoming F1 superstars and he is slowly building a fortune. It is estimated that his current net worth is around $30 million in 2023.
Lando Norris F1 career
In 2019, with the departure of Fernando Alonso, a new opportunity popped up for Norris and he was paired up with Carlos Sainz Jr as an all-new driver pairing for McLaren. However, he will race alongside Oscar Piastri in 2023.
This duo clicked well for McLaren and they quickly outdid the 2018 result. Evidently, a new energy was found within the team.
Unfortunately, Norris could only muster 49 out of the team's 145 points. However, he showed a glimpse of his superb form which helped him in beating Sainz eleven times in qualifying. His best result was of sixth at the Bahrain Grand Prix 2019.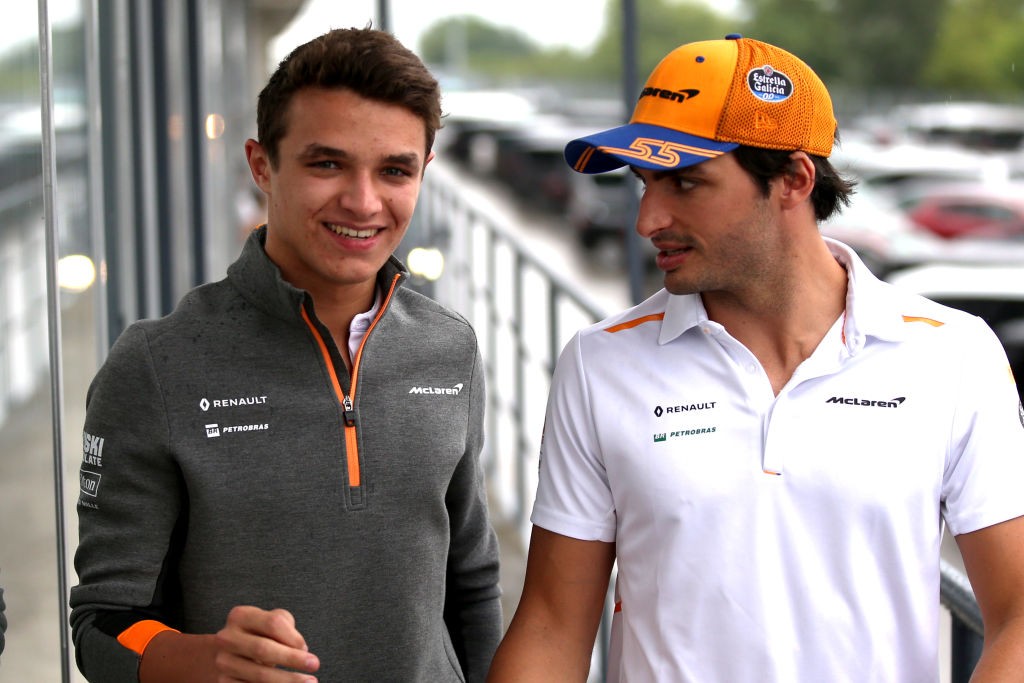 In the coronavirus-marred 2020 season, Norris had a breakthrough moment when he claimed his maiden F1 podium by finishing third at the Austrian Grand Prix 2020. He also set the fastest lap of the race.
Norris is continuing with McLaren in the 2021 season and is set to stay till 2023 and beyonf as he has a signed a multi-year contract expansion. He currently ranked fourth in the driver standings after the Austrian Grand Prix 2021. Norris also claimed podium by finishing third in both the Austrian Grand Prix 2021 and Monaco Grand Prix 2021.
He had an underwhelming 2022 season but will hope for a good push in 2023
Lando Norris Personal Life
Norris is the son of Cisca and Adam Norris. Adam is said to be the 501st richest man in the UK and he made his fortunes through pension funds as he is a retired pensions manager.
He has three siblings among whom he is the second oldest. He has an older brother named Oliver and two younger sisters, Flo and Cisca.
Lando Norris endorsements
Norris is sponsored by McLaren, Bell Helmets, wearegrip, ADD Management, and PAP.
Lando Norris: Foundations and Charities
Lando when not racing is a full-time streamer and he puts his abilities to good use. In April 2020, Norris raised over $12,000 as a part of a charity stream for Twitch as an aid for those affected by COVID-19.
The 23-year just didn't stop there. Pretty soon, he teamed up with other F1 drivers to organize a charity stream in the fight against Coronavirus. Titled – Race For the World, Norris and 5 other F1 drivers raised over $70,000 in donations.
FAQs on Lando Norris
(Q) What is the age and date of birth of Lando Norris?
Lando Norris is 23 years old and was born on November 13, 1999.
(Q) What is the net worth of Lando Norris?
Lando Norris has a net worth of $30 million.
(Q) What brands does Lando Norris endorse?
Lando Norris has endorsement deals with McLaren, Bell Helmets, wearegrip, ADD Management, and PAP.
(Q) What is the nationality of Lando Norris?
Lando Norris is a British-Belgian citizen.
(Q) Where was Lando Norris born?
Lando Norris was born in Bristol, England, United Kingdom
(Q) Where is the residence of Lando Norris?
Lando Norris resides in Woking, which is close to McLaren's headquarters.
(Q) Does Lando Norris have a girlfriend?
Lando Norris does not have a girlfriend and is currently single.
(Q) How many F1 titles has Lando Norris won?
Lando Norris has not won any F1 titles.
More Formula One news:
Follow our dedicated Formula One page for instant Formula One news and updates