In what could become one of the most sensational sports stories of the summer, Brandon Jacobs has revealed that he is plotting an NFL comeback. First entering the league all the way back in 2005, the running back is a two-time Super Bowl champion rushing for 60 career touchdowns overall.
Jacobs, who retired in 2014, announced his intention to return to the NFL on Twitter at the end of May.
"Well since Tebow came back after being off a good bit, I am announcing today that I will comeback. I will play defensive end for whatever team gives me a chance!!!" he wrote.
He later added: "I am really serious about coming back as a defensive end. I can still run, I am strong and there's no way Tim Tebow is a better athlete than I am. I just need a shot, that's it!! If I can't cut it I'll take it like a man. Just give me one chance, that's all!!"
After receiving a lot of negative pushback on social media, he went on to tell Josina Anderson: "I think I can do it, body feels great, even at 38. Right now I'm at about 260lbs—same weight I played as a RB. I'm switching positions now because it's something I should've done before & honestly a position I can play…."
Is this a cheap publicity stunt from Jacobs or does his plan have legs? We picked apart the story so far to find out.
Who is Brandon Jacobs?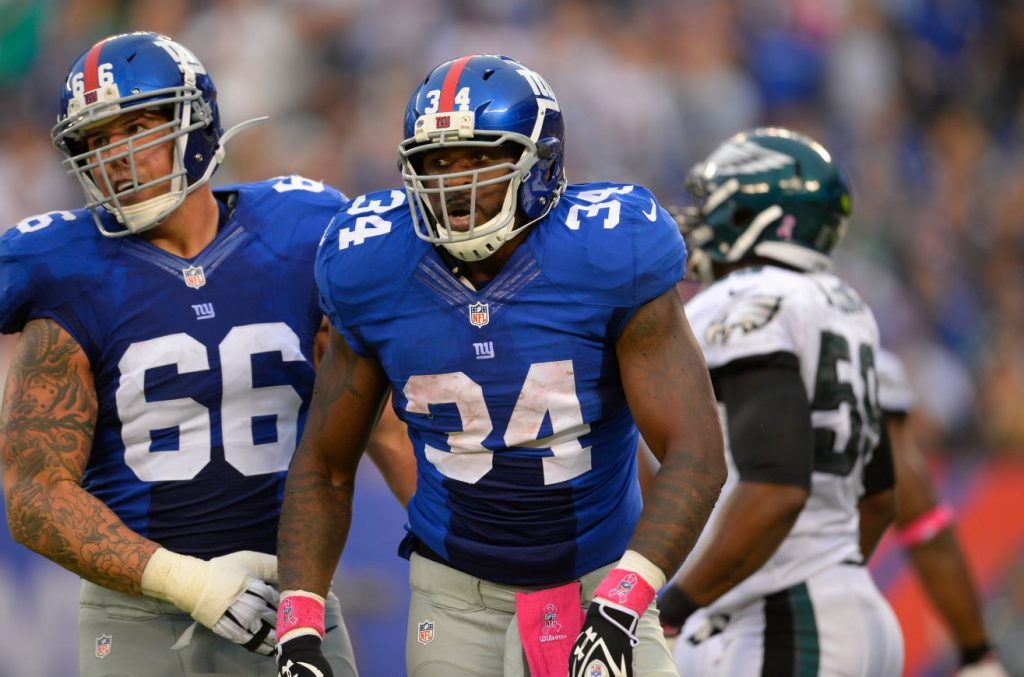 Born in Napoleonville, Louisiana on July 6 1982, Jacobs had an impressive college career which culminated in a terrific season for Southern Illinois. After posting extremely impressive scoring numbers — he averaged over nine points per game — he was taken in the fourth round of the 2005 NFL draft by the New York Giants.
During his maiden season in the Big Apple he played second fiddle to Tiki Barber. Following Barber's retirement in 2006 he then became the Giants go-to running back for the year — and what a year it was.
Jacobs would miss just a handful of games in the regular season, rushing for just over 1,000 yards from 202 carry attempts. He also had a good season receiving wise, registering two touchdowns. During the postseason things got even better with Jacobs starting every game as the Giants made it all the way to the Super Bowl.
They then defeated the New England Patriots in front of 71,000 fans at the University of Phoenix stadium with quarterback Eli Manning stealing the show.
Jacobs followed the season with an impressive outing the following year, again rushing for over 1,000 yards but registering 11 more touchdowns. This was probably the peak of Jacobs' form, with his numbers diminishing from this point onwards.
That being said, there were still plenty of highlights to come with the running back clinching a second Super Bowl title in 2011. After that he left New York and would play two more seasons — one in San Francisco and one back in New York — before calling it a day due to limited playing time.
Where could he sign in the NFL?
Jacobs certainly has pedigree in the NFL, but which teams might consider handing him a contract this offseason? He has claimed three teams are interested, but has kept his lips sealed regarding their identity.
He would fit in somewhere where a powerful and experienced defensive end is required. The question is, which teams are looking for that sort of addition?
To answer this question it makes sense to see which teams struggled to defend against rushes last season. A franchise who stands out in this regard is the Houston Texans, then DraftKings NFL odds suggest they are in for a tough season, no team allowed more rushing yards than them last time out (2,564), although fellow Texas-based Dallas Cowboys were only narrowly better. This means Jacobs could be suited to a move to the Lone Star State this summer.
The Detroit Lions could also be interested. They allowed an NFL worst 27 rushing touchdowns last season and also struggled with screen passing.
Is signing Brandon Jacobs a good idea?
A comeback for Jacobs may seem pretty unlikely — he would immediately become one of the oldest active players in the NFL if someone takes a chance on him — but it is hard to deny the obvious advantages of adding him to the roster.
First and foremost, he has terrific experience. A two-time Super Bowl champion, Jacobs knows exactly what it takes to become a champion. Although he's a little eccentric, adding him to the squad could prove the missing piece for a talented team to reach the next level.
Another advantage is yet Jacobs would likely accept a minimum contract. He has been out of the game for a long time and has said that he does not need money that a return would earn him. In this sense signing Jacobs would be extremely low risk for an NFL general manager.
Despite this there are also cons to offering him a deal. Most notably, his injury record is patchy and a near decade long break from football will not have his body anymore robust. In addition, although Jacobs is confident of his ability to shift to a new position it will take more than good intentions to turn himself into an NFL standard defensive end overnight.