Want to unlock the Eleven Skin in Fortnite? Then go through our guide fully and discover the best methods.
Fortnite Chapter 4 Season OG is live. The new season takes players back to the OG Season 1 with plenty of OG maps including the Haunted  Skills, Athena Island and Junk Junction. The new season is back and Fortnite has joined hands with the Stranger things for a collaboration event. A couple of skins from the Stranger Things are added back to the Fortnite item shop.
One of the iconic characters from the Stranger Things series is Eleven and she's back again to the Fortnite world. Eleven, the Telekinetic kid who escaped Dr. Brenner and Hawkins National Laboratory returns to the island again. Her outfit is available in three different selectable styles and it will only be available for a limited time. So, find the best ways to procure the Eleven Skin in Fortnite from our guide here.
Steps to Unlock Eleven Skin in Fortnite
Eleven is an epic Outfit in Fortnite. Here's how you can get her skin in the game,
Equip Eleven Skin for 1,500 V-bucks 
Purchase the entire Stranger Things bundle set for 2,500 V-bucks that also include her emote along with other skins and cosmetics
These are the only ways to procure the Eleven epic outfit in Fortnite. The skin comes in three different variants. Here are the Eleven outfit and its styles,
Eleven – This is her default style where the character wears a green color outfit
Hawkins Lab – This is her second style where she wears a white color outfit 
Hawkins Lab (Cap) – This is the final selectable style for the Eleven Skin and she is seen wearing a headband
These are the three variants for the Eleven skin. You can simply select it from your inventory and change them every time. Also, you can gift the outfit to your online friends.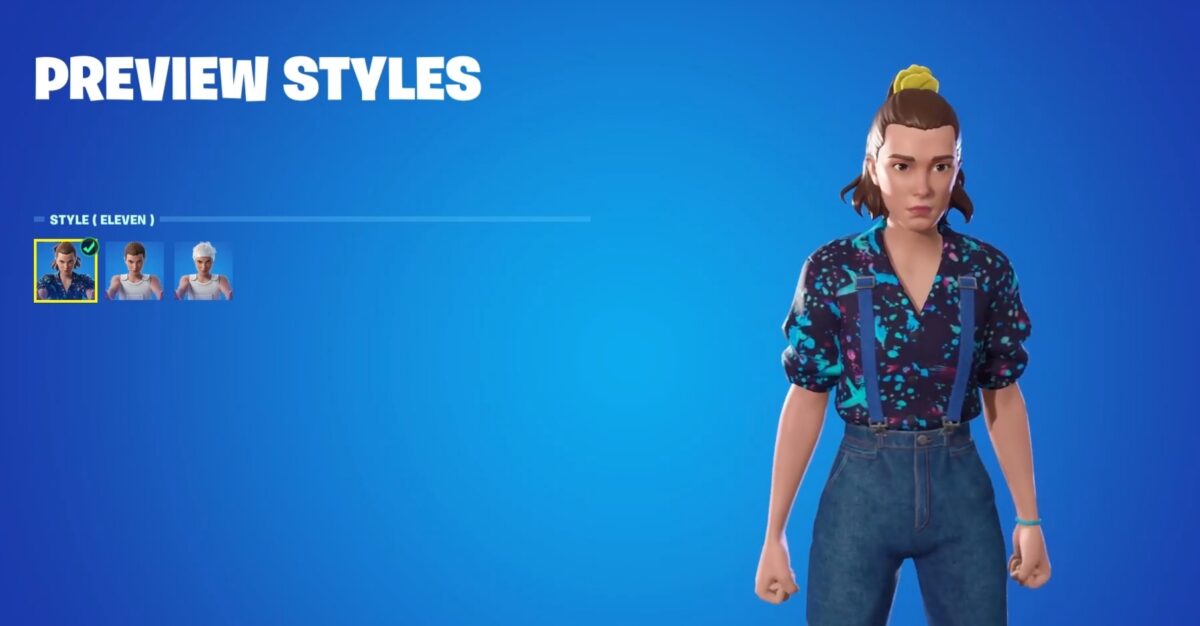 Is Fortnite Eleven Skin Available for Free?
No, the Eleven outfit in Fortnite is not available for free. It's also not available as a free quest reward. The only way to get the Eleven Skin without spending bucks is to find Fortnite creator codes. If you manage to get any of these free creator codes, then you can use them to redeem the Eleven skin for free. But the primary and only way is to spend V-Bucks and get the outfit.
That's everything you need to know about unlocking the Eleven Skin in Fortnite. We will come back with more Fortnite updates and guides soon.
FAQ
Is Fortnite Shutting Down?
No, the news and leaks regarding Fortnite's closure have been getting viral over the past couple of months. But, these are just mere rumors and Fortnite doesn't have any plays to close their services right now. Fortnite continues to grow in every season with new content. Fortnite's new chapters also bring in new collabs that will only take the game's reach higher.
Can you Play Fortnite on Android?
Yes you can play Fortnite by downloading the application from Epic Games Store. But, there's no direct way to download Fortnite from Google Play Store. Fortnite is a free-to-play game that's available for every platform. With a high-end device and good specs, you can rock this adventure game.
For more related content check out our dedicated website Gamition.
More E-Sports news:
Follow our dedicated E-Sports page for instant