You can equip the Fortnite Big Bush Bombs and baffle opponents. Find the best locations to get these utility items here in our guide.
Fortnite's new update has unleashed many weapons, emotes, and utility items. Utility items are rare and grant some super special effects in Fortnite battles. Big Bush Bomb, the rare utility item has been unvaulted again in Fortnite Wilds. Big Bush Bombs work differently and they can be stacked up to 4 times. These can be found in major POI locations in the jungle biome.
Big Bush Bomb was first launched in Fortnite Chapter 4 Season 1 and it has now made its way to the island after a couple of months. Big Bush Bomb allows you to hide and avert attacks at ease. It's a small utility item, yet provides some useful effects during small quests in the game. The recent Fortnite v25.11 patch update version has unvaulted this new reality augment along with other items. The final Fortnite v25.11 Hotfix update is out and here are the best ways to get the Big Bush Bombs and its uses in the game.
Steps to Get Fortnite Big Bush Bombs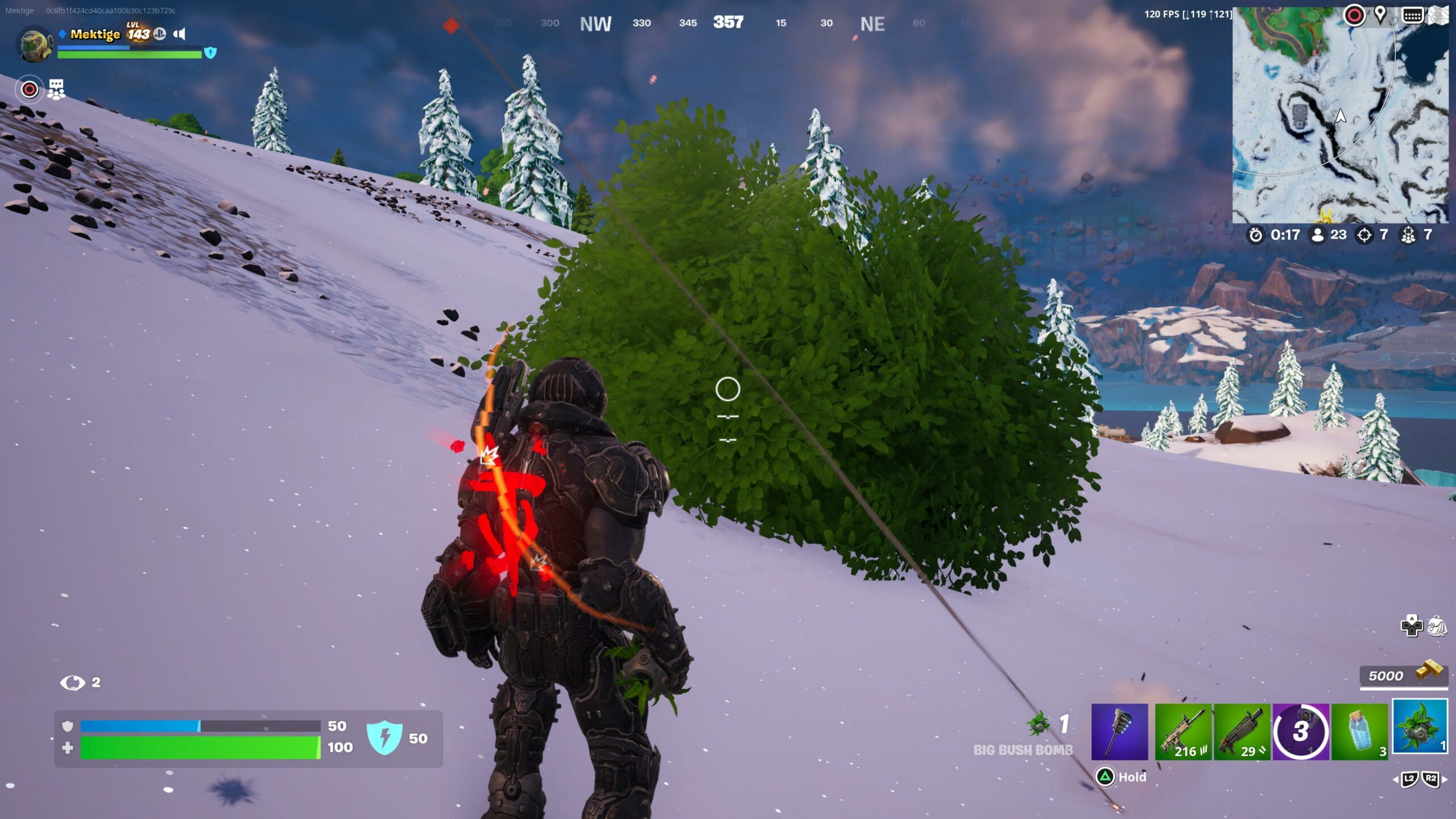 The Big Bush Bomb is a rare utility item that can be held and stacked up to 4 times. There are various ways to get one in Fortnite. Here are the best options to acquire the exclusive Big Bush Bombs,
Chests, Floor Loot, Ground Loot, Combat Caches. You can explore random locations in the City and Jungle Biome as well
Defeat random Fortnite opponents and get the bombs as drops. Also, make sure to grab them quickly before they go invisible
In Fortnite Chapter 4 Season 3, you can find Big Bush Bombs everywhere on the Point of Interest and the jungle biome locations as well. Explore these POIs on the Fortnite Wilds map to get the Big Bush Bomb utility item in rare rarity,
Creeky Compound
Rumble Ruins
Shady Stilts
Brutal Bastion
The Citadel
Lonely Labs
Slappy Shores
You can unlock the Big Bush Bombs from these spots and a maximum of 2 bombs spawn at each location in the game and you have to reach all locations before the other NPCs spawn out there. The utility item is available for both Battle Royale and Zero Build Modes in Fortnite. However, this can be better utilized for Fortnite BR mode. Here are the effects of Big Bush Bombs and how you can use them in the game,
Uses of Big Bush Bombs
Equip the bush bomb from inventory and simply throw it. This creates an instant bush and you can go invisible. The large bush allows you to hide and you can avoid unwanted attacks. Also, make sure to avoid incoming bullets. Big Bush Bombs can be utilized against challenging enemies and you can avoid losing HP with this amazing utility item.
This Big Bush Bomb utility item can be used in close-range and you can become the sole survivor with the right strategy. Use it once you are on the receiving end. Use your regular weapons and you can unleash the big bush bombs at the end of a battle to stun enemies. You can go invisible and trump enemies eventually with these items.
That's how you can unlock and use the Big Bush Bombs in Fortnite Chapter 4 Season 3. Acquire the items and dominate all new weekly challenges. The new set of weekly quests are live as well and you can collect unlimited Players EXP with these new quests. We will come back with more Fortnite updates and guides soon.
For more related content check out our dedicated website Gamition.
More E-Sports news:
Follow our dedicated E-Sports page for instant