Darth Vader is in Fortnite with his powerful lightsaber. Can you defeat him? Don't take any chances with this battle, and follow this guide we have put up for you to take down Darth Vader in Fortnite.
The "Find the Force" Fortnite Star Wars event is in its third stage as it released The Fall of the Republic Quest set. The event has brought back the Star Wars character Darth Vader in the Battle Royale game. This Star Wars boss is back to terrify the island of Fortnite. Players have to gear up to fight this boss.
One of the new quests is the "Find the Force" event requires players to take down Darth Vader in Fortnite. To help you take down this Atar Wars boss, here is a guide to help you.
Darth Vader Location in Fortnite
You may find it difficult to find this Boss at first as it's not very clear very exactly he spawns. Unlike his last presence in the Battle Royale game he won't be the big deal he was last time with a big setup in his arrival.
You will have to go to the new StormTrooper checkpoint that is located the Northwest of Brutal Bastion. The exact location of this place is behind the Stone Tower mountain in the snow by the road that needs to Beep N bounce.
Upon reaching your you will find that Darth Vader is surrounded by Clone Troopers these will begin attacking you as soon as they see you but thankfully there are Republic chests in the huts nearby. These chests will give you DC 15 blasters. One of the mean things to keep in mind about completing this challenge is that you have to damage or reduce Darth Vader's health bar to complete it.
Darth Vader's attack movements
Darth Vader will rapidly attack you and could be quite aggressive with his fight. He will try to pursue you and then jump and warp you eventually. He will use force push and forceful to throw you around and he will also chuck his Light Saber at you. We recommend that you maintain a safe distance from him as far as possible. The distance should be balanced as you too will have to attack him when necessary and you should also be able to defend against his attacks.
His spawn location would be a busy drop location so it's better to keep a full squad and move ahead to take him down, instead of going solo. The other option is to give damage to Darth Vader and then leave the area so that your other teammate can take him down.
How to Beat Darth Vader in Fortnite?
Darth Vader may not appear openly in Fortnite this time, but he sure is one difficult boss you will come across. He is surrounded by StormTroopers and they are quite strong at attacking you. And there is a high possibility that upon trying to defeat the StormTroopers players will land by the dark Vader's Spawning location.
Darth Vader makes use of his Light Saber as a primary weapon during his battle. He uses it to deflect any fire shots coming at him. However, it proves to be weak when players use Assault Rifle or an SMG with a large magazine size to attack him. These weapons will prove weak against his light saber and he will stop blocking and will be forced to take damage given by you.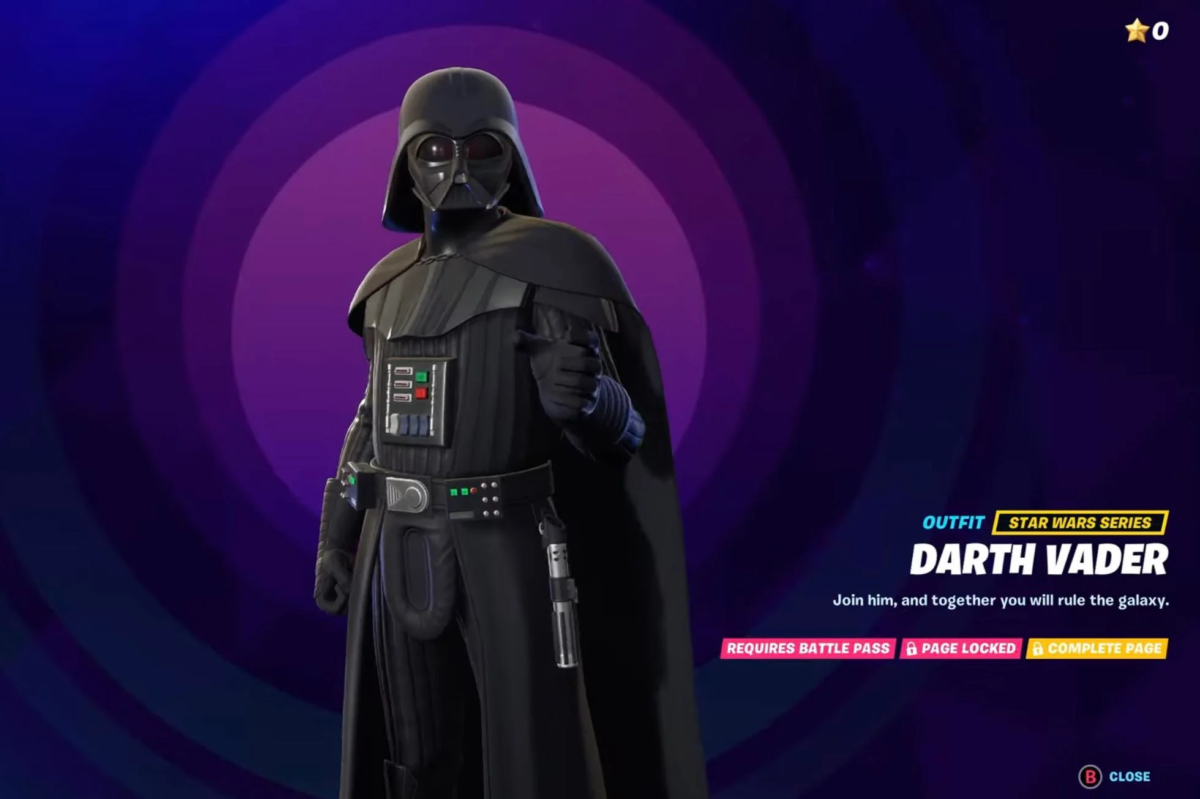 The most ideal way to beat Darth Saber in Fortnite Chapter 4 Season 2 is to do it in Team Rumble. In this game mode, there will be fewer enemies and everyone spawns with a weapon so it's quite easy to grow near Darth Vader's base and start attacking him.
Even if players are seeking to enter the storm to get close to Darth Vader they will respawn upon getting eliminated. In addition to that, if his base is already engrossed in the storm at the start of the game, Darth Vader is most likely to lose some HP when the players reach there and he will continue to lose health and gradually die.
Players do not have to defeat Darth Vader on their own for the quest nor do they need to land the final hint for completing this Quest. To complete the Fall of the Republic Quest, players will have to take down Darth Vader just by hitting him once before he is completely eliminated. The Quest will come to an end when Darth Vader is killed.
Rewards for defeating Darth Vader in Fortnite
If you succeed and taking down this strong Star Wars Boss Darth Vader in Fortnite Season 2 Chapter 4, an exciting reward awaits you!
For taking down Darth Vader in Fortnite you will be rewarded with 200 Galactic Reputation, with which you can unlock items in the Find The Force Battle Pass section.
Along with that, you will also be rewarded with the Darth Saber's iconic Light Saber. It is one unique weapon that can be thrown by holding in and then pressing shoot. It has a very short cool-down and can give good damage to your opponents. Apart from that, it's always a flex to have your victory mark with this LightSbaer as you earned it by taking down one of the difficult bosses in Fortnite.
That's everything to know about Darth Vader and how to take him down in Fortnite. Best of luck with your fight.
For more related content check out our dedicated website Gamition.
More E-Sports news:
Follow our dedicated E-Sports page for instant E-Sports news and updates