Spraying champagne during the award ceremony on the podium is a known ritual these days – do you who was the first to do it?
Even though it may seem like the tradition of spraying champagne after a race is as old as the motorsport itself, the truth is a bit different. This integral part of the trophy ceremony only began in 1967, and the first driver to spray champagne on the podium was Dan Gurney. Let's remember how the tradition that we can no longer imagine the podium without was born.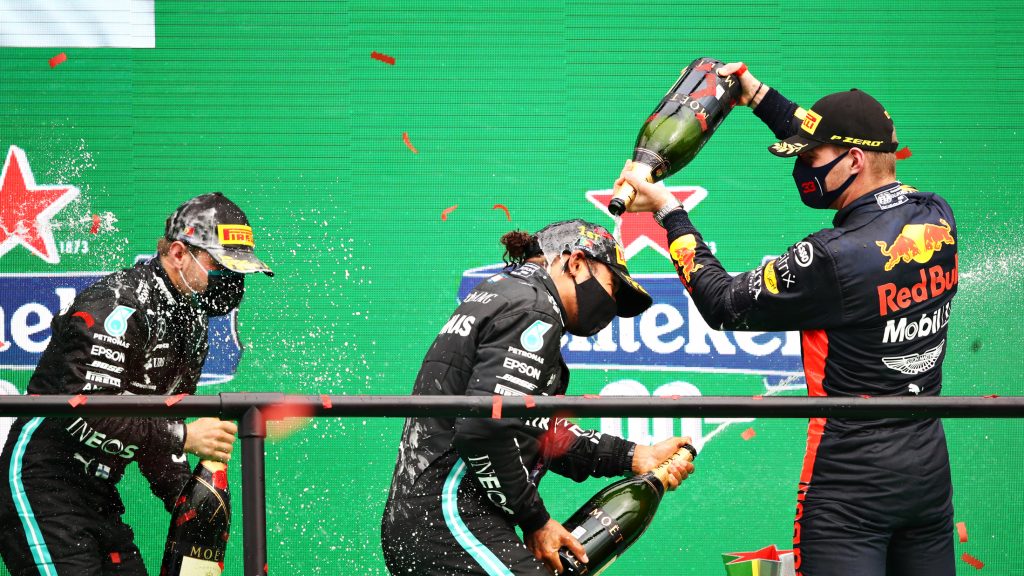 In his time, Dan Gurney was regarded as one of the best racing drivers in the world, but as the years passed, his achievements have been – somewhat undeservedly – forgotten. The path to glory was not an easy one for him. At the age of 19, he reached a speed of 222 km/h at the Bonneville Salt Flats with a car that he built himself. However, he was then forced to forget cars for a while – he spent two years serving in the United States Army and fighting in the Korean War.
When did Dan Gurney first begin the tradition of spraying champagne on podium?
In 1967, Dan Gurney went down in the history of motorsport. This was the year that he drove a Ford GT40 together with A. J. Foyt – his fellow countryman who was also a fierce rival in American races – unexpectedly won the 24 Hours of Le Mans and gave the Ford team a victory in the overall standing for the second year in a row.
However, the interesting part was still ahead, at the trophy ceremony. Gurney, seeing that Ford Motor Company CEO Henry Ford II, team owner Caroll Shelby, their wives, and a few journalists who predicted a bad race for their duet had gathered at the podium, shook up the bottle of Moët that he had been given and sprayed them with champagne. This made him the first driver to spray champagne while celebrating on the podium, starting a new tradition.
"What I did with the champagne was spontaneous. I had no idea it would start a tradition. I was beyond caring and just got caught up in the moment. It was one of those once-in-a-lifetime occasions where things turned out perfectly…I thought this hard-fought victory needed something special", Gurney had said afterward.
More Formula One news:
Follow our dedicated Formula One page for instant Formula One news and updates