Oscar Piastri was announced as their driver for 2023 by Alpine F1 team but Piastri has denied to drive for them
Oscar Piastri could very well be the next new driver in F1 but his F1 seat is not confirmed as of now. Piastri was announced by Alpine as Aston Martin-bound Fernando Alonso's replacement for 2023 earlier on Tuesday but the Australian driver then took to Twitter and Instagram to insist otherwise. Piastri's denial certainly raises questions if the driver has already received offers from other top F1 teams.
In an official statement, Alpine announced: "BWT Alpine F1 Team confirms 21-year-old reserve driver Oscar Piastri as Esteban Ocon's teammate starting from 2023. In line with the commitments made by the team to the young Australian, Oscar will be promoted to race driver and step in Fernando Alonso's seat from next year onwards."
However, things took a turn when Piastri publicly denied Alpine's offer. "I understand that, without my agreement, Alpine F1 have put out a press release late this afternoon that I am driving for them next year. This is wrong and I have not signed a contract with Alpine for 2023.I will not be driving for Alpine next year", wrote Piastri on social media.
Now, let us take a look at Oscar Piastri's racing career so far.
How has Oscar Piastri performed in Formula 3?
In October 2019, Piastri joined the post-season test with reigning FIA Formula 3 team champions Prema Racing. In January 2020, the Italian outfit signed Piastri to contest the upcoming season, alongside Logan Sargeant and Frederik Vesti.
In the 2019/20 season, Piastri lined up 16th on the grid for the final feature race at the Mugello Circuit and failed to score points after finishing 11th. Title rival Sargeant finished sixth, leaving both drivers tied on 160 points going into the final race. Sargeant started the sprint race six places ahead of Piastri but was eliminated after a collision on the first lap. Piastri's only remaining title rival, Théo Pourchaire, was unable to bridge the points gap and Piastri finished seventh to claim the championship title, three points ahead of Pourchaire and four ahead of Sargeant.
How has Oscar Piastri performed in Formula 2?
In December 2020, Piastri announced that he would continue with Prema into Formula 2, replacing the departing Mick Schumacher and partnering with Ferrari Driver Academy member Robert Shwartzman for the 2021 season. Piastri is part of an illustrious list comprising Nico Rosberg, Lewis Hamilton, Nico Hülkenberg, Charles Leclerc, and George Russell, as the only drivers to win the GP2/F2 title in their rookie seasons.
He also became just the fifth driver after Hamilton, Hülkenberg, Leclerc, and Russell to win the GP3/F3 title, and then the GP2/F2 title the following year, and the first driver to win three consecutive F1 feeder series' championships, with his 2019 Formula Renault Eurocup title.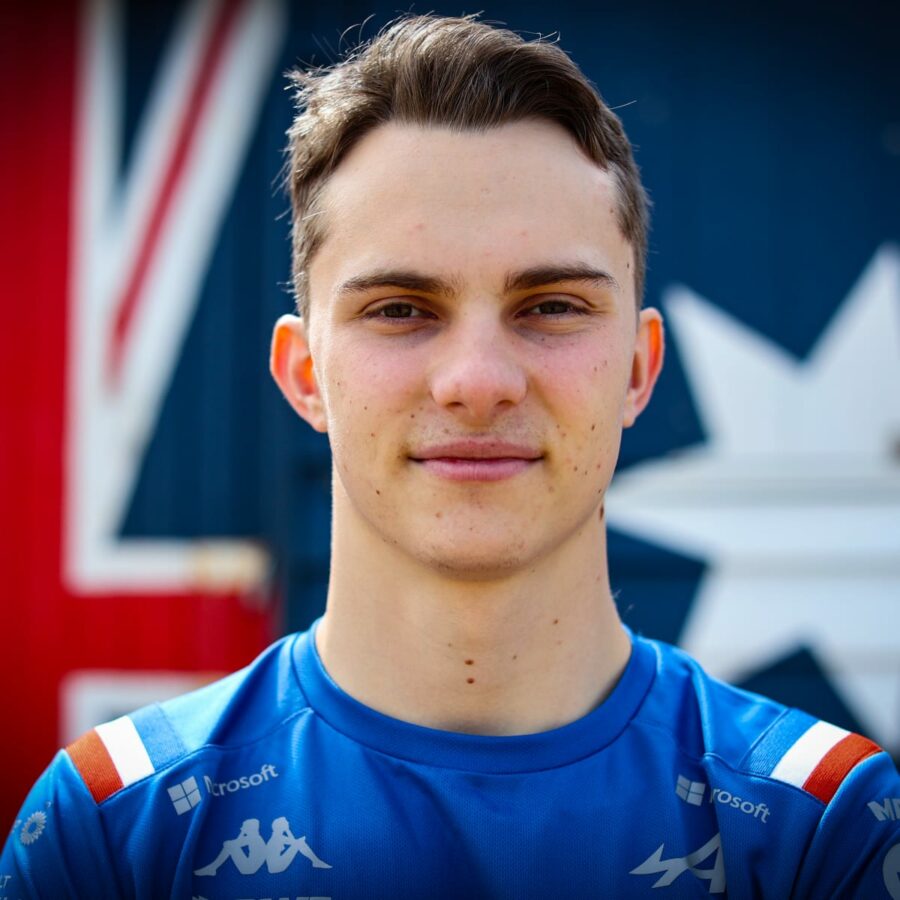 How has Oscar Piastri performed in Formula 1?
Piastri joined the Renault Sport Academy in January 2020. After securing the FIA Formula 3 Championship in 2020, Piastri was rewarded for his efforts by the Renault F1 Team with a young drivers test in Bahrain on 31 October 2020 along with fellow Renault Sport Academy drivers Christian Lundgaard and Guanyu Zhou.
In the 2021 season, Piastri would find himself a part of the rebranded Alpine Academy alongside Zhou, Lundgaard, Victor Martins, and Caio Collet. Piastri is the reserve driver for the Alpine F1 Team in the 2022 Formula One Championship. During the season, he has been testing Formula One car at various tracks around the world.
Oscar Piastri Personal Life
Oscar Piastri was born on 6 April 2001 in the Australian city of Melbourne. Details about his parents are not known yet. He is a 21-year-old and is dating a beautiful girl of the same age but her name hasn't been disclosed in the public domain yet. No other information about Piastri's personal life is available as of now.
Oscar Piastri FAQs
Who is Oscar Piastri?
Oscar Pisatri is an Australian professional racing driver
How old is Oscar Piastri?
Oscar Piastri is 21 years old 
What is Oscar Piastri's nationality?
Oscar Piastri is an Australian
What is Oscar Piastri's current team?
Oscar Piastri is currently a reserve driver for Alpine F1 team
Is Oscar Piastri married?
No. Oscar Piastri isn't married yet
More F1 News
Follow our dedicated Formula One page for instant Formula One news and updates