DeKaylin Zecharius "DK" Metcalf is an American football player for the Seattle Seahawks. He plays wide receiver and was picked 64th in the 2019 NFL Draft
DK Metcalf is 24 years old and here is everything you need to know about his net worth, contract, career, personal life, and more.
DK Metcalf Facts
| | |
| --- | --- |
| Birth Place | Oxford, Mississippi |
| Father's Name | Terrence Metcalf |
| Mother's Name | Tonya Metcalf |
| Star Sign | Sagittarius |
| College | Ole Miss |
| Net Worth (2022) | $5 million |
| Salary (2022) | $1.14 million |
| Age | 24 |
| Date of Birth | December 14, 1997 |
| Height (ft) | 6 ft 4 in (1.93 m) |
| Weight (kg) | 235 lb (107 kg) |
| Nationality | American |
| NFL Draft Year | 2019 |
| NFL Draft Pick | Round 2 / 64th Overall |
| Playing Career | 2019 – Present |
| Position | Wide Receiver |
| Teams | Seattle Seahawks (NFL) |
| Wife/Girlfriend | Cirena Wilson |
| Children | None |
| Endorsements | Nestle Nesquik, Gatorade, Vocanica Coffee |
| Social Media | Twitter |
DK Metcalf Contract Details
| Contract: | 4 yr(s) / $4,586,050 |
| --- | --- |
| Signing Bonus | $1,355,308 |
| Average Salary | $1,146,513 |
| Guaranted at Sign | $1,759,308 |
| Total Guarantees | $1,759,308 |
| Free Agent: | 2023 / UFA |
DK Metcalf is currently on a four-year rookie contract with the Seattle Seahawks, worth $4.58 million. Right out of college, the 24-year-old received a hefty salary of $1.14 million per season to play football professionally in the National Football League. He also received $1.35 million as a signing bonus with $1.75 million of his entire contract fully guaranteed.
Being drafted in the second round means, players will not get paid as much as the first-rounders but it is still a lot of money. Metcalf's contract is due to expire after the 2022-23 season. It remains to be seen if the Seahawks will activate a fifth-year option on his contract or hand him an extension outright.
DK Metcalf Net Worth
According to various sources, DK Metcalf's net worth after three years in the NFL is estimated to be around $5 million. That could be true based on the presence he has built around being a professional athlete. Metcalf earns a lot from his salary in the NFL.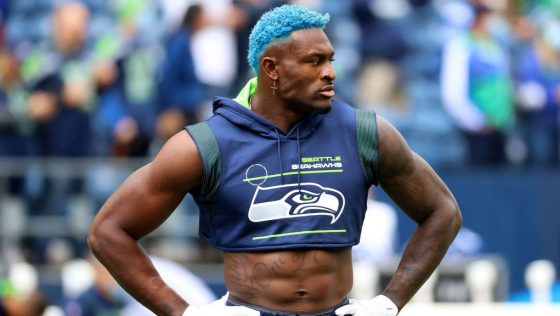 But outside of that, he is a highly popular marketing tool for businesses. He and his agent has struck huge endorsement deals with companies like Nestle Nesquik, Gatorade and Vocanica Coffee. As the Seahawks wide receiver continues to grow in his career, it is only expected that so will his opportunities to make money.
Metcalf's net worth is headed towards the $50 million and $100 million mark, based on his performances so far. The 24-year-old will have the opportunity to negotiate a lucrative deal for himself after the 2022-23 season. Once that happens, he will be able to invest significant amounts in businesses and other assets to increase his net worth significantly.
DK Metcalf Football Career
DK Metcalf went to Oxford High School where he registered 224 receptions for 3,302 yards and 49 touchdowns. He was rated a four-star prospect and earned a scholarship to the University of Mississippi.
He suffered a foot injury as a freshman, right after appearing in the first two games. The 24-year-old registered had 26 receptions for 569 yards in his junior year before getting ruled out with a neck injury.
With 67 receptions for 1,228 yards and 14 touchdowns in his college, Metcalf declared for the NFL draft in 2019. The Seahawks picked him 64th overall to make him the ninth of 28 wide receivers in his draft class.
He made his professional debut against the Cincinnati Bengals, winning 21-20. In 2020, Metcalf reached a top speed of 22.64 mph (36.43 km/h) against the Arizona Cardinals after the opposition had turned the ball over. Up until that point of the season, it was the second-fastest in pursuit in the NFL. It very quickly became a meme across social media, drawing in the awe and amazement of the crowd and colleagues alike.
Here are his career highlights –
Second-team All-Pro (2020)
Pro Bowl (2020)
DK Metcalf Personal Life
DK Metcalf's father, Terrence was an offensive lineman in the NFL.
He also launched 16-ounce bags of coffee labelled "Decaf Metcalf" after ESPN announcer Joe Tessitore mistakenly called him that.
FAQs About DK Metcalf
What does DK stand for DK Metcalf?
DK stands for DeKaylin Zecharius.
How long is DK Metcalf's contract?
Four years.
What is DK Metcalf's height and weight?
DK Metcalf is 6'4″ tall and weighs 235 lbs.
When was DK Metcalf born?
DK Metcalf was born on the 14th of December, 1997.
Where was DK Metcalf born?
DK Metcalf was born in Oxford, Mississippi.
More NFL news:
Follow our dedicated page NFL for instant NFL news and updates.